Podcast: Download
Subscribe: Apple Podcasts | Google Podcasts | RSS
Are you looking for the perfect set of memorization techniques?
Yet, you keep getting frustrated?
Well, don't blame yourself. Because it is frustrating, isn't it?
I mean… everywhere you go people are using different terminology.
Linking…
P.A.O. …
Mind Palace…
Roman Room…
Mnemonic Peg System…
How
Real

Are The Promises Of Memorization Techniques
For Students And Mature Learners?

Very real!

But we still have to deal with a lot of different terms. I mean, lets face it:

All those terms sometimes make the whole memory improvement world feel a bit like a hoax.

After all, even if science backs up the memorization techniques  we talk about on this blog 100%…

Why the heck can't people get their terms straight!?!

Well, let's get the painful truth about the world of memorization techniques out of the way:

Whether you want to know how to memorize a speech fast or are desperate for memorization techniques for studying…

You're going to come across a lot of different terms.

That's just the way the world of memory improvement ticks (and other professions that rely on terminology). Things have been this way since humans started developing memorization techniques to help them survive.

And it's only getting more complex!

But in reality, a lot of those techniques are essentially the same. 

Each and every one has a location-based element in one way or another.

That means that all memorization techniques are spatial.

And as Thales, the first person in the West to be considered a philosopher and scientist in the same body, said:

Megiston topos hapanta gar chorei

(Space is ultimate for it contains all things)

That's the very cool thing about the discoveries here at the Magnetic Memory Method Podcast.

Once you understand this and practice with memorization techniques from this basis, your results will accelerate.

And the complexity eases down, even if there will still be ins and outs to consider.

And if you're interested in more about the history of where mnemonics come from to help humans deal with complexity and how they used space to do it, please check out Lynne Kelly's The Memory Code.
Just as we do here on this blog nearly every week, Lynne's book will show you exactly how learning these techniques will help you deal with extreme complexity in modern life.
My course which you can subscribe to at the bottom of this post will take you through everything too. It's free.
For now, let's persist and do our best to get past all the confusing terminology.
Let's talk instead about the…
5 Memorization Techniques You Can Use To Learn Anything Faster
1. The Memory Palace Technique
Ultimately, the memorization technique that will help most people the fastest is the Magnetic Memory Palace.
You'll hear this technique called by different names, such as the "method of loci" or the Roman Room.
All you're doing with this mnemonic device is turning a familiar location into a mental "journey." You then place associative images along this journey so you can revisit them later according to a specific pattern.
This pattern is known as "Recall Rehearsal." It lets you get information into long term memory quickly and with a high level of accuracy. This outcome happens because the Memory Palace technique lets you harness the power of:
The Serial Positioning Effect
The Primacy Effect
The Recency Effect
The Von Restorff Effect
Using all of these techniques combined can take a bit of practice, but if you've ever wanted to know how to to improve focus, this combination of techniques is the ultimate way to do it.
Of course, it helps too if you know about motivation in learning too, such as intrinsic and extrinsic motivation.
2. Multi-Sensory Association
Imagine walking into an exam that you know you will pass with 100% certainty.
It's totally possible if you have the right memory techniques on your side. Like the Memory Palace technique.
(In this episode about Giordano Bruno, Scott Gosnell talks about how you can create a Memory Palace out of the examination room itself.)
But in order to use the Memory Palace well, you have to know how to place the best possible associations inside of them.
To do that, you need to look at the spellings and sounds of words and then creating links or stories in your Memory Palace.
This website is packed with mnemonic examples showing you how association works inside of a Memory Palace. Have a look at these details tutorials for a number of visual examples:
3. Acronyms
As one of the supporters of the Magnetic Memory Method once said:
Use the right memorization technique for the job or go H.O.M.E.
The acronym stands for:
Huge
Outcomes
Means
Exercising
And let me tell you, if you want to know how to remember things you read or learn a new language, you'll want to use acronyms often.
4. Memory Techniques For Language Learning
Did you know that there are truckloads of proof that bilingualism is a brain and memory health strategy?
Not only is language learning an ongoing source of mental fitness, but you get the benefits of more socialization.
You can literally meet more people and get to know them more deeply.
This exposure to people enriches the brain with chemicals.
And the best part is that you can use the Memory Palace technique to help
However, you also want to add what I call The Big 5 of Learning.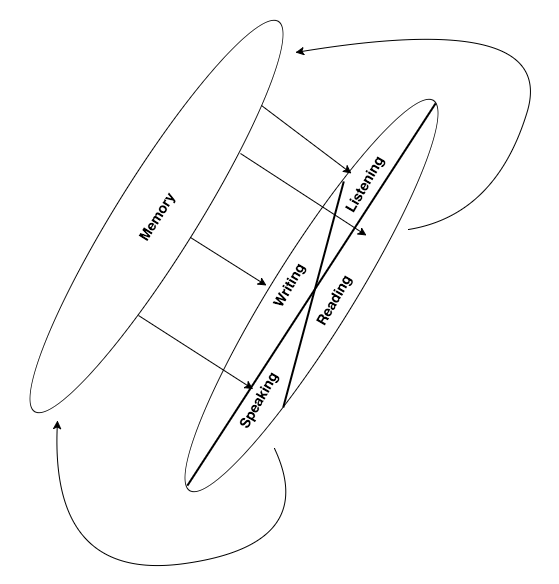 This is based on the levels of processing effect, first identified in 1972 by Craik and Lockheart.
To benefit from it, you want to memorize vocabulary and phrases using the memorization techniques outlined above, and also:
Read
Write
Speak
Listen
From memory and into memory
Without using all of these levels, you won't be getting enough of what scientists call "active recall." It's absolutely essential to making sure the techniques you choose work flawlessly.
5. The Major System & The Pegword Method
Start with the foundations of memorizing individual words and you will quickly learn to memorize entire phrases.
From there, you'll want to add the ability to memorize numbers too.
The Major System is fun and easy to learn. It lets you turn any number into a word. Start by committing this simple system to memory: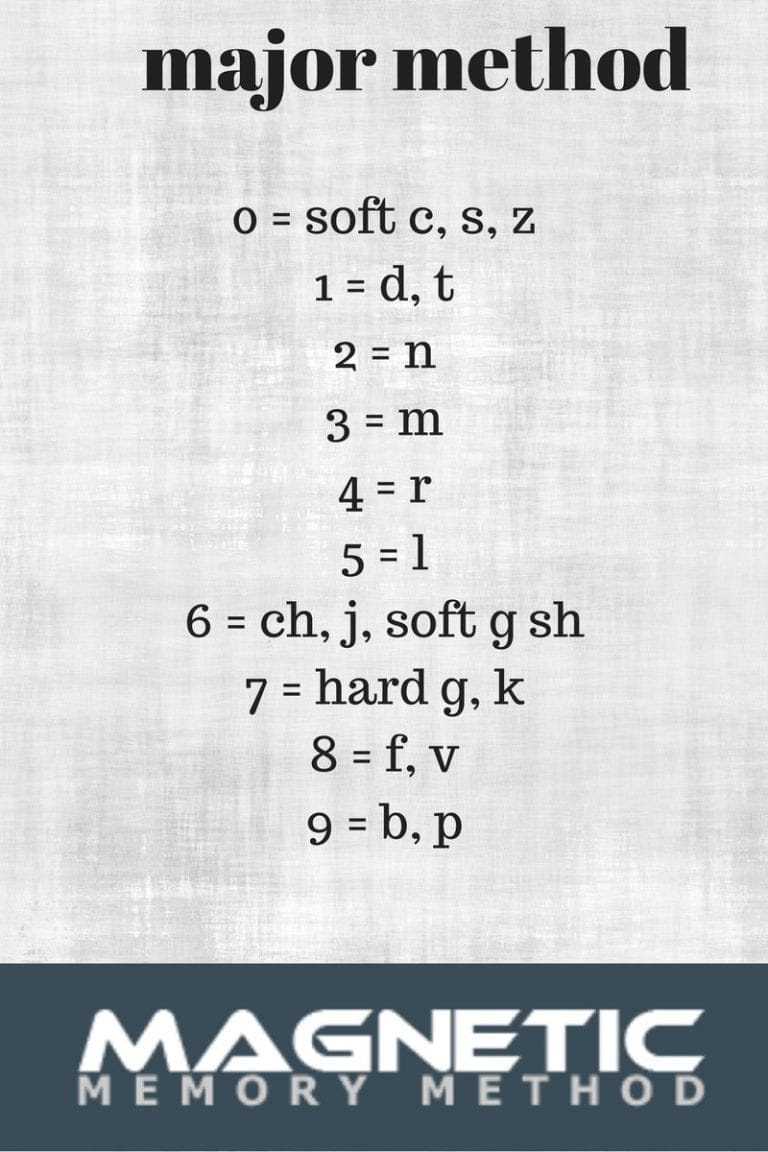 Then practice turning two-digit numbers into words. For example 22 could be nun and 35 could be mail. It's ideal to come up with a few words per two-digit combination.
After that, it's just practice.
Next, add the pegword method. This memorization technique will let you have an association for each letter of the alphabet. You can also use the number of each letter of the alphabet for some "next level" learning at speed.
How To Benefit From The Abundance Of Memorization Techniques
Yes, there are a lot of terms out there as more and more people teach their favorite memorization technique.
But now you don't have to get lost in the terminology.
Just find memory training and memory improvement courses you resonate with and trust.
Give those memory experts your attention.
Follow the instructions and recommendations.
Experiment.
You'll be amazed by the memory improvement you experience.
Better:
You'll be thrilled by the additional benefits using memory techniques brings.
Are you ready to be thrilled? Let me know in the discussion area below and then grab the Magnetic Memory Method Improvement Kit to get started today!