Podcast: Download
Subscribe: Apple Podcasts | Google Podcasts | RSS
You want your children to remember what they learn, right? You've probably even hoped that they'd learn enough to succeed in life.
Maybe even change the world.
It's a great aspiration. And an important one.
And yet …
Yours Free: A Private Course With Cheat Sheets For Becoming A Memory Master, Starting From Scratch.

>>> Click Here For This Special Free Offer.
Here's Why So Few Children Fail To Make A Mark As Grownups
Memory.
Think about it. Every test your child will ever take relies on memory. And every gatekeeper your child will ever pass on the way to fulfilling their dreams hinges on the ability to recall details. Thoroughly and accurately.
And since we know that the ability to succeed has everything to do with what you know (and who you remember that you know), the question is …
How do you get your children started towards a superior memory so that they can succeed?
I'm glad you asked because you're about to find out.
The Simple Way To Use Rhymes And Your Family Home To Learn, Memorize And Recall Anything
The best memory techniques all use buildings and other fixed locations. Why? Because the human mind has the unusual ability to remember the layout out buildings. For this reason, location-based mnemonics has lasted thousands of years.
Go ahead and try it. Have everyone in your family draw a map of your home. You'll be amazed by the accuracy each of you brings to the game.
Here's an image of a simple drawing from a young person who did precisely this activity to give you ideas and inspire you. She took the layout of her home from the drawing stage to rebuilding this floor plan in her mind so she could memorize a poem.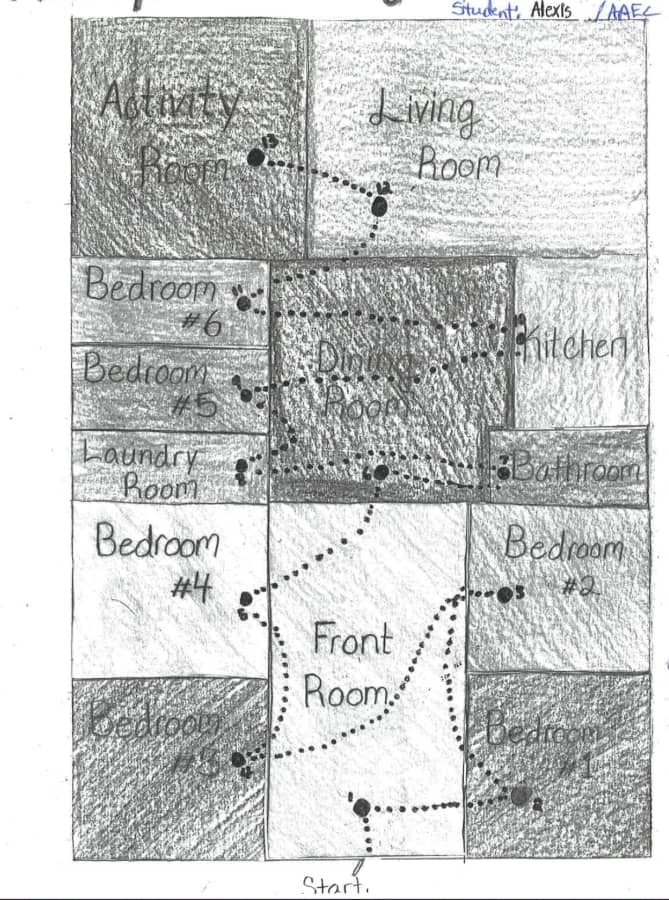 The Special Structure Anyone Can Use To Learn, Memorize
And Recall Anything
Anyone of any age can build one and use it to memorize anything.
But please don't use Memory Palaces to memorize any old thing. The trick is to use these wonderful mental structures for memorizing important information.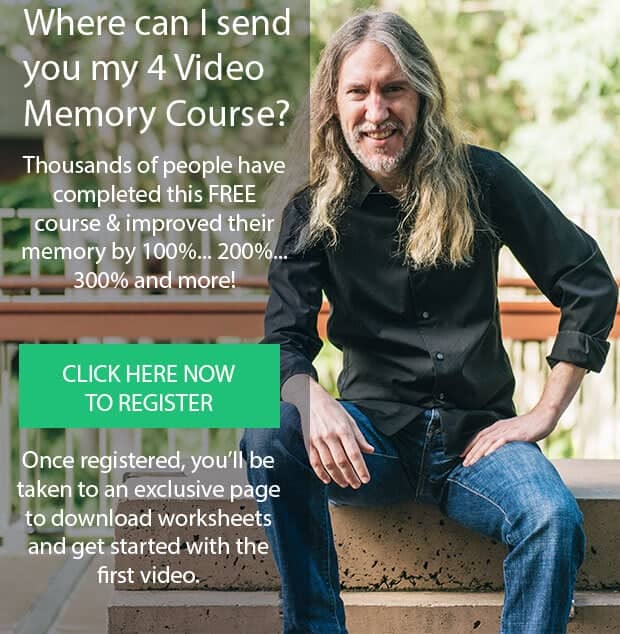 Not just any information. I'm talking about the kind of information that makes a direct impact on the quality of your child's life. In the present and the future.
So location is the first power of memory. The second power of memory is association.
To use this power, you associate information with a location. And to make the information really magnetic, you create crazy images that makes it easier to recall. Usually these images will come from visual sources you already know, such as movies, paintings, famous figures and the like. You can also turbocharge the images you create by using stock images placed in the Memory Palace.
Here's An Easy Way To See
The Second Power Of Memory In Action
Imagine that your house has five rooms. Kitchen, bathroom, living room, bedroom and playroom. You've already drawn them out and can walk in your imagination from room to room. And your child can do this too.
Next, use the following rhymes to place an imaginary object in each room.
1 is a bun
2 is a shoe
3 is a bee
4 is a door
5 is a hive
You don't have to use these rhymes. It's great fun to come up with your own as a family activity. But these are standard and you can find a full list of these mnemonic examples and a full explanation of this mnemonic peg system here.
But keep in mind that we're going to take things one step further than rhyming. We're going to combine this technique with a familiar building like your home.
Now pretend that your son or daughter needs to learn the names of the first five vertical entries on the Periodic Table of Elements. The following suggestions are examples only. The method will work best when young people come up with the images on their own.
Hydrogen goes in the first room. They see a bun saying "Hi" to a drone reading Genesis.
In the second room, they see a shoe with a huge L on it. It's drinking tea and saying "um." Lithium,
The third room has a bee. He's also saying "um" while drinking soda. Sodium.
The fourth room has an enormous potato with a door from which donkeys are entering the room with small potatoes in their mouths. Potassium.
In the fifth room, we have rubidium. Dorothy's ruby slippers from The Wizard of Oz is knocking on the hive.
You can help everyone in your family use this location and rhyme-based memory technique to learn and memorize anything. From facts and mathematical figures to foreign language vocabulary and artifacts from Ancient Egypt. Being able to recall these in a snap make a huge difference for kids in school. And bilingualism is very health for young brains.
The Minimalist Guide To Making
Memory Improvement A Family Event
If your young person is struggling to learn, retain and reproduce information, here's how you can help. If you've already used your home as a Memory Palace, visit a relative or friend. Make a Memory Palace based on their home. You can literally walk the journey between the actual rooms with them, encouraging them to come up with the memorable images on their own.
You can also use a walk through a simple park, a movie theater, a church or a library. But please do start with simple structures before introducing anything more complex. Mastering simple buildings makes mastering multi-detailed environments much easier.
Teach Your Kids How To Paint Like
Picasso In Their Minds
If your child struggles with creating images to associate information with, help them to become more visual by looking at art together. If you can visit art galleries, all the better. These buildings can become Memory Palaces too.
You can also help your children become more visual by encouraging drawing more than just Memory Palaces. Characters from movies they've enjoyed and especially representations of people from books they've read about but never seen work well. They will get the visual imagination flowing.
It's also useful to look at an image and then have your child "remake" the image in their imagination. Seeing in the mind is a skill you can develop over time and you don't have to reinvent the wheel. Mentally "copying" the great masters is perfectly fine. Great and original artists do it all the time.
Use World Class Examples To Inspire Your Child To Memorize
One way to make these memory skills more interesting to young people is to tell them the story of their origin in Ancient Greece. Simonides of Ceos was giving a speech at a banquet when the building collapsed. Because he had memorized where everyone was using the location principle, he could help families identify their loved ones.
The Simonides story also perfectly demonstrates the principles of exaggerated imagery along with location. The vibrant image of a building collapsing is just of the reasons the story has lasted the centuries. The image is as hard to forget as is the promise of near-miraculous memory ability.
Your kids will also find Matteo Ricci's life as an international mnemonist inspiring. He sailed from Italy to China and could memorize books forwards and backward. His life included a great deal of drama and even tragedy.
You can also share with them the stories of how ordinary people have learned memory techniques and used them to accomplish extraordinary feats. Read Joshua Foer's Moonwalking with Einstein for a particularly compelling story to pass on.
You can also listen to the Magnetic Memory Method interviews with Dave Farrow, Mark Channon and Alex Mullen for many inspiring stories of ordinary people learning memory techniques and accomplishing great things for themselves and others. Nelson Dellis, for example, has done a lot for Alzheimer's research and you can contribute to it by taking his Extreme Memory Challenge.
Show All Children The True Path To Memory Mastery
With One Simple Tool
We double what we've learned every time we teach. Teaching is the simplest tool for learning something better ever invented. All you need to do is learn something and then share what you've learned. Merely by doing this you will have learned it better yourself. It's also great memory exercise.
Encourage your child to share what they've learned with others so that they absorb the skills with greater depth. Teaching others also follows the principle of contribution. Your child feels like she or he has given something great and also made the world a better place. Reciprocity will be a natural result.
You can also ask your child to teach you what they've learned directly from their memory. Ask them to "decode" the images they've created without revealing them. Focus on the core information first and then share the weird images if you wish.
At the end of the day, these images are nothing more than training wheels on a bike. They prompt or trigger the target information. But it's the memorized information they should reproduce first.
Having your child repeat what they've memorized at home also gives them practice in a low-stress environment. (Your home is low-stress, isn't it?) That way, when the time to take a test arrives, they can access those comfortable feelings about memory created at home. This certainty will help them cope with the pressure of performance at school. Imagination and memory abilities soar much higher when we're relaxed.
Are Memory Techniques The Ultimate Learning Solution?
Yes and no. Memory techniques are a supplement to how schools teach, not a replacement. Some kids take to it more than others and for some, taking pleasure in the technique is necessary. But if the images are sufficiently funny and fascinating, it's hard to imagine the Magnetic Memory Method as boring.
As a final tip, avoid perfection. Just have fun with the art of memory and let go of the outcome. At its core, all we're doing is looking at information that needs to be learned and retained in a new and likely more interesting way.
But it's important not to associate this technique with the same pain and frustration given to rote learning. Your child will always be learning the information, but if something truly won't stick, move on and come back to it. You increase the pleasure and chances of success by not forcing it.
And if you as a parent would like more information about using Memory Palaces to learn and memorize information that can make a positive difference in your life, I've got a Free Memory Improvement kit for you. It comes with four free videos and will teach you everything you need to know about improving the memory of everyone in your family.
So what do you say? Are you ready to start changing the world? All it takes is teaching memory skills to one young mind at a time.
Yours Free: A Private Course With Cheat Sheets For Becoming A Memory Master, Starting From Scratch.

>>> Click Here For This Special Free Offer.
Further Resources
Tap The Mind Of A Ten Year Old Memory Palace Master