Podcast: Download
Subscribe: Apple Podcasts | Google Podcasts | Stitcher | RSS
It only took three pages for Memory Craft to become my favorite book on the art of memory.
Why?
The answer is simple:
Lynne Kelly, the author of Memory Craft, is devoted to helping people memorize information that matters.
And in a world cramped with endless memory improvement books devoted to directing memory skills at insignificant trivia, Memory Craft is a breath of fresh air.
Here's why:
Memory Craft concentrates on learning facts, languages and processes real people can use in every day life (like using the multiplication table directly from memory). She also addresses memory science and how these techniques can be used by young people.
Now, you may remember Lynne Kelly from a previous interview where we discussed her fantastic book, The Memory Code.
I'm thrilled to have her return to The Magnetic Memory Method Podcast to talk about her newest release. The full title is: Memory Craft: Improve Your Memory Using the Most Powerful Methods From Around the World.
For those of you not familiar with Lynne, here's the lowdown:
Not only is Lynne Kelly the author of several books on memory, but she is a highly skilled researcher, science educator, author and memory competitor.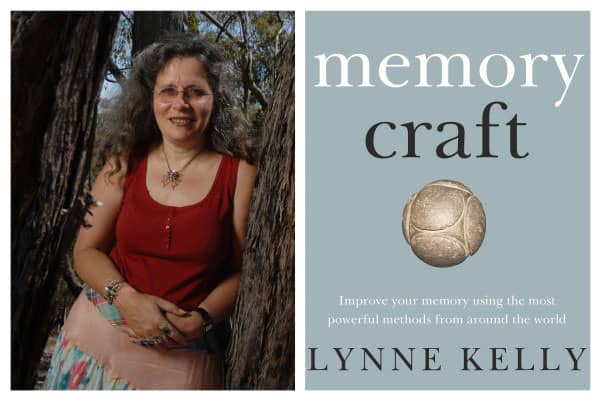 Most known for her theory about Stonehenge's purpose, she has also contributed to work in popular science and is a promoter of skepticism.
Lynne's critical thinking and contributions to such a wide range of science subjects has led to awards from the Royal Zoological Society of South Wales among others.
As a memory expert, Lynne Kelly is that rare practitioner who takes on large learning projects and shares the journey in addition to attending memory sport activities.
And that's what makes today's conversation with Lynne so special. Lynne helps us explore our need as a species to treat our minds as "muscles" that deserve ongoing development, ideally through a combination of learning and play.
Using tested memory techniques for completing fun and engaging memorization tasks, Lynne traces the timeline of the important role these skills have placed from ancient times to today's memory competitors.
As a unique book on accelerated learning techniques, you'll discover visual alphabets, medieval bestiaries, indigenous learning systems, and modern card memorization as Lynne has explored and updated them for citizens of the modern world.
If you want to learn a foreign language, you need to memorize and deliver a speech, or you're a student preparing for an exam Lynne has a solution for your memory dilemma. The best part?
Lynne's suggestions for incorporating mental exercise into your daily routines work even if you only have 5 minutes a day.
Intrigued? Press play above and you'll discover:
* The real reason why stores play such upbeat, catchy music.
* Why outdoor Memory Palaces can be so helpful for memory retention.
* The benefits of "setting aside" time for memory training versus incorporating practice into everyday life.
* How vivid, violent, or vulgar imagery can bring abstract concepts to life.
* Why "rapscallions" are useful memory tools and not just mischievous little creatures.
* How art can help you remember more in a Memory Palace.
* The pros and cons to living with aphantasia.
* The key to using hooks and layering to create dynamic visuals.
* How to "dialogue" with your memory aids.
* Why we should encode using music and places for maximum mental skill (and possible mental health) benefits.
* The usefulness of memory techniques for school aged children and their long-term effects.
* The secret to overcoming "ghosting" when using memory techniques.
Further Resources on the Web, This Podcast, and the MMM Blog:
Lynne Kelly (The Memory Whisperer)
Lynne Kelly's TEDxMelbourne Talk