Podcast: Download
Subscribe: Apple Podcasts | Google Podcasts | RSS
Are you confused about rote learning? 
Some people swear by it. 
Others who use memory techniques worry about "falling back on rote" despite having better tools for learning.
They even get dramatic about this worry, calling rote repetition…
"Drill and kill."
What gives? 
And how specifically is learning by this deadly form of repetition defined? 
We'll get into everything on this page so that you can make an informed decision about how to learn based on science, not opinion.
What Is Rote Learning?
At its core, rote learning is defined as repeated exposure to information you want to learn without thinking about what you're repeating. 
It is almost the direct opposite of what scientists call active recall, a technique that engages all the senses. 
(I'll give you a detailed example of how to conduct multi-sensory learning at the end of this article.)
You'll see people caught in a rut of lifeless repetition when they:
Flip through flashcards

Mentally repeat the same information
You may have engaged in some of these behaviors yourself.
What makes the behaviors "rote" is literally going through the repetitions without any further level of engagement.
According to Carla Hannaford in Smart Moves: Why Learning Is Not All In Your Head, part of the success of the drug ritalin is easily explained. It helps students put up with the tedious nature of repeating information without any kind of multi-sensory engagement.
In other words, societies have preferred drugging children instead of tackling the real problem of making learning fun.
Rote Learning Examples
But is repetition itself bad? 
Absolutely not.
For example, you can repeat prayers and engage deeply with their meaning. I've done this myself with Sanskrit text drawn from the Ribhu Gita for years. Each time I practice is deeply rewarding. In fact, it gets better and better the more I repeat the same material.
I also repeated my TEDx Talk several times for practice giving the speech. This is a great example of when rote repetition makes sense. 
Finally, it's really important to repeat songs if you want to commit lyrics to memory. Repetition is also a huge part of ear training, and general instrumentation a form of rehearsal musicians sometimes call "dedicated practice."
The examples of rote learning that give it a bad name include things like:
Spelling drills

Multiplication tables

Cramming for exams

Mentally repeating names, dates or facts

Flashcards for learning foreign languages

Using apps
Because these forms of repetition can be quite brutal in how they create boredom, I.C. McManus and Peter Richards call any memory gains they create "incidental learning."
In each case, there are alternatives. For example, you can use the pegword method to assign a dynamic shape or figure to each letter of the alphabet. This simple set of associations makes learning spelling much more fun and interesting. 
When it comes to the multiplication tables, you can combine something like the Major System with rhyming or story and the method of loci to make learning the entire set engaging and immersive.
In language learning, Dr. Richard Atkinson has shown just how poorly rote learning works in comparison to the mnemonic strategies shared on this blog. 
Here's something interesting: In experiments that have been successfully repeated by scientists around the world, Atkinson demonstrated that rote learners were successfully able to recall vocabulary from lists at a rate of 28%.
By contrast, those who used techniques like the Memory Palace showed a retention rate of 88% or better. Dr. David Reser and Tyson Yunkaporta recently showed even better results by incorporating some Aboriginal memory techniques into a follow-up experiment.
What would you prefer?
Sticking with rote learning and recalling only around 28% of what you learned correctly?
Or do you prefer what more meaningful learning and comprehension techniques offer?
Rote Learning Vs. Meaningful Learning
You might be wondering why these success rates matter so much. After all, it sounds like it really only comes down to time spent. 
Looking only through the lens of time, you might conclude that if you only get 28% correct, all you have to do is go back and spend more time on the material.
Not so.
You're also losing out on critical thinking benefits by doubling-down on rote memorization. 
As Linda Jakobson has shown in her book, Innovation with Chinese Characteristics: High-Tech Research in China, societies that grow up with rote recall tend to have poor critical thinking skills.
This is tragic because problem solving requires the ability to "mentally rotate" information through multiple angles. 
The absence of rote repetition in other cultures may be one reason why places like parts of Europe and the United States thrive and promote individualism and freedom. 
Historically, a learning technique called Ars Combinatoria was much more prevalent. This approach promoted a form of learning sometimes called "inner writing," a means of "creative repetition" that relied upon deep and meaningful engagement for the learner.
Meaningful learning might include tactics like:
Guided discovery

Physical engagement with learning materials (such as through

mind mapping

)

Social experiences

Combining writing with speaking

Combining listening with speaking, such as through debate

Developing highly personalized learning plans
Benefits Of Rote Learning
So far, everything we've said makes rote learning look pretty bad. 
However, we've already seen that rote practice is a must in areas of learning like music, giving speeches and spiritual goals.
Although rote learning reduces critical thinking when required of children, there may be some contexts where it can be helpful for certain types of adults. 
For example, Po Li Tan's research has suggested that adults who grew up as rote learners might still benefit from it.
Other research has shown that individualized learning plans can themselves fall into rote that has not benefited students in places like Sweden.
At the end of the day, each individual has to decide what is right for them and cultivate radical honesty. Sometimes engaging in rote learning gives you the benefit that you're engaged in some kind of activity. 
But if the activity of what some people call "over-learning" doesn't actually lead to accomplishment, then the benefit of doing something for the sake of doing something is an illusion. 
Disadvantages of Rote Learning
There are many disadvantages, most of which are easily avoided. 
First, rote learning usually does not ask you to think about what you're learning. It's focused entirely on repetition itself. 
This focus not only makes it boring, but you lose out on the benefits of thinking you could receive by engaging with the information in a deeper way.
Line rote also treats the brain like a "linear library." You miss the benefits of what I often call the "rhizomatic effect" you experience when using a Memory Palace Network to produce new knowledge based on information you've engaged with deeply.
You also lose tons of time that could have been spent enjoying using your mind and imagination.
Finally, rote repetition prevents you from experiencing the benefits of having memorable conversations with others.
The Alternative To Rote Learning
Is rote learning effective?
To a certain extent, yes. 
And in some areas, rote rehearsal is absolutely necessary, including when you're using memory techniques.
However, repetition should always be "creative repetition." 
A simple way to reduce the amount of repetition needed and always ensure that you deeply immerse yourself in what you're learning is to use KAVE COGS or what we call the Magnetic Modes in the Magnetic Memory Method Masterclass.
To take a simple example of how I learned something very quickly with a minimum of repetition, let me refer to my Sanskrit meditation project. 
In learning a word pronounced like "tesham," which means "unto them" or "for those," I didn't repeat it over and over again.
No.
Instead I looked at the "tes" part of the word and imagined Nikola Tesla driving a Tesla over a Christmas ham. He did it for those who are always devoted to reality itself, which is the main meaning of the entire line I was learning. 
Then, I went through KAVE COGS to drive home the sound and meaning:
Kinesthetic – Feeling myself driving the car as if I were Tesla

Auditory – Hearing the sound of the engine roaring

Visual – Imagining what this scene looked like

Emotional – Experiencing Tesla's intention to help the devoted

Conceptual – Reflecting on the meaning of the text and who Tesla was

Olfactory – Smelling the ham

Gustatory – Tasting the ham

Spatial – Thinking about the size of the car and the ham
By engaging deeply with the word in this way, I learned it immediately and never forgot it after one pass. 
I've memorized more Sanskrit than I ever thought possible doing this, the same technique I learned to use when memorizing the names of all my students within minutes when I was a professor. 
So if you're sick of boring, old and uninteresting methods of rote memorization, why not give this free course a try?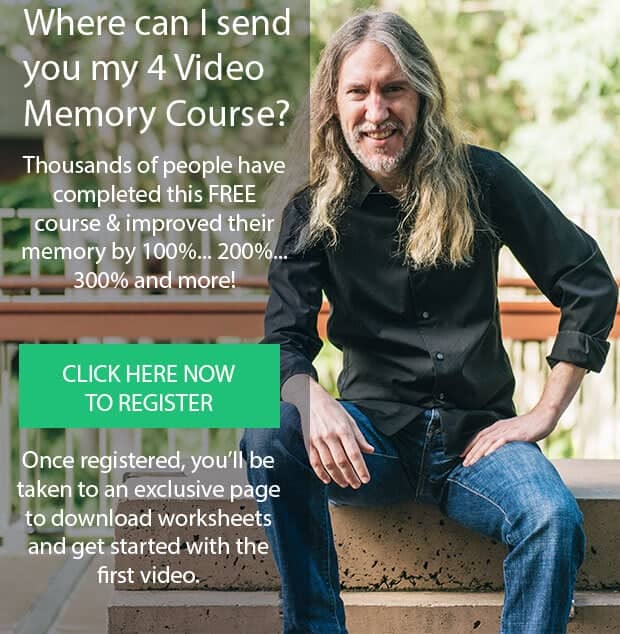 Memory techniques are scientifically proven and indescribably fun. All you have to do is get started.
So what do you say?
Are you ready to rev the engine of your mind and get some real learning done for a change?