Podcast: Download
Subscribe: Apple Podcasts | Google Podcasts | Stitcher | RSS
Dr. Bruno Furst created a number of memory improvement courses and You Can Remember! is one of the most famous. 
He was a German lawyer and his full name was Johann Franz Bruno Fürst. 
People familiar with the long tradition of memory techniques will probably think he chose to go by "Bruno" to attract the attention of people already familiar with memory techniques.
It's impossible to know, but I personally find it hard not to think about one of the most famous memory teachers, Giordano Bruno. Since "der Fürst" can mean "prince" or "ruler" in German, I have often wondered if the entire name is invented to say something about Giordano Bruno's constant influence.
Given that this Bruno Furst fled Germany after Hitler came to power, this idea that he may have changed his name is plausible. Very little is known about him. The only Wikipedia page about him is in French and the New Yorker has their article about him locked in an archive. But the fact that he has a profile in that magazine gives us a clue to his prominence during his era.
The question is… does his memory training work? 
The answer depends on you, your goals and your willingness to go on what Furst calls, "Adventures in Memory and Concentration." 
This pairing of memory with concentration is important because you really can't have one without the other. 
The good news is that improving one naturally improves the other. So with that in mind, let's take a deep dive into this flagship memory training from Dr. Bruno Furst. I hope you enjoy this You Can Remember review. 
You Can Remember!: Everything You Need to Know
First, it's important to realize that Dr. Furst recycled his material often. That means you might be disappointed if you already have these books: 
Stop Forgetting: How to Develop Your Memory And Put It To Practical Use
The Practical Way To A Better Memory: A Simple, Easy-To-Use Method of Training Your Memory
Although these books do have some differences in them, what makes You Can Remember! unique is a method of segmenting the different skills into ten sessions. 
These sessions are split up into ten small booklets of about 30 pages each. The package comes with four separate envelopes, each packed with "examinations" or "model answers." The exams typically ask you to spend 20 minutes reading a magazine. You then quiz yourself and self-assess your accuracy.
Finally, the box comes with the "Number Dictionary." This small booklet is packed with words that fit the Major System from 00-1000.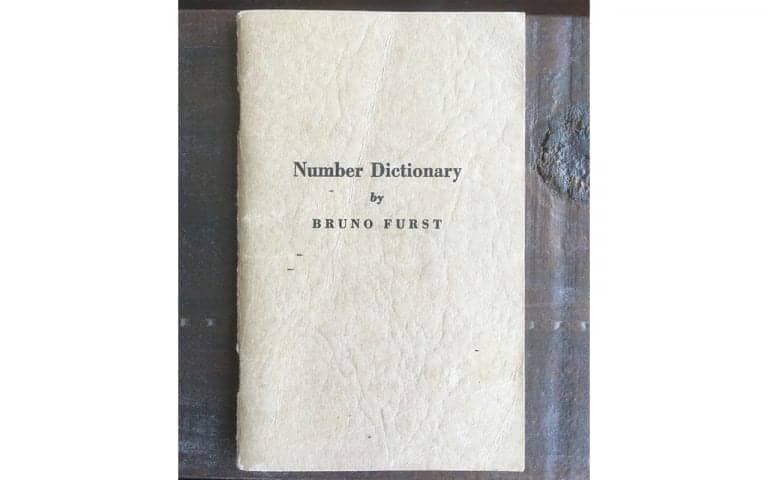 Overview of the 10 Sessions
Bruno Furst faces the same challenge all memory experts run up against:

There is no perfect place to start learning memory techniques. 
But I feel that Dr. Furst made the best possible choice by starting where I also introduce students to the art of memory, with the Memory Palace technique. 
Session 1:
In his work, Dr. Furst uses the terminology of his era: The Memory Checkroom. Instead of calling each stop in the Memory Palace a "Magnetic Station," he talks about coat hooks, each with a number. 
So that you can remember the numbers of each "hook," you learn the Major System.
The session concludes with a test of how you interact your different hooks with daily chores.
Session 2:
Furst extends the Major System in this session and helps you extend it to three digits. He shows how you can use it to memorize "telephone numbers, price lists, addresses, formulas of every kind – in short, everything connected with numbers in practical life."
The session ends with showing how flexible this number system is by sharing various mnemonic devices you can apply to different kinds of information.
A historic image of Dr. Furst shows that he likely taught even more advanced uses for numbers in his live training sessions. You see him with specially printed playing cards that include 3-digit numbers, for example, but I don't know exactly what he had in mind for these. Encoding past 00-99 is not covered in any of his material I've read.
Session 3: 
This session goes further with extending your Major System and explains how to remember prices. 
Session 4:
Here Dr. Furst discusses applying the techniques to memorizing information from newspapers and short stories. You are given a number of still photographs to work with. You also go through scenarios where you might want to remember an anecdote and how your mnemonic devices can help trigger the memories. 
Session 5: 
Dr. Furst explains the different types of memories and then extends the techniques to memorizing faces and then names. He explains how to apply the techniques at parties.  
Session 6: 
Here, you learn the "chain method," which is essentially the same as the link and story method. He touches on how to use this method to memorize a speech. 
Session 7:
In this session, Furst covers memorizing historical dates, geography and memorizing contest winners and information related to the tax code. This is probably one of the most dated parts of the Bruno Furst memory program, especially since there have been many advancements in how to use memory techniques in the past decade alone.
Session 8:
Dr. Furst starts ramping things up in this section by discussing adding facts to people. He discusses remembering names when you don't actually know the person (such as artists, authors, historical figures, etc). You also learn how to tackle memorizing scripture and the US States.
Session 9:
By this point, Dr. Furst figures you are ready for some of the next-level techniques. Here, he introduces using classification systems to improve your memory. For example, if you need to memorize a bunch of items on a tray, you would isolate all the musical instruments into a category. 
When exactly anyone would need to do this outside of working for airport security is unclear, but this technique does relate to what we call the Conceptual Mode in the Magnetic Memory Method Masterclass. His introduction to using this kind of "mental division" is worth practicing even if the examples he gives don't relate to many real world applications. 
One approach that still is potentially useful involves his discussion of using the Dewey Decimal system. This strategy is compelling and with a more robust approach to the Memory Palace, it's quite easy to see how one could "nest" a number of them together using this categorical system.
This session is one of the most important and it's curious that more of this material doesn't appear in the introduction. Furst waits until nearly the end to stress the importance of goal setting, planning and exposes the truth about creativity. (The truth is that real creativity in memory training involves bringing together preexisting elements, not "inventing" new imagery and associations.)
Session 10:
You learn how to memorize a deck of cards in this session and a few routines you can use to stun your friends. The course ends with Furst stressing the need for ongoing practice in order to maintain the skills you've gained. 
Can Bruno Furst Help You with Memory Improvement?
If you've been following this blog for any period of time, you know that I feel more is better than less. "One," as I often say, "is the most dangerous number" when you're learning any skill. You want multiple teachers. 
But whether it's Mega Memory, Pmemory or something by one of our contemporary memory competitors (like Nelson Dellis), you should think about a few things before deciding. 
Historical recency. Furst refers to dated newspaper formats, hairstyles that are no longer in fashion and checkrooms that one rarely sees anymore. If you're a certain age, these examples won't bother you. But there's nothing about dealing with the Internet or information overwhelm. Dr. Furst couldn't have even imagined what students of today deal with and this book shows it. (That said, the amount of techniques he covers is impressive and they're all still relevant to today's era.)

The examples are incredibly vague and generic. We know so much more about multisensory, concrete associations these days. You will likely struggle if you use examples that may have worked for a few people in his era. 

Bad advice. Furst talks about not using rhymes for a reason that doesn't really make sense and tells you to repeat names in conversations, which is not strictly necessary when memorizing them. He also seems to assume that everyone is an extrovert.

He breaks learning a 00-99 PAO over 10 sessions instead of just focusing on this particular skill. He may have had the learning technique called "interleaving" in mind, but I doubt it. This strategy might reduce the cognitive load of developing your Major System, but you wind up switching topics many times and he never quite develops a solid use case as he might have by gathering this

mnemonic strategy

in one place. 
The History Of Memory Techniques
Personally, I picked up these books and the You Can Remember! course to better understand the history of this beautiful tradition. 
Like Kevin Trudeau and Harry Lorayne, Bruno Furst was more than a memory teacher. He was a great marketer. The course I ordered came packed with the original advertising and it's clear that Furst knew just how much convincing many people need in order to give these techniques a try. 
The use of testimonials and what he calls "proof again" testimonials and offers for free training shows that he was devoted to "education-based advertising." Although nothing in his marketing offers the kinds of "results in advance" we focus on in the Magnetic Memory Method world, it is inspiring to see the effort that went into these "listicles via mail." There is also an "advertorial" in Maclean's where he teaches the Major System in passing.
It is not known whether Dr. Furst wrote these advertising materials himself, but they strike me as coming from the same author. I get this feeling because the memory training itself is written to encourage you take action, and this is common across all memory training programs. If you want, as Dr. Furst puts it, to "make more friends, and acquire greater popularity at social gatherings," you have to take action. 
As I have done for years, he urges the learner not to be content with the examples he gives. The imperative to "try the system immediately in your daily life," comes up as a mantra, and I agree that it needs to be repeated often. He correctly stresses that "every human activity rests in some way on memory" and shows how improving memory leads to great efficiency and pleasure in life.
Finally, it is worth noting how Dr. Furst brings memory training together with general self help. When talking about classification, he talks about applying this mnemonic strategy to your goals. He suggests breaking your five year plan into categories like your business or work, social life and family recreation. 
Practical, But Dated Memory Training
As I mentioned at the beginning, there is no perfect way to start your memory training journal. But if you want to split things across ten learning sessions and can get hold of You Can Remember!, I have no problem recommending it. 
Even where there are certainly aspects to the program I could complain about it, Furst knows his stuff and his own goals are in the right place. As he says, "Every advance in civilization and every step in cultural progress rests in the last analysis upon memory."

This fact remains true and those of us who love memory techniques owe a debt of gratitude for his work, whether we go through his material or not.
For more memory training from the past, check out Giordano Bruno's On the Composition of Images next.