Podcast: Download
Subscribe: Apple Podcasts | Android | Google Podcasts | Stitcher | RSS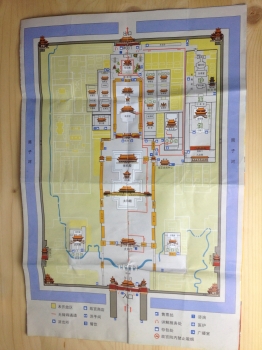 Travel is awesome, right?
You bet it is.
The only problem is that most people don't maximize the value of their vacations. Instead of going in prepared to remember as much as humanly possible, they accept what they can get from the default settings of the muscle sitting between their ears.
Well, it doesn't have to be that way for you. Here's how to travel differently so that you remember more, enjoy more and get to take your vacations again and again with the vibrant recall of an intense dream.
Infinitely Increase The Value Of Every Hotel Room With A Simple Memory Palace
One of the first things to do is draw out a quick sketch of your hotel room. It's simple to chart a well-formed Memory Palace journey using such a small space.
Even if the Memory Palace only has four or five stations, you're already ahead of the game because your mind is in memory mode. Here's an example of a quick hotel Memory Palace in room April and I shared on our honeymoon. We were taking the ferry from Helsinki to Stockholm:
As seen in the video, you can also create a Memory Palace of the lobby, the hotel restaurant, gift shop and any other rooms you spot that look manageable. If you're comfortable using outdoor Memory Palaces, parking lots and the hotel entrance can be powerful resources.
Of course, to draw Memory Palaces, you'll need a Memory Journal.
How To Keep A Memory Journal
Memory Journals are great for a number of purposes:
Drawing Memory Palaces
Describing mnemonic images
Testing recall
Troubleshooting
Tracking results
Recording thoughts and impressions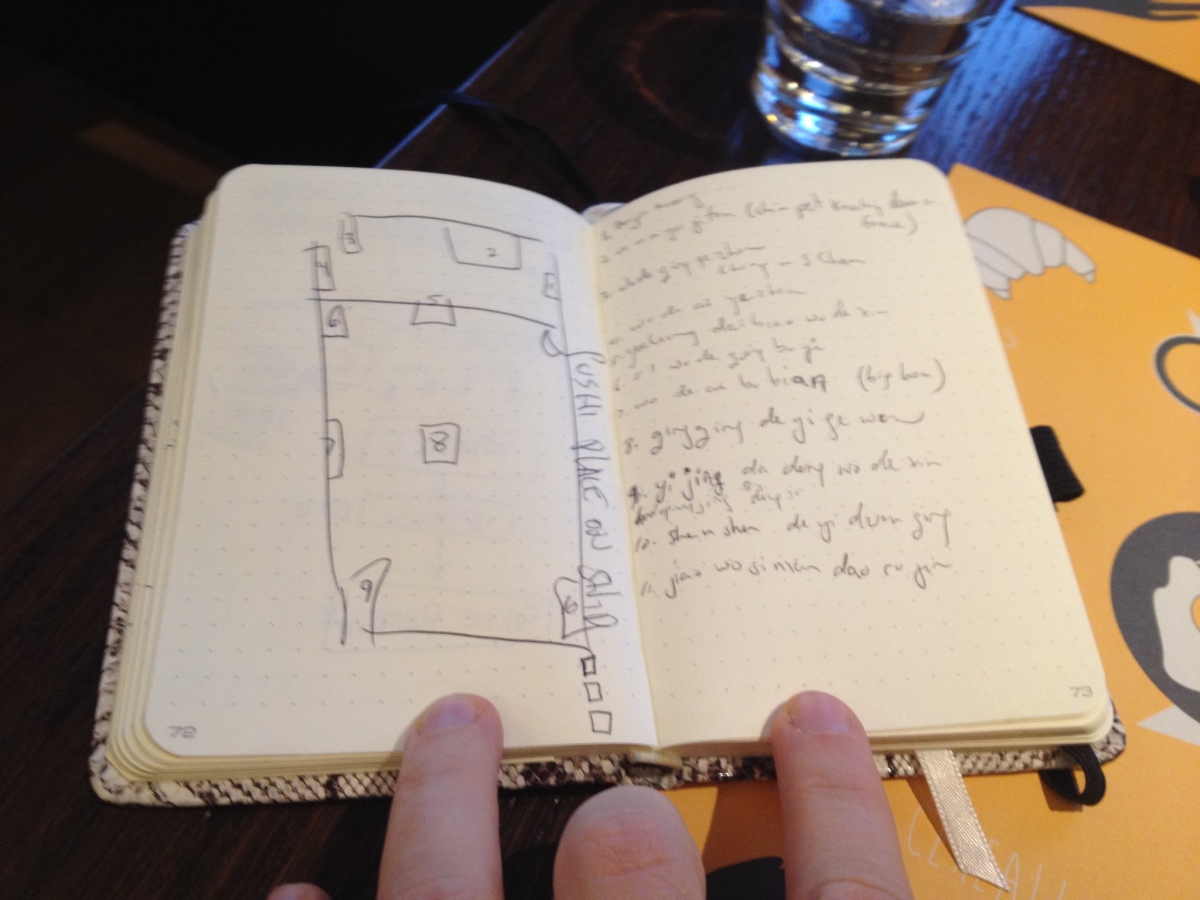 When traveling, your Memory Journal will also let you make notes about what you did on each day of the trip as you make quick sketches of the places you visit.
To get started, buy a simple notebook. It can be lined or unlined. I recommend that you decorate the cover and then get started listing out as many potential Memory Palaces as you can. If you need help, check out the episode of the Magnetic Memory Method Podcast called How to Find Memory Palaces and make sure that you have the MMM Worksheets that come with my FREE Memory Improvement Kit.
Gather Maps, Floor Plans And Think Strategically
You're traveling to enjoy yourself, right? Who wants to sit around drawing squares all day? (Except me?)
Luckily, when visiting many parks, museums and historical locations, you don't have to spend your time this way. Instead, you can grab up brochures with mockups and floor plans of museums, churches and art galleries for reference later. If your Memory Journal has a storage pack, you can bomb these inside for reference later.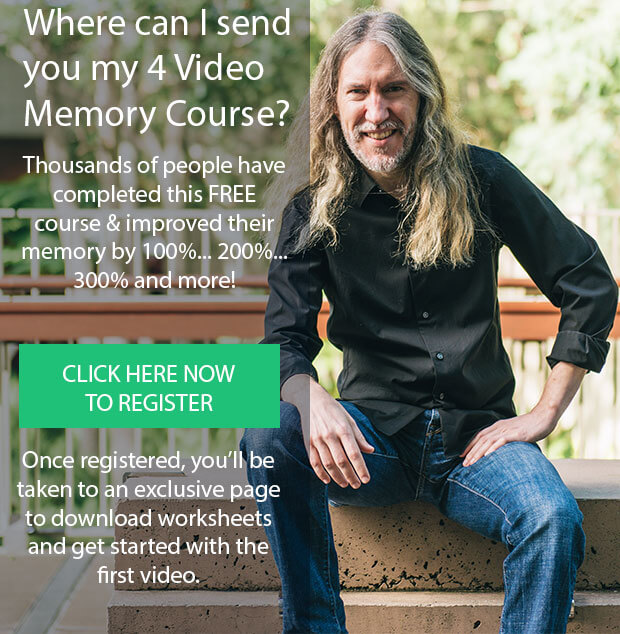 The important thing is that you think strategically when entering the location. Note the corners of rooms and the best areas for Memory Palace creation. You can already start constructing it in your mind.
If you're experienced, you can also start using the Memory Palace right away. For example, using the Major Method, you can memorize the date of a painting along with its name. If you're learning a foreign language, this is a great way to pick up new vocabulary.
Use The Memory Improvement Power Of Photography
Taking photos of your loved ones and the main attractions is an important part of traveling. But you can get your camera into the Memory Game too by taking photos of building layouts. Hotel beds, for example, make excellent micro-stations in Memory Palaces.
Using PowerPoint software, you can reconstruct the Memory Palace from your photos. For many people, this simple process makes their Memory Palaces much more vivid and useful. You can also use the software to impose information directly onto the Memory Palace stations for Recall Rehearsal.
However, please note that although this kind of activity is acceptable at the beginning stages, it will not strengthen your memory in the same way that drawing Memory Palaces and then using them from your imagination alone achieves. Work towards creating and using tech-free Memory Palaces and your skills will soar.
Think of it as the difference between doddering along with training wheels and the freedom of riding a bike assisted only by your instinctual knowledge of balance, velocity and the physics of pedaling. The only difference is that in matters of memory and the mind, you never need to work up a sweat to get the benefits.
But if you do need some assistance, here's an example of a Memory Palace station and directionality I created using the Midland Hotel where I stayed during the New Media Europe convention in 2015. As you can see, it's easy to place the station number and a direction signature for later use as you scroll through the PowerPoint (I used Keynote in Mac):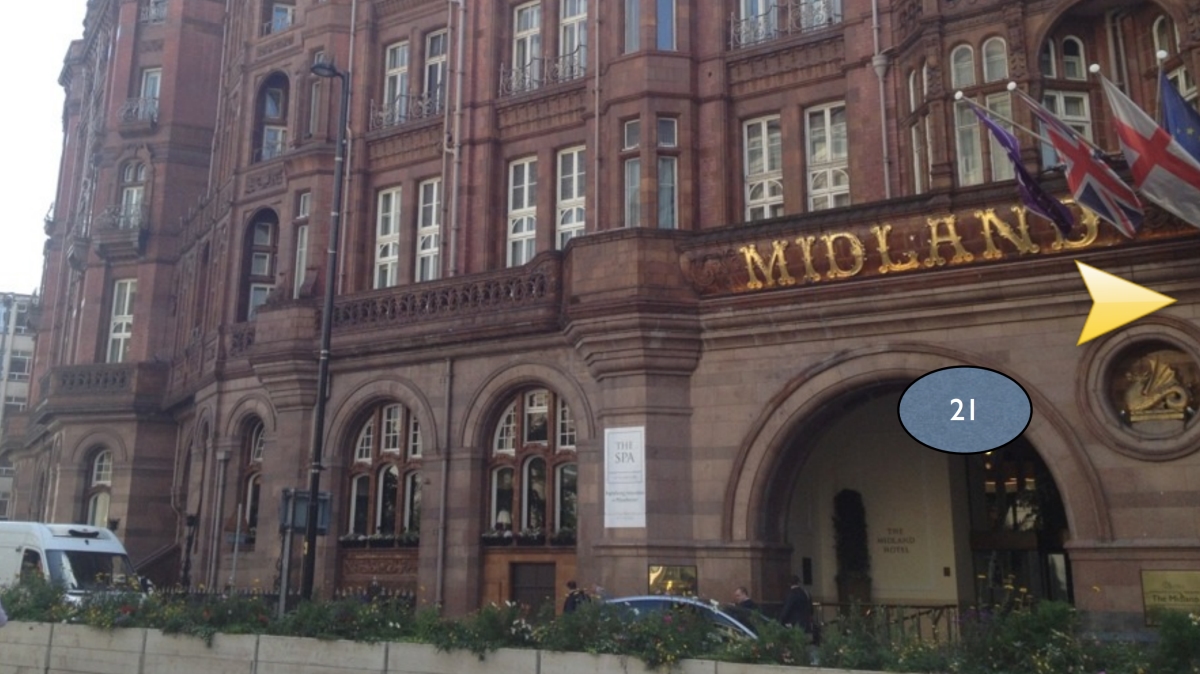 As a final camera tip, photograph street corners and use them as Memory Palaces for memorizing street names. It's a wonderful feeling when you can recall intersections, not just for finding your way back to places, but for giving recommendations to other travelers.
Yes, it's an ego boost too when you can show off your knowledge of cities around the world. Just don't let it get to your head and never forget that with great power comes great responsibly. Teach what you've learned about memory techniques to others by telling them how you memorized street names.
Make Videos For Review Later
If you've been following my YouTube channel, you've probably seen some of the videos I've been putting out about creating Memory Palaces along the way.
I even got April into the memory improvement game while visiting Prague:
Part of what I'm doing by making these videos is teaching what can be done to create an impromptu Memory Palace. But I'm also practicing my own memory as I teach.
You don't have to do anything so elaborate as posting your personal travel videos on YouTube, but the act of shooting the Memory Palaces you want to create will not only make your trip more memorable, but aid you in the creation process. It's also a fun way to create images of yourself that ideally won't lead to the corrosion of your memory.
The Forbidden City:
My Most Challenging Memory Palace
A lot of historical sites offer fodder for Memory Palace creation, and many are straightforward to navigate and commit to memory. Other historical locations, however, are so sprawling and complex, it's difficult to know how to use them.
I found this to be the case with the Forbidden City in Beijing, China. It's not just that the Forbidden City is labyrinthine. There are also many large spaces inside matched by contained areas. The temple structures within each area differ in shape, size and purpose. A few sections feature trees, ponds and fountains. Plus, there are gift shops throughout, many difficult to distinguish from each other.
Rather than take the Forbidden City as one entire Memory Palace, it made more sense to prepare for the creation of three individual Memory Palaces:
The front entrance
The largest structure (name)
The exit
By breaking the Forbidden city down in this way, I can capitalize on two of memory's biggest assets:
The primacy effect and the recency effect.
Although not always true, we tend to remember the elements of a sequence we encounter first and last the best.
For example, the one and only time I participated in a memory competition with Dave Farrow during the playing cards event, I remember to this day the first few cards and the last few I memorized. I can pick out a few in the middle, but most are hazy. (If I'd used Magnetic Memory Method Recall Rehearsal, I could have overcome the forgetting curve that wipes out the middle part of sequences, but I normally save that process for important info like foreign language vocabulary and names).
Study The Layout In Advance To
Maximize Memory Potential
Knowing that I'll be limiting my choices to these areas in advance, I studied the layout on the map before entering the Forbidden City. With a plan for using only a few select spots, I released my mind of the burden of capturing it all and absorbed most of the site on autopilot.
For the entrance, core building and exit, however, I photographed and sketched the layouts to help substantiate them in my memory.
The most important step?
Follow-up.
What does follow-up involve? Rehearsing the Memory Palace right away using the tools of Recall Rehearsal, followed by using the Memory Palace to memorize some information.
For example, as soon as possible after leaving many Memory Palaces on our honeymoon, I asked my fiancee to help me understand some new Chinese vocabulary and then used the new Memory Palaces to encode the sounds and meanings of the words. I sometimes did this fully impromptu without creating a Memory Palace first, which is also an option:
This Memory Palace Technique
Is Good For the Entire Family
Whether you're going to the Acropolis or the Empire State Building, there's a way to efficiently turn these locations into Memory Palaces without disrupting the flow of your vacation. If you have children and are interested in memory techniques for kids, you can set the foundation for a life of learning with greater ease by helping them maximize their impressionable minds with the global real estate travel puts in their hands.
And if you use the Memory Palaces to learn elements of the local language while visiting the city, all the better. Bilingualism is good for your brain, after all.
Heck, even if you just learn how to say good morning, good afternoon and good evening to the hotel staff, you'll make your vacation much richer.
Seriously. Memorizing a few niceties for use in restaurants will endear many staff members to you and this leads to better advice and more patient explanations when you have questions. You'll also have more fun on your trip.
Or you can follow the steps I took to memorize 3 Chinese poems in 2.3 weeks for other interesting things to memorize.
The trick is not to get nervous about making mistakes and simply open your mouth and speak from your beautiful powers of enhanced recall while your newest Memory Palaces are still fresh.
I hope you take these tips to heart and start enjoying your future vacations at a deeper level by making them both more memorable and more suitable for servicing your Memory Palace needs for years to come.