Podcast: Download
Subscribe: Apple Podcasts | Google Podcasts | RSS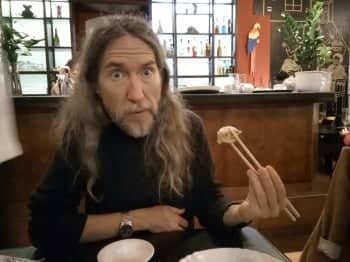 Wouldn't it be awesome if you could create a Memory Palace on the go?
I'm talking about rapidly developing a responsive mnemonic tool that lets you hear a word or phrase and instantly learn, remember and then recall it forever just by thinking of that place.
Here's the good news:
Making a Memory Palace is fun and easy to do. You just need to know the principles of the Magnetic Memory Method, and you're good to go.
How to Create A Mind Palace In A Restaurant
You can build a Memory Palace in a restaurant as discussed in this video:
Or you can create your first impromptu Memory Palace in a park as I talked about last week with Barbara Oakley.
Since park Memory Palaces are a bit more challenging than using a restaurant, here are some basic considerations.
We'll use  秋天 qiūtiān (Mandarin Chinese for "autumn") as an example.
Although I struggled with the pronunciation at the beginning (and even experienced a few rare seconds of frustration), the techniques set the stage for success using the rest of The Big Five Of Language Learning.
Scan The Scene For A Suitable Location For Your Memory Palace
If you're familiar with the method of loci, then you know that impromptu Memory Palace elements are everywhere.
But you also know that not all Memory Palace stations are created equal.
For example, stations in obscure and hard to measure places really don't serve as well as stations with fixed features.
Corners, for example, serve as bulletproof stations because they're fixed. You can instantly zoom to them in your mind.
Think of the corner of a park, for example, and BANG, your mind Magnetically zooms there.
The weak memorizer, however, chooses loosey-goosey stations, like "halfway between those clumps of trees," or places even less certain.
Focus On Solid And Certain Stations For Total Success
Walking through a park with April discussing German phrases she's learning, 秋天 came up. My eyes instantly searched for a place to create and secure a mnemonic image.
At that point, I had no idea what image I would create. But I let a sense of relaxation overcome me and trusted the process to do its work. It's all part of knowing how to memorize vocabulary.
And, of course, the Magnetic Memory Method delivered (it always does).
Combine Your Impromptu Memory Palace
Stations With No-Brainer Associations
Of course, you've got to be willing to make mistakes, which is exactly what I did.
Why?
Because to memorize the sound and meaning of 秋天 qiūtiān, I saw a giant 9 and yo-yo because 九 jiǔ (nine) sounds similar to my ear.
However, the similarity is a fantasy in my mind that led to one of my classic pronunciation errors.
Nonetheless, by associating the tones of 秋天 with the Major Method and using the word as often as possible in sentences, the work of getting it right every time is underway.
Notice too that by writing this post, making the video and the podcast episode, I'm practicing The Big Five Of Language Learning.
Should you go through all these motions online just to learn a word and practice it?
Not necessarily. But you should do it at a personal level to utilize all your representational systems and learn to speak your language.
Finish The Impromptu Memory Palace Later
The cool thing about a small impromptu Memory Palace like for 秋天 qiūtiān is that there are 3 more terms needed to complete my knowledge of the words for the seasons in Chinese.
冬天 dōngtiān for Winter
春天 chūntiān for Spring
夏天 xiàtiān for Summer
In this case, I used four trees in the park. Each tree served as the station for one of the seasons.
冬天 dōngtiān. I won't tell you what's going on with this image, but let's just say I'm not using a ding dong in combination with a snowy tree.
春天 chūntiān. For this I see Chewbacca chewing on a twenty dollar bill before spitting it out as rusty springs into the tea cup with burning yen.
夏天 xiàtiān. The t-sh-ya sound makes it hard to get a clear image in play, but I have the band Twisted Sister playing Yahtzee with miniature, but blazing hot suns and that works great.
In each case, the goal is to use the mnemonic imagery to bring back the sound and meaning of the words in the same stroke. The point of the impromptu Memory Palace location is to have a mental place to go for recalling the meaning and for playing around with the words in sentences.
For example, "I like autumn" can be changed to, "It is now autumn" and "Tomorrow it will be autumn." There are countless variations and it's important to run through as many as you possibly can to help the key vocabulary words stick in place in the context of a sentence.
After that, it's just a matter of repeating the process with new words and new Memory Palaces.
Impromptu Memory Palaces Are

Not

For Everything
At the end of the day, you need to pick your battles. Impromptu Memory Palaces serve small sets of information like the seasons or days of the week well. But for anything larger than ten pieces of information, you might struggle.
Why?
Because the problem with Impromptu Memory Palaces is that you have to recreate them in your mind at the same time you're recreating the images. That's a lot of unnecessary pressure on your brain!
But if you use Memory Palaces based on real locations, you reduce the mental load. If you're really good with Memory Palaces, you eliminate the load altogether.
If you don't already know how to create the perfect Memory Palace, please consider completing this free Memory Kit. It will help you get the most out of the process.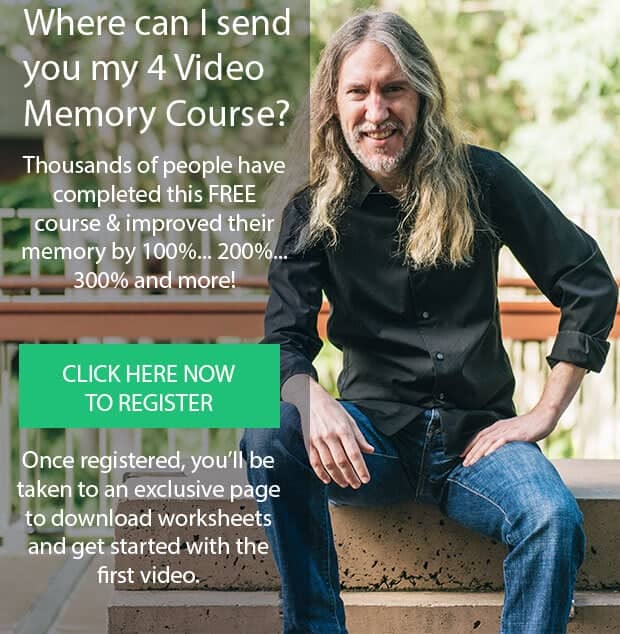 But here's the thing:
Nothing happens unless you take action, so please be sure to give this technique a try.
Post any questions you have below, and understand that the best questions come from experience and struggling a little bit with the process.
But this point is important:
Please do not overthink mnemonics. The answers come from taking action and using the techniques. And when it comes to learning tough subjects, here's how to practice memory techniques for that purpose.
Always.
Further Resources
You can use an impromptu Memory Palace at an event to remember names.
Or you can make an impromptu Memory Palace in a restaurant and then practice what you've memorized out in the rain. Just make sure to also perform proper Recall Rehearsal.