Podcast: Download
Subscribe: Apple Podcasts | Android | Google Podcasts | Stitcher | RSS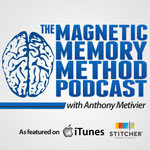 In this episode of the Magnetic Memory Method Podcast, I respond to one of your answers from the Magnetic Three Question Survey.
Would You Like To Know How To Improve Your Memory Like Arnold Schwarzenegger Pumps Iron?
If so, tune in to the Magnetic Memory Method Podcast and you'll learn:
* How to manage your hurdles with respect to your memorization goals.
* A great resource for picking up the 850 words you'll need to memorize as part of achieving basic fluency.
* The amazing benefits of relaxation for memorization.
* … and much, much more.
If you want to add your voice, here are the questions you can use to give your memory an advantage starting today:
Question #1:
What is your personal "Memory Myth" about your memory, including any programming you may have received as a young person or continue to receive in your daily life? How does this myth affect how you think about your memory?
Question #2:
What is the "distance" between where you are now with your memory skills – and where would you like to be in the future. Please be as specific as possible, including something like a deadline for when you would like to see a difference achieved (five minutes from now, tomorrow, next month, next year, etc).
Question #3:
What is your education "action plan" for getting the knowledge and training you need so that you have complete control over the improvement you would like to see in this area of your life?
And now let me add …
Question #4:
Have you ever used a Memory Palace or mnemonics?
Once you start using a Memory Palace for language learning, it's important that you follow up with reading, writing, speaking and listening every day. Without these activities, you cannot expect to get very far.
Memory techniques serve you in the following way:
Vocabulary is like the gas you put into the engine of grammar. You cannot run the engine without it. In fact, you can't even understand the engine.
And fluency is like a highway that has many gas stations along the way. Think about it: Even in your mother tongue, there are thousands of words you don't yet know and will never know. But you can always tank up whenever you please.
When it comes to learning another language, you just need to get yourself on the highway.
That might take some bench pressing that you struggle with, but you'll find your way, especially if you take a few minutes of your time to answer the questions above.
Please use the contact form to send your answers when you're done. I'll get back to you with some comments and a very Magnetic Memory gift a.s.a.p.
And of course, spend some more time learning about how to improve your memory like Schwarzenegger pumps iron at least one more time.
And if you're interested in using the Magnetic Memory Method to memorize foreign language vocabulary, the Magnetic Memory Method Masterclass includes a complete unit called How to Learn and Memorize Foreign Language Vocabulary.
+Anthony Metivier is the founder of the Magnetic Memory Method, a systematic, 21st Century approach to memorizing foreign language vocabulary in a way that is easy, elegant, effective and fun.
Further Resources:
7 Ways To Make Your Memory Swiss Army Knife Sharp