Looking for the best language learning software?
Choosing is tricky, especially since languages aren't actually spoken with software. It's spoken with humans.
That said, there are pros to many of the best language learning tools out there, and used well, these features can outweigh the cons. 
Curious about what this post will cover? Here's an overview:
Let's have a look at some of the best and think about how to optimize each and every one. 

Yours Free: A Private Course With Cheat Sheets For Becoming A Memory Master, Starting From Scratch.

>>> Click Here For This Special Free Offer.
3 Rock Solid Reasons To Use Language Learning Software
But first, let's talk about why we might want to use language learning software in the first place. 
1. Language Learning Is The King of All Brain Games
A lot of people aren't looking for mental exercise when learning a language, but developing bilingualism at any age is a great way to keep your brain healthy. Nothing pays off more than packing your mind full of foreign language vocabulary and phrases.
The problem is that you can't keep switching between multiple software programs and expect to get somewhere. There is a concept in memory called "interleaving," but this works only with a small amount of resources. To harness the power of interleaving for remembering more of the language you're learning, limit yourself to one software at a time and switch between one book and one video or audio program during each 90-day period.
2. You Can Potentially Earn Back Your Investment In Droves.
Learning a language costs three things: 
When used well, a solid language learning software can help you save on each of these aspects of learning a foreign language. 
Once you have learned a language, you can expect to benefit from greater chances at meaningful employment. You can also experience boosts of energy-creating confidence because life becomes such an incredible adventure when you can speak another language.
3. You Can Potentially Meet New Friends
Few softwares offer this, but I'm going to profile a few resources that do. Please focus on these.
We all know that people around the world love it when you can speak their language. Not only that, but you can be a better friend when you have friends from other countries. You can teach your monolingual friends cool words, phrases and elements of another culture.
There are many more reasons why you should learn a language. You'll find another 15 Reasons Why Learning A Foreign Language Is Good For Your Brain here.

Why Most Language Learning Software Is Distressingly Bad
There are dozens of softwares to choose from and because the Internet causes people to hoard a lot of free versions, most people never get very far into any single software. 
Some are really awesome, but you'll never know if you don't make full use of them.
But the main reason so many fail is that language learners don't combine the softwares with exposure to native speakers. For example, they don't book sessions on Italki or Skill Silo, for example. A software can have all the awesome features in the world, but if you're not actually speaking with people, then you're not going to get very far. 
Plus, a lot of software and apps offer confusing payment plans. They have levels that are never quite right and you wind up with a wash of language learning materials that you always have to hunt for or never actually needed. 
A lot of these programs also aren't maintained for every possible device and operating system. It can be very difficult to find ones that work properly for your particular phone or computer. That's important to keep in mind. Just because a website says its software is up to date, doesn't necessarily mean it is.
Finally, we know that it's not healthy to spend so much time on computers. But that's also potentially a point of positivity. Because you can learn a lot from language softwares in short bursts. You just need some discipline to do so. 
The only question is… do people actually respond to the notifications softwares send you throughout the day? I think there are better ways to remind yourself to study the language you're learning and we'll discuss those below.
And now let's dive into an analysis of the best language learning apps.

3 Best Language Learning Tools
1. Beelinguapp
I feel that Beelinguapp is the best app for one very simple reason:
It's story based and most of the content is recorded by native speakers. The exception is recent news stories, most of which are read by artificial voices. 
The app also includes non-fiction, which I generally prefer to fairy tales. I love that their non-fiction selections tend to be science based, but they also have great stories about cities like Berlin or topics like artificial intelligence.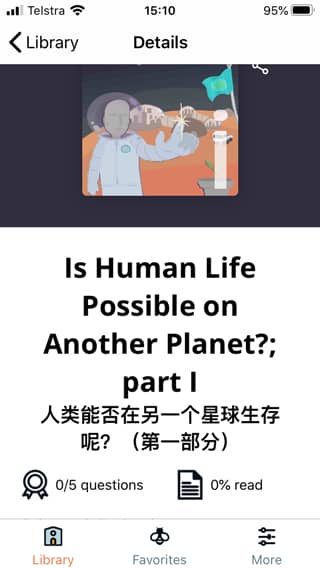 The number of language included with the app is impressive, including: 
Japanese

German

Chinese

Portugeuse

Russian

Hindi

Turkish

Arabic

Italian

Korean

English

Swedish
To date, I've only worked with German and Chinese, and I would suggest anyone using the app to focus on just one or two languages at a time. I'm mostly focused on Chinese, but since I already know German, I check out a few stories with it from time to time.
You can also change your reference language. In other words, you can listen to a story narrated in Chinese and read the German translation instead of English. This technique is something language learning expert Benny Lewis calls "laddering," and works great if you already know more than one language. It's a great way of reinforcing a language you already know while "laddering" your way to another. 
There are a few ways to get the most out of the Beelingua app. I suggest that you:
Listen to a story all the way through without doing anything other than paying attention to the sounds.

Listen again and read the English translation (or a "laddering" version) for the meaning.

Gather vocabulary words and phrases on a third pass.

Memorize these selections using a Memory Palace.

Listen again, this time with your chosen vocabulary and phrases in memory. 
Pros:
Beelingua has a nice spread of languages and settings that let you tailor your experience. 
Cons: 
I have premium, but every time I use it, I have to "refresh" the settings for the premium to be unlocked again. This annoyance chews up small amounts of time that could be used on benefitting from the app.
When it comes to the software compatibility issue, I find that tools like copy and paste are missing and the feature for building word lists doesn't work well at all. It's hard to figure out how to even get it to show up.
The question functionality for self-testing doesn't work very well either. Maybe I'm a bit dense, but I just can't figure out how to get the questions to show up in my mother tongue or pinyin for Chinese.
These cons aside, if you follow-up your listening with memorization and speaking with a native speaker, this is a great way to get tons of meaningful input quickly. 
2. Screenflow
Now, Screenflow is not actually designed to be a language learning software. But it is fantastic for meeting with native speakers. 
This software allows you to record and review any session with a speaking partner or language teacher that you wish. In the past, I've cut my voice out of the recordings and made audiobooks of lessons so I can listen through them quickly, make notes and use the Magnetic Memory Method to memorize the material.
These days, you can also use Zoom to create a similar outcome, but I still like Screenflow for the ease of separating tracks. Using the track separation feature, for example, you can turn off your teacher's voice or just focus on analyzing your own pronunciation.
This software also helps you create resources like Donovan describes here using Audacity:
Finally, you can "loop" your language instructor's voice on certain words and phrases for listening to over and over again. That can be useful for training your ear, and also for putting together a tailor-made audio track that you can base on a Memory Palace journey. On that note, here are 5 more Memory Palace examples to explore.
A lot of people don't think to record their language learning sessions, but doing so is golden. If things get overwhelming or you zone out, it's never a problem. You can go through the lesson again as many times as you like.

And just think of how you're maximizing your return on investment. Unlike going to a classroom where nothing is recorded, here you can continually review all of your sessions. It's like turning your teacher into a robot who can repeat whatever you want on demand.
Here are a few more tips:
Come to each session prepared.
Always come with the material from your previous lesson ready so you can quickly review before diving into something new. Even if you haven't memorized all of it, you should have your homework ready to share with the teacher so you can go over it.
Think ahead.
As you work on new material, consciously use what you already know from the previous week.
For example, if you learned about aunts and uncles last week and you're doing fruit this week, talk about how your uncle likes strawberries. Your teacher might not think to make the connection, but you can.
And to succeed, you must. Ultimately, you'll be the one out in the world speaking, so it's great exercise to already have in mind what you want to speak about prepared for each lesson and make connections during the sessions. You'll be doing that in real life too, so consider it training ground.
Mind your manners.
Always be on time, always say thank you and speak as little in your mother tongue as possible. It's good to be able to ask questions in your mother tongue, but move to the language you're studying as soon as possible.
Schedule multiple sessions in advance.
If you book sessions in bulk, you create milestones that help you organize your daily language learning activities. If you don't have a daily learning ritual, check out how to learn Chinese where I share some of mine.
Understand and use the power of motivation.
There's a science to keeping your energy and enthusiasm high, so don't feel like you have to slog through the process. Also, learn to balance the level of challenge. As James Clear discusses, The Goldilocks Rule is the key to success in life and it works in the business of language learning too.
Journal to document your journey.
Have you ever noticed how often I talk about my language learning stories on this blog? Well, it's not by accident. When you talk about what you're learning, you process it through different representational channels in your brain. Writing about your language learning experiences sinks what you've learned into deeper channels.
I remember 办公室 (bàngōngshì) better than a lot of other words, for example, because I took the time to teach other people how I learned it. I've talked about it on the Magnetic Memory Method podcast, written about it and even shared a drawing of what I saw in my mind so that I could instantly memorize the sound, meaning and tones of the word: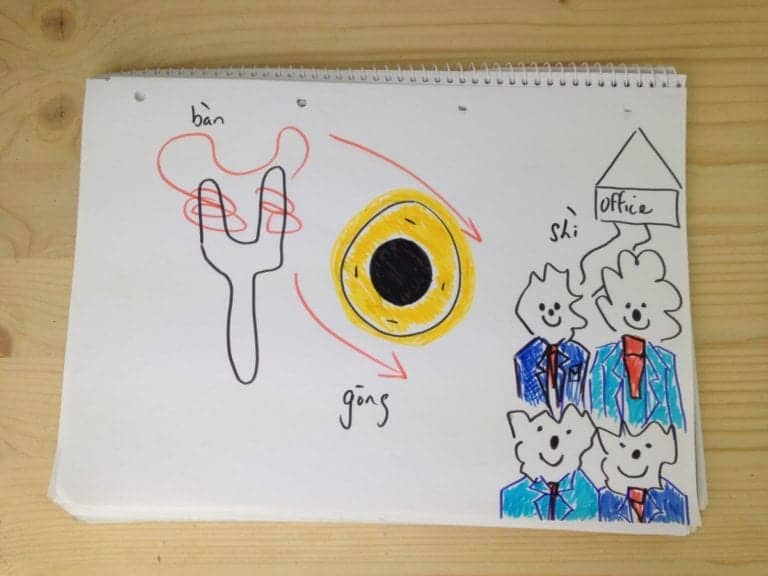 Drawings are a fun and easy way to make your sessions with native speakers more engaging and interactive. Show off the unique ways you've come up with to help yourself remember vocabulary and phrases.
Pros and Cons:
Not applicable. Screenflow does exactly what it promises.
Yours Free: A Private Course With Cheat Sheets For Becoming A Memory Master, Starting From Scratch.

>>> Click Here For This Special Free Offer.
3. Tandem
Tandem is a great way to connect with native speakers of different languages around the world. 
Basically, Tandem allows you to contact anyone who has set up a profile and ask them if they want to speak with you. 
I primarily use it for keeping up with my German and developing my Chinese. 
You can record your voice or type with a person. One pattern that works well is:
I speak German

My partner replies in English

I reply in English

My partner replies in German
Pros:
The functionality of the app offers nothing to complain about. It does exactly what it promises.
Cons:
A lot of people on the app don't seem to be interested in language learning. It feels a bit like Tinder in that regard.
However, if you reach out to enough people, you can find serious learners who want to practice. The app works great, or you can arrange to meet on Skype or Zoom. Then, you can record the calls for reviewing and capturing vocabulary and phrases you want to memorize.
4. Rosetta Stone
This language learning software has been around forever and they have put the work in. It also includes stories now, but could take a few pointers from Beelingua to improve this feature. 
I also have the premium version of this app, which provides 25 languages. So far, I've only worked with Chinese. 
The pro of Rosetta Stone is also its con. It provides something like immersion, which means you get no English. That can be good, but because the images are so small on the phone, you wind up getting a lot of answers wrong that would be correct if you could see them better. 
But even then, language learning should not be a guessing game. I think being able to check your accuracy would really improve this software. 
Because there is no English translation of any lesson available, this prevents you from skipping again. Again, this is both a pro and con. I know enough Mandarin to start further along, but not necessarily the exact Mandarin in later lessons. Because there are no translations, I just wind up scratching my head at a lot of the ultra-tiny pictures. 
Still, if you're going to learn using a software, Rosetta Stone is one of the most developed on the market. So long as you follow-up with capturing and memorizing vocabulary and phrases for discussion with native speakers, it can be useful. 
Pros:
Rosetta Stone locks you into only experiencing the language you're studying. This replicates an immersion classroom experience.
Cons:
Although the immersion aspect has a positive aspect, it can also be frustrating because the lessons build upon one another. Due to the way languages work, you need to take each course on its own terms when it comes to vocabulary and phrases. If you skip ahead and have no references to your mother tongue, it's easy to get lost quickly.
The biggest issue is the images are really small and if there's a way to get the answers in your mother tongue, I can't find it. Its story function is good, but not nearly as developed as Beelingua's.
Finally, when it comes to languages like Mandarin Chinese, having pinyin only with no character study is a drawback. There are different kinds of pinyin, and you seem to be stuck with just the one option. I haven't looked yet to see how the software handles Japanese or if it uses some kind of Romaji. It would be good to check this out before buying if you're learning any Asian language, or Russian, Arabic, etc. for that matter. This could be a potential issue to look out for if you're studying a language with different character sets.
5. Memrise
Memrise has changed a lot over the years. 
It used to have a feature where people could share their mnemonic devices, but that seems to have disappeared for some reason. 
Memrise has progressively gamified the experience as well. I'm sure some people find this useful, but I find it tedious. For several years, I supported the app as a customer, but the changes kept removing the features I enjoyed and found useful.

Now, as a "regular' freemium user, I don't use it at all because it constantly sends pop-ups asking me to get the premium version. (The version I already know has eroded the features I used to benefit from.)
I run a business myself, so I get it: pop ups are needed or else there is no helping anyone. This is the reality of the free market economy.
So that matter aside, the great thing that Memrise has done over the years is to record many native speakers. Getting to hear them speak phrases you might actually want to use is invaluable.
But it's also not the same as speaking with someone, so always be sure to follow-up with conversation time.
Pros:
Memrise has done great work in recording native speakers and updating their content so the vocabulary and phrases are content you actually want to use in conversations. 
Cons:
It has removed tons of features that made it great from a memory perspective. I'm not sure why, but maybe they'll bring them back into play sometime.
6. YouTube
You might not think of "YouTube" as software, but it certainly is. It is software that lets you watch videos in any language featuring native speakers from around the world. 
The app for your phone is elegant and easy to use. You can search many blogs that have suggestions for videos in the language you're learning. It is truly a feast for the dedicated language learner. 
When you find videos that you want to watch, I suggest you treat it like any other source of material. For example, I watch many videos in the languages I've learned and when working to improve, I use this technique I applied to Pimsleur:
YouTube also has several cool language learning personalities from the polyglot world who share meta-learning skills. Olly Richards and Luca Lampariello are two of my favorites.
Pros:
There seems to be a bottomless amount of content to choose from in every language under the sun.
Cons:
You have to search language learning blogs to find the best video recommendations. This is a minor complaint, however. 
7. Instagram
There's no doubt about it: like YouTube, Instagram can rapidly waste your time. 
However, if you're mission oriented and structure your time, it can be a very powerful resource. 
As with YouTube, you need to do a bit of research to find recommendations, but beyond that, there are many good language teachers who share vocabulary and phrases you won't find in any textbook. 
And who knows? You might also find a speaking partner or language teacher that way too.
Pros: 
Many language teachers post incredible videos and written content. Many answer questions too.
Cons:
Instagram can chew up a lot of your time on looking at things that do not improve your fluency.
8. Lingq
I first heard of Lingq when its founder opened up part of the software for free. It's a great way to read stories in your target language while listening to native narrators.
I use it to meet great tutors as well. Here's a full lesson I took with a preview of how the software works for listening to stories:
I'm absolutely delighted by easy this software makes it to hear the language while reading it and booking appointments with great language teachers. I've since met with German and Mandarin teachers using its service.
What Is The Best Program To Learn A Language?
Ultimately, it's the program of study you create for yourself. 
Rather than expect notifications from an app to encourage you, set a regular time of day aside instead. 
And if you need help, keep a journal. I recommend the Freedom Journal, which is especially powerful for language learning and personal discipline.
Whatever you choose, make sure you're combining a number of language learning methods and structuring your time well.

What do you think of these software programs? What hacks have you found for getting more out of them? Which ones have I missed?