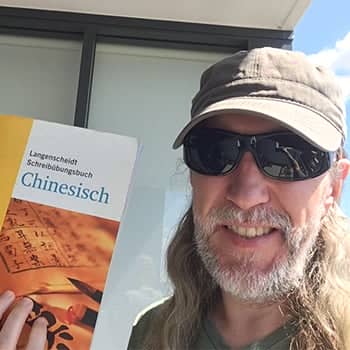 If you want to know how to learn Chinese, you've probably been told that it's one of the hardest languages in the world.
Well, what if that isn't true?

What if you had a simple way to learn tones, characters and rapidly memorize entire phrases within minutes? And what if you could do it all with minimum repetition, all under an hour a day?

And the best part?

You can even take breaks and still make progress. 
Want a guide to this post? Here's what we'll cover:
If all of this sounds too good to be true, stick around.
Everything I'm about to teach you is not only the best way to learn Mandarin – it's the most scientific way. Let's dive in.

Yours Free: A Private Course With Cheat Sheets For Becoming A Memory Master, Starting From Scratch.

>>> Click Here For This Special Free Offer.
How To Learn Chinese In 15 Steps
Step 1: Get started and start speaking immediately
When I needed to learn as much spoken Mandarin as possible in less than three months, I looked to my friends Benny Lewis and Olly Richards. 
Benny is famous for a few major rules: Speak from day one and create missions. 
Olly also has some great rules: Choose no more than:
one textbook

one video course

one audio program

one teacher…
… at least to start.
By following these simple principles, you start gaining traction immediately, without overwhelming yourself. 
And although I'd studied languages a lot over the years, I knew that their simple rules were very important.
How do you start speaking immediately? Once you have the best possible materials, you can read out loud, repeat from recordings and be talking with a native speaker within a week or less when you follow all 15 tips on this page.
Step 2: Choose the best possible materials
The trick is in making sure you really do choose the best possible materials, but not in a way that causes endless delay.
What are the best?

In this case, you're going to do some self-exploration and market research. No one can tell you exactly and sometimes you have to experiment to find the best possible materials. 
Example of choosing a great book for learning Mandarin
For me, I went directly to a Chinese character book. I read German, so I chose one in that language so I could practice "laddering." This is a technique polyglots use to keep sharp in one language they've learned while stacking on another. 
If you can't do that (yet), here are some things to consider. Look for a book that:
Contains short lessons that help you achieve your goals (if you're not traveling, for example, look for something oriented  more to Chinese vocabulary and phrases used in daily life)

Contains link or downloads to audio or video components

Contains instructions on learning pinyin with clear instructions for each letter

Contains a vocabulary list organized by pinyin in the back
In my case, I broke Olly's "law" of choosing just one book because the character book included no phrases. So I added a second book of grammar that includes phrases. 
What about getting a dictionary? By all means, you can, and for that I suggest the Pleco app, ideally with the Outlier Linguistics add-on.
Note: My choices also reflect the use of memory techniques. We'll talk about those in a bit.
Example of choosing a suitable video or audio program
Let's face it: the Internet is packed with podcasts and videos to help you learn to speak Chinese. 
But you really should find just one and stick with it from beginning to end.
The reason to focus on just one program at a time is to help your brain see the big picture. Later, you can pick and choose from different sources, but even then, you'll be best served by completing one course at a time thoroughly. 
Note: The exception to the rule is if you really can't stand something about the format. But that should be pretty rare if you've done your research and read reviews from other successful language learners.
When I first started with Chinese, I went with Pimsleur. I'll talk about how to work with such a program in a moment. The point for now is simply this:
I made great progress with my Chinese not just because of the learning techniques we're discussing on this page. I also made progress because I did not constantly interrupt myself with endlessly searching for and trying other courses. Olly's advice stuck with me. 
Example of choosing a teacher
Identifying great teachers is trickier than finding books and courses. But one of my favorite sources is italki. You can find speaking partners for free on the site, but I recommend you hire people. Here's why:

Any "tandem" language learning service means that you're not really "sharing" time with a native speaker. In reality, you're competing for it. I spent dozens of hours trying to trade my time with people who constantly switched to English because they naturally want as much time speaking it as possible.

When you hire a teacher, they are focused solely on you and your goals. You just have to make sure that they understand your goals and are a good fit for at least a weekly session over a 90 day period. And the only way to find out who will be a great teacher is to try holding sessions. I'll share some tips on maximizing your time with Mandarin teachers in a moment. 
Summing up: Use Limits To Choose Your Chinese Learning Materials
My mentor Tony Buzan once told me that "the rules will set you free." 
When learning a language on your own, you need to create your own rules. The ones I learned from Olly about choosing just a few learning materials and working with them thoroughly were golden for me. 
Yours Free: A Private Course With Cheat Sheets For Becoming A Memory Master, Starting From Scratch.

>>> Click Here For This Special Free Offer.
Step Three: Explore and Harness The Big Five Of Language Learning
"The Big Five" is my fancy name for something called the levels of processing effect. Basically, it tells us that the more senses and processes we tap into, the more quickly we learn. The five that I rely upon heavily are:
Reading

Writing

Speaking

Listening

Memorization
There are many ways to get all of these activities into just 15-20 minutes a day, ranging from activities with your teacher to using certain apps. For example, Beelinguapp has some decent short stories. You'll see the Chinese characters and hear native speakers for most of the stories.
Even better is Chinese Conversations by Olly Richards, who I mentioned above. Not only do you hear native speakers engaged in dialogues real people would actually hold, but you also get vocabulary lists. Plus, Olly teaches you a streamlined process that is much like the Big Five you just learned about. 
Later in this post, we'll talk about each part of the Big Five, especially memorization.
Step Four: Create Missions
We've talked about harnessing the power of limits when learning Chinese. This is so important, and the best way to do this is through some self-analysis of what you want to be able to say. 
A lot of people get hung up on Chinese word frequency lists. Although they are useful, they are not and cannot be the holy grail of learning the language. You need to bring your own context to the game. 
For example, the first time I went to Beijing, there was no way I could have known in advance that I would want to talk about marriage in Mandarin. So there was no point in focusing on vocabulary or phrases related to this topic. My main mission was to get through at least two levels of Pimsleur for Mandarin and meet with teachers online 2-3x a week. 
To take another example, the last time I went to the zoo, I made it my mission to memorize 10 animals by their name in Chinese.
What should your initial missions look like? 
Mission One: Gather your learning material and focus on the power of limits

Mission Two: Schedule time on your calendar for when you're going to study the book and program you chose

Mission Three: Schedule your meetings with teachers, ideally booking out as many in advance as possible after you've found a suitable match

Mission Four: Learn the sounds of pinyin

Mission Five: Keep following the programs, but also identify things you want to say that aren't included in them to discuss with your teacher

Mission Six: Identify themes related to your interests

Mission Seven: Get started with characters, etc…
There are many more missions I could list, but let's focus on Mission Six because it's really important. 
My friend Luca Lampariello talks a lot about finding topics you're interested in and then starting to translate them into your mother tongue. I'm big into memory, so naturally I chose a book on memory in Mandarin to start working with to expose myself to characters, grammar and a general sense of how the written language works. 
Step Five: Bring Your Missions To Your Learning Sessions And Record Them
I record every session with language learning teachers I hold.

Why?

Because that way I can focus on the moment and not worry about "losing" any words or phrases from the session.
I prefer a software called Screenflow for recording sessions. I have the textbook or teaching materials on the screen and my teacher on Skype. Then, whenever I want, I can go back through the lesson and make notes and put words and phrases into my Memory Palace Network for Chinese. 
Note: The first "mission" I brought to the teacher was to go through lesson one of the Pimsleur program and some of the vocabulary I'd picked up from the Chinese character book I'd decided upon. 
To organize words and phrases, you can:
Write them in a notebook

Place them on index cards (drawing works best)

Memorize them directly
In all cases, I suggest that during your first sessions, you work strictly with pinyin and oral Chinese. Save the characters for later. 
Step Six: Learn Pinyin
Pinyin is tricky because there are at least four kinds you might come across (often in the same day):
None is better than the other and there's no escaping the fact that it is frustrating not to have a standard. However, your best path to progress is to pick one and learn it. 
Because pronunciation is so key to success in being understood in Chinese, make sure that you work with a native speaker. As my friends from Outlier Linguistics say, overpractice your pronunciation until it's impossible to fail.
Step Seven: Discover How To Learn Chinese Using Mnemonics
If you want to know how to learn Chinese fast, nearly everyone agrees that mnemonics are your best bet. There's nothing new about this, and I even visited the grave of a famous language learner from Italy in Beijing named Matteo Ricci. He used mnemonics back in the 16th century and even wrote a book about how to do it in Chinese that is still in circulation today. 
There are a number of mnemonics for learning Chinese that will help you:
In brief, to use a Memory Palace involves placing unusual images along a journey you've mentally recreated. For example, I memorized this song in Chinese very quickly:
I used the apartment you see me in to place Magnetic Imagery in linear lines throughout the apartment. After I memorized this song, I added a poem to that same kitchen:
With practice you can transform every home and building you're familiar with into Memory Palaces that help you rapidly memorize all the Chinese vocabulary and phrases you create time for. 
The next step is to use the Memory Palace for "Recall Rehearsal." Remember when I told you in the beginning about reducing the amount of repetition when getting Chinese into long term memory?
The Memory Palace technique is how. Basically, you use the Memory Palace to harness a few aspects of memory called:
Primacy Effect

Recency Effect

Serial Positioning Effect
The way to get really good at this powerful memory approach is to have a strong Memory Palace training routine. That way, you can get to the point where you memorize entire lines of Chinese within minutes, sometimes seconds. I demonstrated this skill live with Chinese lyrics on this live stream:
For a more detailed example, take the song The Moon Represents My Heart. This wonderful piece of Chinese music goes by this name in Mandarin:
月亮代表我的心 (Yuè liang dài biǎo wǒ de xīn)
The title recurs through the song, so I created one image per word and placed each in a Memory Palace. For example, for Yuè liang dài, I saw a ewe wearing Lee jeans that were just a bit too long while doing magic with a die. For biǎo wǒ de xīn I saw a bee stinging David Yow (the singer from a band called The Jesus Lizard). For de and xīn I imagined a French Canadian kicking David Yow in the shin. 
Here are more mnemonic examples for Chinese:
To get everything into long term memory quickly, I harnessed the effects of memory I just mentioned by exaggerating all of the mental associations and then following the Memory Palace journey according to a small number of patterns. I cover everything in greater detail in Memory Palace Mastery: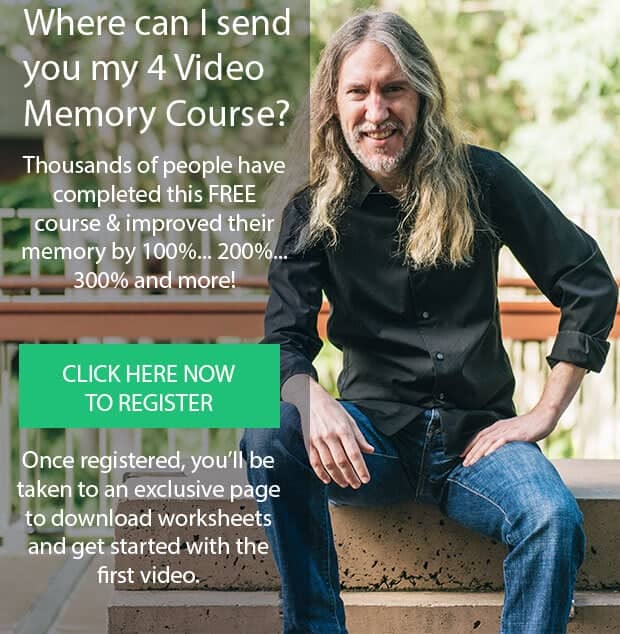 How should you gather and organize your words and phrases for placing in your Memory Palaces? 
I suggest making it easy on yourself in the beginning. Memorize exactly what you learn in the program and book you chose. This is yet another reason to choose well and go through your resources thoroughly. I did this with Pimsleur and learned a lot of basic Chinese very quickly just by listening to the program, writing out the pinyin by hand and them memorizing each line in a Memory Palace:
Likewise, when you record your sessions with Chinese teachers, you are essentially giving yourself a program to extract information from and memorize. And because you are working based on missions, you'll proceed very quickly and in a way that is better than any course or book on its own can provide. 
Step Eight: Learn The Tones And Practice Sounding Them Out
Learning the tones is really important. I suggest you learn mnemonics first, however, including a technique called the Major Method. This mnemonic device lets you add a secondary image. 
There are four tones, though you will sometimes find people saying there are five or even six of them. To my ear, there are only four and most people seem to work with that number. 
As with pinyin, you'll see the tones represented in different ways. For example, you might see:
mā or ma1 (first tone)

lé or le2 (second tone)

kǒng or kong3 (third tone)

yù or yu4 (fourth tone)
A simple way to memorize the symbols added above the letters is with a friend or animal. For example:
mā (imagine a kangaroo punching straight forward)

lé  (imagine a kangaroo jumping up)

kǒng (imagine a kangaroo hitting the ground hard enough to dent it)

yù (imagine a kangaroo breaking a board in two)
Now, you'll rarely see single syllable words as in the examples above outside of textbooks. Usually Chinese words come in syllabic pairs. For example: 
很好 (hén hǎo or hen2 hao3)
When you use the Major Method, you can instantly create an image for 2-digit numbers. So if you're memorized 很好 (hén hǎo) and want to remember the correct tones, you can think of your image for 23.

If the core image for the word is a hen asking a garden hoe how to use it, then the image to remind you that you need to use tones 2 and 3 would be something like a Vietnam vet. This works because 2 is always connected with an 'n' and 3 is always associated with an 'm.'
Sound too complex? Maybe in the beginning it will be, but it's an incredibly powerful tool if you devote yourself to learning it. And since there are tones to learn for each and every word in Chinese, I recommend that you do.
Again, if you're following along so far, you're going to have plenty of speaking opportunities and you'll have recordings of yourself speaking with your teacher. Listening back to your own voice can be a painful experience, but soon you'll get used to it and develop critical distance. Listening objectively and comparing your voice to native speakers will help you correct.
Step Nine: Learn Chinese Characters
I was given the advice to focus mostly on pinyin and oral Chinese for at least a year. Although I like drawing and did a small amount of work with my character book (which I mostly used for the word list in the back), I mostly followed this advice. 
Why delay the writing system for so long?
Well, the advice isn't going to be right for everyone, but let's face it. When learning Chinese, we're asking the brain to handle a TON of information:
Characters

Tones and tone shifts

Core sounds for words and phrases

Meanings

Grammar
When exactly the time comes to add Chinese characters is up to you. There is no perfect time. But I do think it makes sense to delay it so you can focus just on pinyin and sounds to gain a solid footing and start recognizing the Chinese you hear. 
When it comes time to memorize the characters, you'll need to consider learning stroke order. This can be done using a Memory Palace by imagining the stroke order on imaginary walls. 
For example, you can have two rooms in a Memory Palace and on seven of the walls, place mental associations that help you remember:
Characters are generally constructed top to bottom

Left to right when radicals are in play

Horizontal first, vertical second

Close the frames before filling them

Close the frames last

Anytime a line spans the entire character, draw it last
Personally, I just do my best and practice improving over time. Remember: Focus on missions. If you're never going to write, maybe you should choose to focus purely on reading characters instead. 
This is where Pleco with the Outlier Linguistics add-on is great because it will show you the early origins of the characters, which are often filled with pictorial clues that help build your recall even without mnemonics.
Drawing to learn Chinese Characters
Sometimes I don't feel like using mnemonics – at least not right away. That's why I draw the images sometimes.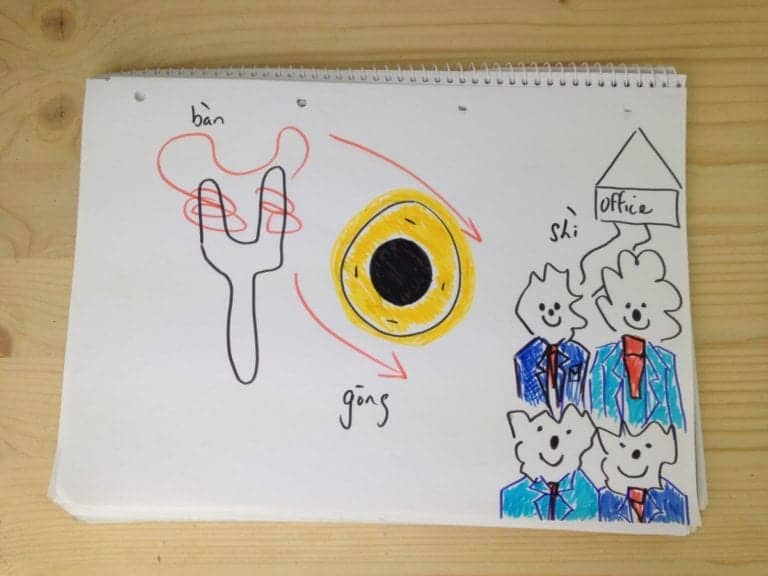 In this case, I made a simple drawing of the red band on a slingshot, a gong and some sheep going to work to remember the word for office in Mandarin: 办公室 (bàn gōng shì). Later I transported this image into a Memory Palace with other words for Recall Rehearsal.
Mind mapping to learn Chinese Characters
You can also use Mind Mapping to learn Chinese. I do this with tougher characters, or to create variety as I learn. It helps me stack on more mnemonics faster and in a way that includes more information about the sound, meaning, tones and characters.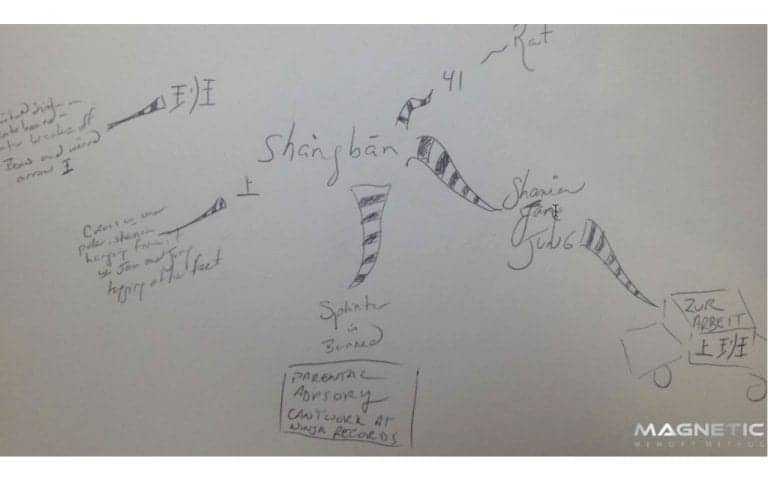 This method takes a bit more time in the beginning, but the more you practice, the faster you'll get. 
In the example above, you can see how I've used the Major Method to remember the tones and "laddering" by incorporating some German. If you know multiple memory techniques and languages, use them! 
Step Ten: How to Study Chinese By Balancing the Challenge-Frustration Curve
As you proceed along your Chinese learning journey, you're going to find that some things get easier. When that happens, you'll do yourself little or no good by repeating things that no longer challenge you.
The flip side of the coin is that you don't want to get ambitious and skip so far ahead that you frustrate yourself. That just leads to giving up, or taking unusually long pauses. (As you'll see, taking some breaks are actually good, but not for too long.)
Since everyone's journey is different, there is no perfect example. But let's say that you've gotten good at ordering your favorite foods at a restaurant. You can make things more challenging by talking about world events.

But if you find that is too challenging, scale back. Talk about what you did yesterday instead and pepper in learning a few words about watching the news as you gradually build up to talking about its content.
Step Eleven: Meet With Native Speakers As Often As Possible With Missions
Although the Internet has allowed us to meet Chinese native speakers and teachers from around the world, the miracle of technology does have some deficits. You don't have the full benefit of proxemics, for example, which is the full range of gestures and hearing sounds unmediated by technology. 
A great way to learn faster with a native speaker is to sit at a table and discuss the pictures in a magazine. By this time, you should know some phrases like, "What's this called?" You don't have to make your first conversation any fancier than that. Just sit with your native speaker and keep asking the question, listening to what they say. 
You can do a version of this online with scans from magazines you bring to your learning lessons, but there's something magical about sitting with a native speaker whenever you can. Do this as often as possible.
Step Twelve: Stack On More Resources With The Same Focusing Rules
The temptation to sign up for more courses will be ongoing. Eventually you should, taking care to schedule out your study sessions and complete each from beginning to end. Here are some of my favorites that I've completed:
Pimsleur Mandarin

MandarinHQ

(my preferred course)

Outlier Linguistics

Mandarin Corner
I also learn a ton from Instagram teachers like:
Each of these teachers makes it fun and easy to hear and read Chinese every single day. But don't forget to write out what you learn, speak it yourself and memorize the information using the Big Five. Language learning requires tons of input, but you've also got to add output in order to learn.
Step Thirteen: Take A Formal Class (Optional)
This step is not strictly necessary, but I'm glad that I registered for a course with the Confucius Institute in Brisbane. It was my first in-person class.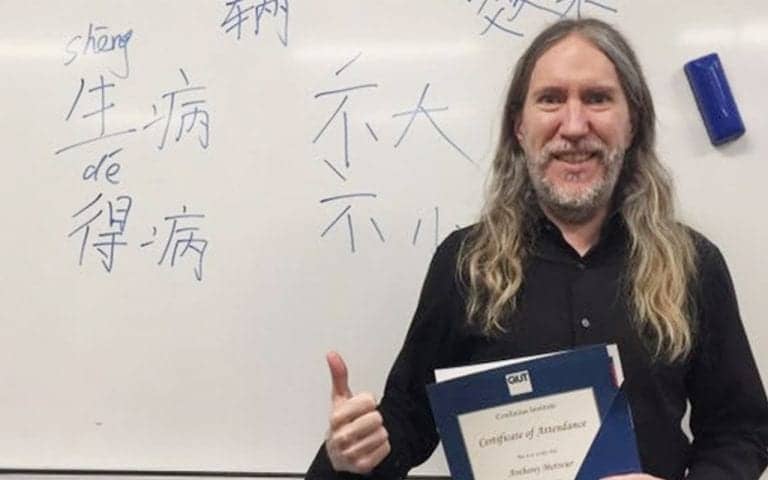 They started with an intake test and I was surprised and delighted when they fast tracked me to level III based on the skills I showed up with based purely on the self-study tips you've learned today.
What I loved about the course includes:
Very small class size

The teacher used English only as a last resort

Characters were used with a minimum of pinyin

It made the discipline of sticking with one textbook easier

It was fun to use the class itself as a Memory Palace
The only thing I didn't like is that the classes took place at night. Other than that, it really helped accelerate my Chinese abilities, though I'm very glad that I waited to take the course and studied on my own in the beginning.
Step Fourteen: Talk To Yourself – Often
When learning Chinese, you want to develop the habit of "self talk" in the language.
For example, when you're planning your day, do it in Chinese. If you find that you don't know the word for post office or certain grocery items, now you have a mini-mission.
This habit starts small in the beginning when you only have a few words. But start doing it anyway. It's a form of active recall and it helps you keep track of where you have holes in your fluency. If you don't do this kind of self-talk in Chinese, you lose out on a lot of self-analysis that helps you craft better Chinese learning missions.
Step Fifteen: Take Strategic Breaks
Believe it or not, it's a good thing to take a week off from time to time. There's no specific pattern to follow, but let's say that a good rule of thumb is 5 weeks on, 1 week off. 
The trick is in scheduling these breaks so that they're not random or accidental and you have a path for getting yourself back on the horse.
Taking breaks works because they allow your brain to percolate the information you've focused so hard on absorbing. This effect is sometimes called diffuse thinking.  
You can also get it by taking ample breaks during your study phases. For example, rather than cramming for an hour, you might find you learn and retain more when you work in fifteen minute blasts. Explore different patterns and journal what works for you so you can see and make use of the trends that emerge. 

More Power Tips And Troubleshooting Advice For Learning Chinese
You're probably going to have tons of questions along the way. My suggestion is to try to answer your own questions as much as possible and keep yourself focused on getting as much input as possible while writing and speaking the language from memory. 
Beyond that, here are some common questions: 
How long will it take to learn Chinese?
I doubt there's a one-size-fits-all answer. If you're mission oriented, you should be able to have simple, and yet highly useful conversations within three months. Again, base everything on your missions and you'll always be satisfied with your progress, provided you're focused on fewer learning materials you use thoroughly. 
Also, it's important to think deeply about what "fluency" means to you – not what it means in the dictionary or in the mind of some language learning showoff. 
In my books, the definition of fluency is simple: It is the ability to be understood and understand or find a way to understand what people say to you.
This particular definition is important because if you think about it, that's exactly how you are fluent in your mother tongue. People misunderstand us all the time and we misunderstand others. But we are fluent because we know how to give or receive clarification. It really is that simple, and focusing on missions will get you there quickly. 
Should I travel to learn Chinese?
I certainly benefited a great deal by visiting China – but the bulk of my Chinese study has taken place in either Germany or Australia. Most polyglots agree that short term travel is typically one of the worst ways to learn a language because you're so focused on seeing the sights and enjoying yourself. 
Plus, native speakers you meet on the street or everyday people with lives – not language teachers. Sometimes you'll luck out and meet people interested in helping you learn, but that is not a strategy and no way to complete the kind of missions we've talked about today. 
What time of day should I study Chinese?
The answer to this question requires some self-analysis. Some people do really well in the mornings, others do better in the afternoon or evenings.
Personally, I'm a morning person and I used to keep my Chinese character book next to my bed so I would not forget to get my main blast of studying done right away. 
Where can I learn Chinese near me?
I would suggest searching Google with a command like:
intitle: chinese class + name of your city
A command like that can really help narrow things down. You can also search Meetup for information groups, and keep your eyes peeled for bulletin boards around your local grocery store. I see advertisements from Chinese tutors near mine all the time. 
What about software for learning Chinese?
As with any program, it's great to experiment, but only worth going through if you're thorough – and even then.

Without naming any names, so many softwares give you phrases in lessons that help your brain confuse activity with accomplishment. Plus, if you're using free versions, they are loaded with ads that interrupt your progress. 
Rosetta Stone is one of the most developed softwares, but you're thrown in the deep end from the beginning and have to guess what words and phrases mean by looking at pictures (which are excruciatingly small on mobile). This process is not as interactive as it seems and you spend more time deciphering a puzzle than committing Chinese to memory. And although the software prompts you to speak, I've tested it and as far as I can tell, it is definitely not testing for accuracy. 
What movies should I watch to learn Chinese?
Watching movies is a good idea, and there are countless options. Yoyo Chinese gives a few Chinese language movie options that are freely available on YouTube. 
However, aspects to consider are the naturalness of speech and likelihood of encountering words and phrases that relate to your missions and what you want to say in the real world. 
I suggest documentaries on topics that relate to your learning missions. With these Chinese documentary suggestions, you can readily find natural speech examples to learn from related to real life missions you might actually want to accomplish. 

Conclusion: How To Craft The Best Way To Learn Chinese
Learning a language like Chinese isn't that much different than any other. You just need to set some rules and then practice consistently.
Remember how I told you my mentor Tony Buzan said the rules will set you free?

Tony said that to me when I saw him just before taking my first trip to China. I've thought a lot about what being "free" to learn faster and remember more really means. Here's what I've come up with:
Frequent practice in a state of…
Relaxation and a spirit of…
Experimentation within well defined limits will keep you endlessly…
Entertained
Follow the rules in this article and you'll be "free" to speak Chinese as fluently as you wish in no time at all.