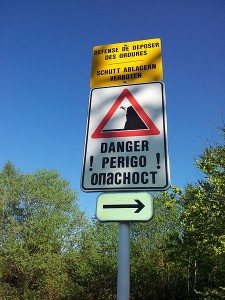 Dear Memorizers,
I've recently become interested in the art and science of polyglotism. (Yes, that's actually a word).
The funny thing is that a lot of these people operate with neither art, nor science.
Or better said, they work without using Memory Palaces.
I think you'll be floored when you hear about the rote learning extremes Tim Doner goes to:
Still, I just gotta respect the guy for what he's been able to accomplish using such archaic technology (rote repetition).
Now all that said, we can learn a great deal from even those who don't use Memory Palaces (tisk, tisk).
For instance, although Doner doesn't use this term, he essentially practices what Dan Sullivan and some others have called "speed of implementation," which is to say that he goes out and uses the words and phrases he's "learned" (i.e. not necessarily memorized) as soon as humanly possible.
He also talks about associating words within the target language to other words within the target language.
Association will always win you brownie points in my books, but as you know, association without location is like Star Wars without Darth Vader lurking in his Death Star (how else would Luke, et al know where to find him?)
Now, before we rush to the conclusion that all hope is lost, check out another video made by the interviewer himself, the rather brilliant Luca Lampariello. He has a very cool website called thepolyglotdream.com and I suggest you check out this article and video in which he goes deeper into the power of association:
http://www.thepolyglotdream.com/forget-it-the-secret-of-remembering-words/
But here's the difference between what these people preach and what I teach in the Magnetic Memory method: speed of implementation and association are massively strengthened by using locations.
And not just any old locations.
Carefully predetermined and prepared Memory Palaces that follow all the principles already laid out in the book you've read.
When you can find your associations and rest assured that they're actually there, you're in for a treat every time you go word hunting.
And it only takes a couple of hours (or less) to get yourself set up.
Enough said.
Until then, remember that Luke can't find Papa if he doesn't know where he's hiding and then tell someone what you've learned about memorization. Teaching a skill is one of the best ways to learn it and helping people improve their memory is one of the best ways we can make the world a better place. The more we remember, the more we can remember. And the more we learn, the more we can learn.