Podcast: Download
Subscribe: Apple Podcasts | Google Podcasts | RSS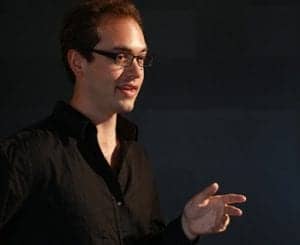 Would you like to eliminate the 'busy-work' from your language learning activities?
You know the ones I mean:
Scouring the Internet for vocabulary and phrases – the kind that will actually move you towards meaningful fluency…
Hunting for images to open up the visual centers of your brain and memory…
Driving yourself mad looking for audio clips that match the words and phrases you want to link together on your SRS device.
Meet The 'Tesla' Of Language Learning Who Is Working To Engineer A Completely New Kind of Language Learning App
As a polyglot, bestselling author and all-around nice guy, Gabriel Wyner is the man behind a completely new kind of language learning app and the book Fluent Forever: How To Learn Any Language Fast And Never Forget It.
He also runs the incredible Fluent Forever blog where you can learn things like How To Use Flash Cards While Driving.
And on this episode of the Magnetic Memory Method Podcast, scroll up, press play and you'll learn:
Why pronunciation is one of the first barriers language learners face and why lack of familiarity with sounds frustrates most people.
Why Gabriel talked about memory scientist Hermann Ebbinghaus as a masochist, and how he's helping eliminate masochism from the language learning process.
The role of learning a language without translations to cause your brain to make associations you wouldn't discover any other way.
How to create useful language connections using Google images and create fill-in-the-blank-sentences.
Why Gabriel is working so hard to replace one of the most commonly used SRS software for language learning.
Why you need to make your own flash cards and the decisions you can make to take a more active role in your language education experience.
What makes SRS and search-based websites such a huge burden and Gabriel's hard won experiences learning to use them with "two-handed mouse and keyboard maneuvers."
The difference between "busy-work" related to language learning and actually learning the language.
The role of choice in language learning and why it pays off big time in language study.
Why you need differentiation when looking at variation sentences for your memory to benefit from the Von Restorff Effect and related memory effects.
The value of looking at words both in context and out of context.
How engineering influenced Gabriel's quest to create a language-focused SRS app better than any other in existence.
How Gabriel has tested and optimized the user experience in order to create an easier learning process with real people.
The hidden connection between desperation, motivation and the unexplainable sources of inspiration that lead to the "joy-fueled" energy that propels learners towards fluency.
Why you don't need to know your "why" to learn a language.
Fascinating ideas on how to use recordings to help you remember gendered nouns – an incredible idea that you're not going to want to miss!
Oh, and Gabriel's a great singer too. Check this out:
So, what do you say? Are you excited?
I know I am, so make sure to check out Gabriel's Language Blog on the Fluent Forever website so you can learn more about his upcoming app and how to get involved.
Additional Resources for Gabriel Wyner
And Fluent Forever
Great Derek Sivers review of Fluent Forever
Gabriel Wyner on  the Art of Charm Podcast
How to Teach Old Ears New Tricks on Scientific American by Gabriel Wyner