Podcast: Download
Subscribe: Apple Podcasts | Google Podcasts | RSS
Amazing Language Learner Olly Richards

Pulls Back The Curtain On Exactly How He Learned 8 Languages In Record Time – With More Than A Full-Time Job Crowding His To Do List … Tune In To Learn How You Can Do It Too!
In this episode of the Magnetic Memory Method Podcast, Olly makes a second appearance on the show to follow up on the episode called Olly Richards Talks About Language Tech And Real Communication.
But before you listen to this episode, make sure to join us on Olly's free training series, "3 Proven Secrets To Becoming Conversational In Spanish".
This call is pre-recorded, so you can register anytime. I'm on the call as both moderator and student advocate, so you won't want to miss a moment of this call. We go deep into what it takes to learn a language and you'll take away a lot of actionable tips.
After registering for the call, come back and listen to each and every word of this special podcast and you'll learn:
* How to find words and phrases that you ACTUALLY want to speak when learning a language.
* The power of setting a "crazy goal" for motivating yourself to take action and make targeted strides, even if the language you've chosen is difficult.
* How to elevate your thinking about the art of language learning so you get maximum results in minimum time.
* The best ways to "wrangle" your speaking partners and tutors into shape so they help you study what you need to study instead of wasting time on willy-nilly activities that won't get you anywhere.
* The essential questions you should prepare yourself to answer when studying your dream language.
* How to develop a list of topics that you're likely to talk about so that you're not chained to the next page of your textbook.
* The new – and BETTER – way to think about rote learning for getting traction when learning a language.
* Why memorizing is just one part of language learning and how to identify and isolate the other parts to boost your success.
* The one thing that keeps Olly up at night when learning a language. Solve this one worry for yourself and you will never run out of steam.
* The scheduling secret Olly uses to "oblige" himself to attend lessons. You can uses this approach too – even if you've got a zillion things to do. Heck, the dude even shipped himself to Thailand when he wanted to learn to speak Thai.
* The absolute best time of day to study your target language so that you always feel like you've made progress and build your sense of accomplishment.
* How to avoid letting the great get in the way of the good so that you can start from a place where speaking practice is always good not matter how unprepared you might be. Use this approach and you can literally get prepared on the fly.
* The ultimate motivation secret for getting yourself through multiple lessons and find language teachers you will genuinely love learning from.
* The untapped power of hypothetical questions and role play in your language learning practice that you're not using – but should be!
* Olly's take on using mnemonics for individual words and when you should be focusing on them instead of entire phrases. In fact, you should be encountering them inside entire stories. Here's an example from Olly from his Spanish Short Story collection:
* Textbook tactics for shopping and getting the most out of every resource you buy.
* How to avoid tourist-speak so that you aren't limited to ordering food and asking directions to the hospital for your cat (yes, you will be led into these dead ends if you don't take Olly's advice).
* Exactly how to deal with introversion so that no matter how shy you might be, you can eliminate random social unknowns and learn in a safe and practical environment.
* … and much, much more.
This is the kind of episode you're going to want to save and keep returning to again and again. And if you interested in memorizing the key points, How To Memorize A Textbook will help you master this simple skill and put you in a position to memorize vocabulary and phrases at a higher level thanks to your practice of the art of memory.
Further Resources
Olly's I Will Teach You A Language Podcast
Olly's Language Learning Foundations Course (highly recommended)
Spanish Short Stories For Beginners Volume Two
Russian Short Stories For Beginners
Photo Essay

The picture above is from the May 2015 Polyglot Gathering in Berlin. From left to right you see myself, Olly, Richard Simcott, Kris Broholm, Brian Kwon and Jan van der Aa.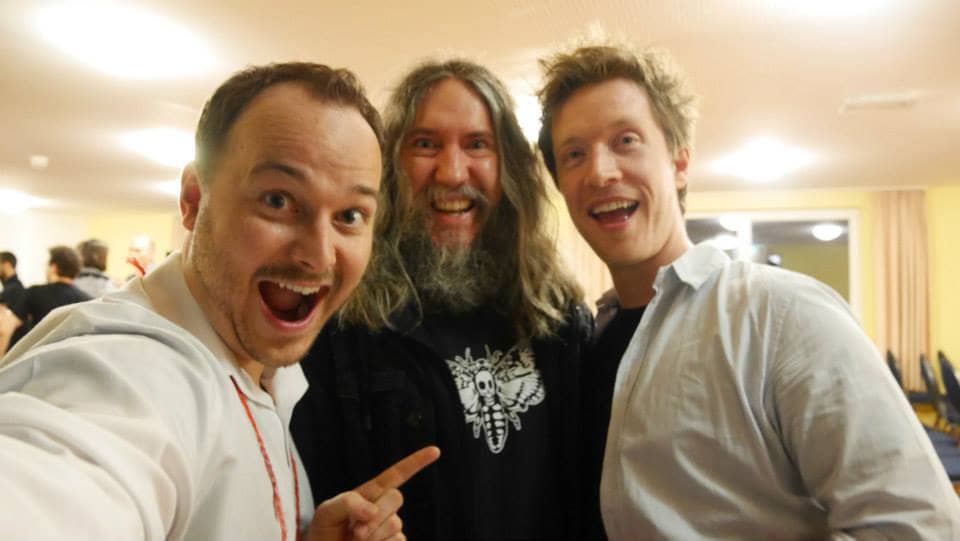 From the same event, Benny Lewis, myself and Olly. Somehow they manage to just look crazy. I took first prize for psychotic.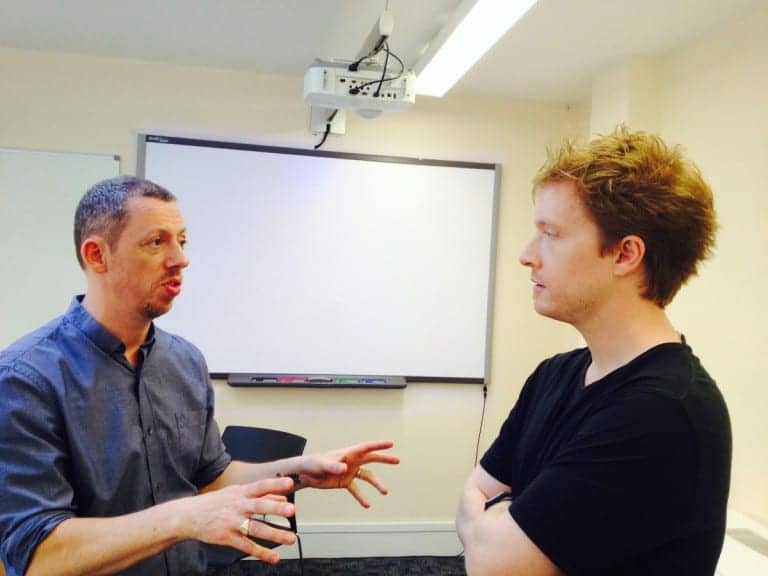 Mark Channon discusses memory techniques and the good habits needed to make massive strides with them at Magnetic Memory Live in London 2015.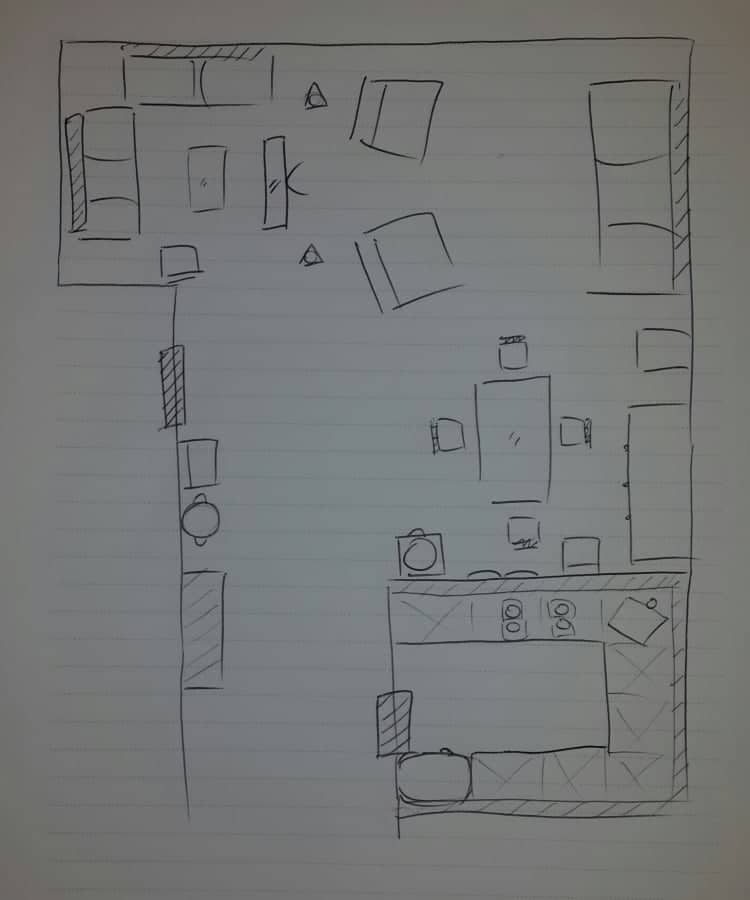 Olly's Memory Palace based on his apartment in Cairo. Top notch work and it was very cool that I could see the place with my own eyes more than a year after he sent me this drawing.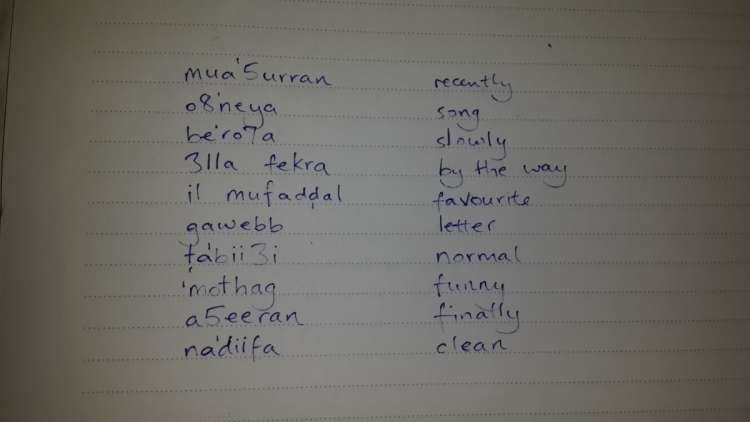 The list of words in Egyptian Arabic Olly used the Memory Palace to memorize.
In Egypt, Olly introduced me to the Nile in style. A sushi bar.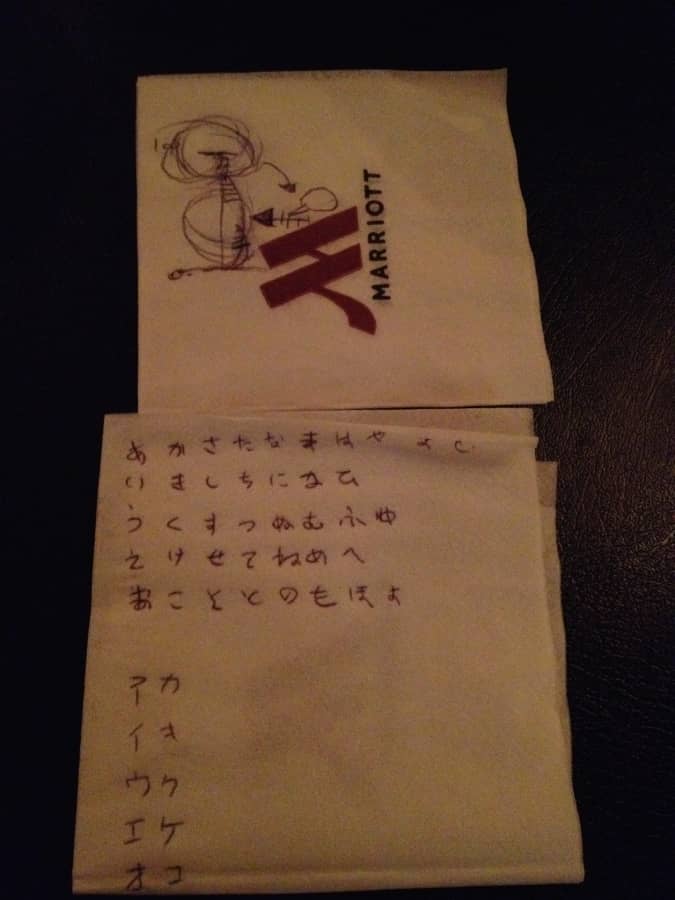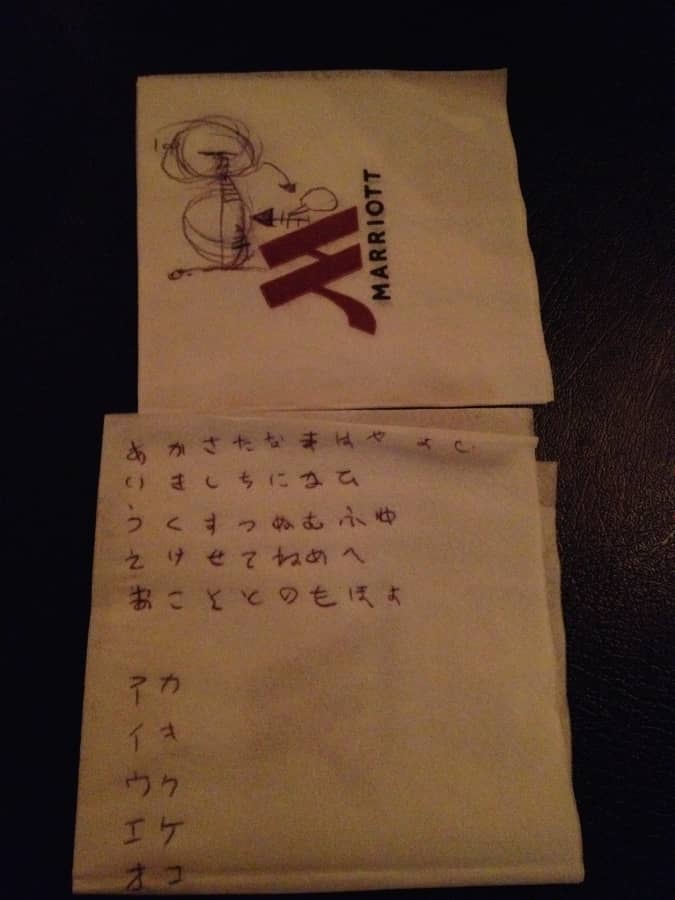 My last day in Cairo, we played with hiragana and katakana and Olly drew a diagram of exactly how languages get learned at the highest possible level. I won't mentioned the memory-unfriendly Guinness we were swilling – because we truly weren't. 😉
Quick Summary Of Things Olly Taught Me
At the 2015 Polyglot Gathering in Berlin, Olly noticed the benefits, but more importantly, the deficits of my flirting around with multiple languages. Talking about this issues, we were talking along a street in Prenzlauerberg when he gave me the excellent idea of directing the Magnetic Memory Method back at just one language.
But this time, instead of starting from scratch with a new language, he suggested I focus on using mnemonics to dramatically improve my relatively advanced German skills.
And so that's exactly what I did. Here's how:
First, I immediately hopped on italki and found a German speaking partner. I've had a few since then, and each has been a blessing. Olly's guidelines for getting the most out of a speaking partner are golden, and he talks about them in detail in the episode of the podcast you can download at the top of this page.
To maximize the value of the sessions, I always ask my speaking partners to use a Google spreadsheet for each lesson. This lets me isolate the new vocabulary, arrange it and even drop in a scan of the Memory Palaces I use to rapidly learn and memorize the sound and meaning of each word I'm encountering, often for the first time.
Then, I write sentences around the words after pulling them from my memory – away from the source of the spreadsheet. Only later, do I check them against the record and troubleshoot when necessary.
A second trick I learned from Olly is to record all my sessions. That way I can go back and hear exactly how the speaker pronounced the words. I can also hear my own pronunciations. This process is super-painful, but it helps immensely.
Third, I follow Olly's advice to forbid (as much as possible) the speaking partner from using any English. This practice can be frustrating, but stick to it and you'll be amazed by how quickly you outpace yourself.
Caution, however. This is advice Olly gives for when you're at an intermediate level with a language. At the beginning stages, it can be very useful to have your instructor explain certain features of a language to you in your mother tongue. Just don't let that be an excuse for not diving in to the language. You also shouldn't get in the habit of using it as a crutch. Learn how to say, "I don't understand" and "please say that in other words" a.s.a.p.
Fourth, I begin each new speaking session with a review of everything I memorized from the last one. But I don't cheat. The original spreadsheet is on another tab and I honestly work from memory. This allows me to benefit from any mistakes I make. And again, this is recorded so that I'll be reviewing the process again later.
You might be thinking that hearing mistakes made grounded on false moves with the Memory Palaces would just lead to confusion, but it's quite the opposite. The entire process only gets stronger.
Finally, here's a fun – but rigorous – technique I added on my own:
As part of my reading practice, I choose three new words from each page. Never more and only less when I don't find a max of three new words on a page. Then I memorize them using the room I'm in as the Memory Palace and follow up by writing sentences around them. A book with an average of 300 pages read over the period of 6 – 8 weeks = 900 new words inside of two months. With an 80% retention rate, the results are impressive.
The only problem I've found in the past is that I wind up learning a ton of words that no one uses. However, that's an interesting problem to have, fun for my philological yearnings and thanks to the practice I've found an interesting solution that puts a bit more bang behind this unusual outcome:
I read books written only in first person and in one of the Berliner dialects. This choice increases the chances that I'll learn words that people use around me and teaches me a lot more about one of my favorite cities in the world and the people who call it home.
Thanks again to Olly for the solid lessons and for being on the show – see you soon!