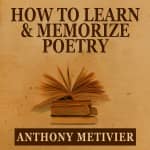 Dear Memorizers,
If you, like me, had an uncle who used to sing the craziest (and often off-color songs), then you probably wanted to memorize them so badly you would have given your left arm.
My uncle sang the craziest tunes. He was a WWII vet and looked like the Canadian actor Lorne Greene. These were the kinds of songs that sailors sung and I would rush to write down the lyrics so I could learn them.
And learn them I did.
The hard way.
It was irritating and frustrating because even though they say the hand builds the mind and I had written them down myself (very few people had PCs back then, and they were the size of pinball machines for those who did), I still made lots of mistakes and had to rely on rote learning.
If only I knew then what I know today about memory techniques!
Here are just some of the reasons I wish I had learned these techniques when I was young (even people as young as age six can use them with great success):
Anyhow, there's one song in particular that I really regret not having in my mind anymore. Sadly, Lloyd is no longer around so I can't ask him how it went.
I only remember four lines.
No, I can't tell you what those four lines were (it was a sailor song, after all …)
But what I can tell you is that I've developed skills over the years that virtually guarantee that I will never forget a poem ever again – so long as I use those skills.
The good news …
… is that these memory skills are super easy to learn and master. They're so easy even a child can use them.
The better news …
… is that I've also developed a technique that will allow you to memorize hundreds of poems. That's guaranteed.
And the best news …
… is that using my new "Telesynoptic Memory Palace" technique, you can turn just one Memory Palace into 500 or more. I've told you about the Telesynoptic Memory Palace technique before, but I've improved it a great deal since then. It used to be that you could get 150 Memory Palaces based on 15, but this new technique is going to blow your mind with its elegance and simplicity.
It guarantees that you'll never be short on Memory Palaces ever again.
Anyhow, I've put all this together in a new course called ​​How to Learn and Memorize Poetry. I'm not going to try and sell you on it by telling you all about its bangs and whistles.
Why?
I don't need to. If the prospects of being able to turn the building you're sitting in now into more than 500 easily organized Memory Palaces doesn't convince you of the value of this course, nothing will.
But …
That ain't gonna stop me from trying to twist your arm … just a little.
First off, when you invest in ​​How to Learn and Memorize Poetry right now, you're getting an amazing training experience from someone who actually practices these skills.
Not only that, but when you have poetry permanently lodged in your mind, you start to think differently about it. You develop a layered and nuanced feel for the meaning. Each poem you commit to memory becomes a living and breathing entity in your mind because you've fused yourself with both the words, the binding architectures and the meanings of the lines.
From that point on, the poem's meanings take root and grow.
You've got to experience it for yourself to really understand just how powerful an experience this really is.
So …
Grab ​How to Learn and Memorize Poetry now. Every day you don't have the ability to effortlessly recall poetry (and your dreams), you're leaving so much of life's pleasure behind, one unmemorized poem at a time.
Sincerely,
Anthony
P.S. The same technique works great for songs too. Here's me singing a famous song called The Moon Represents My Heart in Chinese: