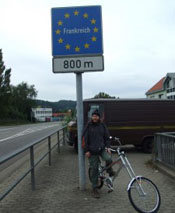 Dear Memorizers,
Last night someone stole my bike. I'm trying to convince myself that the thief was some desperate person who is enjoying something nutritious today, but somehow it's not working. Anyhow, I'll never forgot that bike and it leaves me with a little less to say today than usual …
Anyhow, I'm going to be racing around trying to figure out a way to generate the funds for a new bike.
Whatever I come up with to get a new bike, I'll stop feeling sorry for myself and keep things brief today (for once).
Here's a little article with some interesting examples of mnemonics that the author used to turn herself into a Memory Wizard. It's a pretty cool website too:
http://learnwithharsha.com/how-to-turn-yourself-into-a-word-wizard/
Until next time, enjoy your bike (if you've got one) and then teach someone else what you've learned about memorization. Teaching a skill is one of the best ways to learn it and helping people improve their memory is one of the best ways we can make the world a better place. The more we remember, the more we can remember. And the more we learn, the more we can learn.