Podcast: Download
Subscribe: Apple Podcasts | Google Podcasts | RSS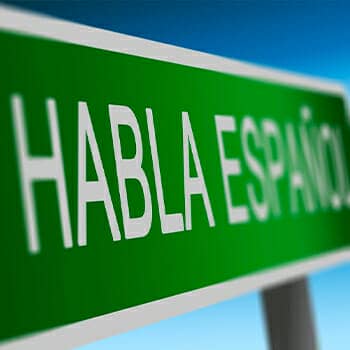 You're standing in the kitchen with the refrigerator door open. You know you're not hungry, but for some reason you're staring inside. You think to yourself, "What was the reason again I'm here?"
But nothing comes. Your mind is blank. You can't remember why you went into the kitchen at. "Curse this short term memory of mine!" you say. "If only I had a better memory…"
Do You Make This Epic Mistake About Your Memory?
Many people give up on trying to learn a foreign language because they have this notion that they don't have the memory for all of the vocabulary words involved. We're here to dispel that myth.
Many believe a strong memory is something you are either born with, or are lacking and are doomed for all of eternity.
People watch the World Memory Championships and think "Man … I could never be like that".
The truth is, improving your memory is a coachable skill that like any coachable skill, can be improved upon by proper training. We're not talking about training through rote memory, which is simply the process of memorizing through repetition. We're talking about the use of Mnemonics.
How To Understand Why You Remember Some Spanish Words And Forget Others
Before defining mnemonics, let's try and understand why we remember certain things, and forget others.
Thanks to your inborn cognitive abilities, your mind takes in information through any of our five senses during the day. It has the chance to accept or reject thousands of stimuli at any given point. Right now, while you are sitting and reading this article, pay attention to all of the external stimuli to which your mind can pay attention.
Where are you? What are you staring at? How do you feel? Are your shoes too tight? Do you smell anything? Are your taste buds still active from the last meal you had?
In order retain that which is important, the mind needs to filter out that which is not.
This point brings us back to our earlier question:
Why do we pay attention to some items while discarding others? The answer lies in the significance that we place on the external stimuli.
The Blazingly Obvious Truth About Organizing New Spanish Words In Your Mind
What did the 13th person you saw today look like?
Can't remember?
What if you saw a clown walk by you today holding 6 puppies while crossing the street. Would you remember that?
I bet you'd remember that not only today, but for many years to come. Why? Because it was a unique experience to which you attached significance.
Training your mind to remember anything at any given time is a simple task once you are prepared to attached significance to the item you are trying to remember.
Here's a quick question:
What is easier to navigate?
A large filing cabinet with forty index cards containing one word on each of them, randomly dispersed in the cabinet. Or a small filing cabinet with 1,000 index cards containing one word on each of them, each set up alphabetically?
The key to training your mind to memorize any content is to attach significance to each item and organize the information in your brain effectively. While there are many ways to train your mind to do so, we are going to focus on association.
Big yellow balloon. What are the first thoughts that come to your head? Birthday party? Children? Celebration? The mind is constantly associating new information with information we are already familiar with. The key to organizing information in your brain effectively is to use association to link items together.
Rubber band, keychain, eraser, river, drum, jelly, magic wand, mud, dart, ice cube.
How To Take Charge Of Information Using Linking And Stories
How can we apply what we just learned to remember the items listed above?
Let's start with associating and linking the first two items to each other.
Now, we could just imagine a rubber band on a keychain, but remember, in order to remember something we need to make it unique.
Add some significance to it. A rubber band on a keychain is too ordinary for us to find any uniqueness  and attach significance to it.
What if we imagine shooting a rubber band and it landing in someone's pocket, attaching to their keychain. That would be a unique event that you would probably remember, would you not?
Now what if we took that keychain, and imagined getting rid of it entirely by erasing it with an eraser? and what if the friction from rubbing the eraser was so strong that your hand caught fire, and you had to put it out in a river?
But while you were in the river, someone threw you what was supposed to be a lifeboat but was instead a drum? So you took some jelly, but rather than sliding the drum off of you with it( that would be too plain), you broke off a piece of the drum and made a drum and jelly sandwich?
And as you did that, you got some jelly stuck in your teeth and had to use a magic wand to pick the jelly out.
Now, instead of picking the jelly out, you just turned it from jelly to mud. So you asked a friend to throw a dart at the speck of mud in between your teeth. When your friend threw the dart, he hit a bullseye right on your teeth, and out popped an ice cube.
See if you could recall the story, starting from the rubber band.
Alert, Alert: How To Take Charge Of Unruly Spanish Vocabulary
Now, what if the word is difficult to picture in your mind, like the word "magnificent?" What if we broke down the word magnificent to words that sounded similar, like "magnify" and "cent?" Now when we hear the word magnificent we could think of a cent under a magnifying glass, maybe catching fire from the sun.
The same holds true for words in another language!
Let's now try memorizing 5 key phrases in Spanish:
In order to remember buenos dias, we can imagine booing Carmen Diaz after she walks out of her house with a poor nose job, and says good morning. To remember mucho gusto, we can imagine meeting a goose and smooching its toe as a nice gesture.
To remember cómo estás, we can imagine combing a stack of pennies (or anything for that matter), and responding that we have been very busy combing when someone asks us "How are you?".
To remember me llamo, we can imagine telling someone our name, and then holding a yam in your hand and introducing it as well.
Finally, to remember muy bien, gracias, we can imagine a cow saying "Moo" as you try to stop it from bending over, and the look of grace in its eyes as you save him.
These don't have to be the examples you use to remember things – the important thing is that you attach significance to these words with your own kookie imagination to help you remember them 1-2-3.
The best part?
You can use these same techniques to learn Spanish and French at the same time. All it takes is a bit of strategy with the mnemonic images you choose.
Stop Forgetting Spanish Phrases Once And For All!
Let's do a recap of what we learned.
In order to remember something, the mind needs to attach a sense of significance to it. A good way of attaching significance is if something is unique. Once we attach significance to an item that is unique, we need to organize and store it effectively in our mind. A good way to organize data is through association.
Now, ladies and gentlemen, it is time to put theory to practice. Think you're ready for some more Spanish words?
Dive into this free course:
Further Resources
Olly Richards' Fluent Spanish Academy
How to Memorize 50 Spanish Provinces On Your First Go