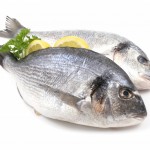 Dear Memorizers,
The irony of working with Memory Palaces to memorize foreign language vocabulary is that focusing on the small stuff can distract you from the big stuff.
Like eating.
I constantly overlook that in Germany, most stores, including grocery stores, are closed on Sundays.
And so here I am. It's 7 pm and I'm starving.
Well, I've got a few things I can eat, but it's not ideal, and I wish I would pay more attention to the shopping schedule every Saturday … but I'll talk about memorizing to-do lists in another issue of the Magnetic Memory newsletter and what Derren Brown has had to say about them.
In any case, being painfully aware of this absentminded error as I type, I'm reminded of something I wanted to tell you about last week, namely an exercise that I came up with when I was shopping in the grocery store around the corner.
I haven't done it yet, but I thought it would be a neat exercise to memorize the items as I put them in the cart along with their prices. Without looking at the cart, or looking at it as little as possible, I could then test my memorization of the items as I emptied the shopping cart and then see how well I did with the prices as well. Obviously, this is an exercise best reserved for casual shopping when there isn't a fixed shopping list already in play.
I'm going to give it a try … the next time the grocery store is open.
In the meantime, I wanted to remind you about the free memorization app I mentioned yesterday: Brain Athlete. Give it a try, and if you like it, leave the developer a review.
There's only one aspect of this app that I don't like, and it has to do with it having "give up" buttons instead of "stop" or "pause" buttons (I got in touch and the developer has since changed this feature). Since so many people are quite sensitive about their memories, it's not exactly the best message to have hovering in front of one's eyes when doing memory work. I talked to the developer about it and he said he was going to change this in a future update, which I think will make the app much stronger all around.
Until next time, make sure to teach someone what you have learned about memorization techniques. It's the best way to deepen your own understanding and to help make the world a better – and more memorable – place. The more we remember, the more we can remember, and the more we learn, the more we can learn.
About the author: Anthony Metivier is the founder of the Magnetic Memory Method, a systematic, 21st Century approach to memorizing foreign language vocabulary in a way that is easy, elegant, effective and fun.
Join me on Facebook.
Follow me on Twitter.