Podcast: Download
Subscribe: Apple Podcasts | Google Podcasts | RSS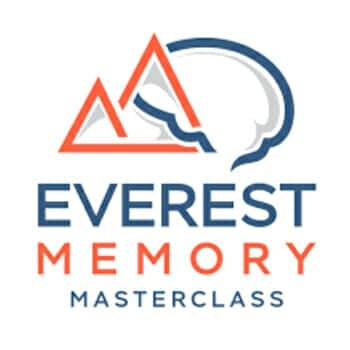 Put simply, Nelson Dellis is a legend in the memory competitor world.
He's won the USA Memory Championship a bunch of times, and ranks very high globally.
Nelson's also well-known as a mountaineer. Just about every year, he's got cool posts of traveling to Everest and other mountains on his Instagram.
But what you probably don't know about him is that he's a skilled university lecturer too.
And when memory expertise, the mindset of an athlete and raw teaching ability combine, you get an amazing memory improvement course.
Although I know a fair amount of memory techniques, I learned new things. I had a lot of fun too.
Even better, an aspect of my memory improved.
And just so you know, I didn't get this course for free. Even though I've known Nelson for many years and probably could have asked for a comp, I bought it as a regular person.
To me, that's important for a few reasons, ranging from instilling the desire to go through the course and feeling free to speak my mind about the experience as a legit course participant.
So if you're ready, let's dive into a bit more about Nelson himself, and then the course.
Who is Nelson Dellis?
Nelson's memory competition record is impressive. There's a full rundown on his Wikipedia profile, including the records he's broken.
How did it all start?
In response to seeing his grandmother's memory decline due to Alzheimer's disease.
I find his charitable and educational efforts especially impressive. I've interviewed him several times on the Magnetic Memory Method Podcast and he's always dreaming up new ways to inspire people to use mnemonics.
His books include:
And now there's his Everest Memory Masterclass.
Let's have a look at what it's all about.
Everest Memory Masterclass Review: What You Need to Know
There are many things to love about this course. If I were to sum it all up in a simple statement, it's this:
Nelson's very upfront about the fact that each of us need to develop our own skills. 
Literally, no one else is going to do it for you. The same way that no one could ever climb a mountain on Nelson's behalf.
In other words, there are aspects to the art of memory that can only be learned by doing.
With this learning requirement in mind, Nelson equips you with materials that will help in just about every possible regard. He gives you the ropes, the boots, the helmet, flashlight, etc.
You just need to bring yourself and your willingness to take action.
The course includes:
Clear and crisp descriptions of the core memory techniques

Weekly assignments

"Memorize with Me" timed sessions

Sitdown sessions

Live streams during the cohort (with replays)

Discussion group

Additional resources

Instructions on tracking your progress

Progress tests

Detailed lessons on how to beat Nelson at a memory competition

Interviews with renowned memory experts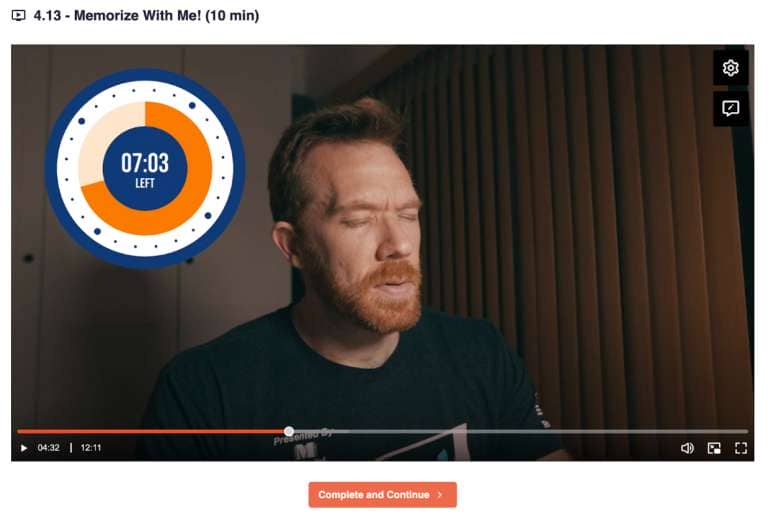 The progress tracking techniques are probably my favorite part of the Everest Memory Masterclass. Nelson shows you how to set specific benchmarks based on your baseline.
When I took the course, I created my own Google Drive folder as Nelson recommends and started tracking my progress with memorizing words using the International Association of Memory software.
Normally, I memorize directly from print books. So it's quite something that Nelson's course encouraged me to tackle something I not only dislike, but dread: memorizing from screens.
Incredible Progress Tracking Lessons
As an example, he gets you to answer some questions and set up folders to track your progress based on the different information categories he teaches.
To take you inside just one of my folders, you can see the progress using Nelson's approach created for me at a glance.
In just one day I went from having a ton of errors to having much fewer errors in the same allotment of time for memorizing vocabulary.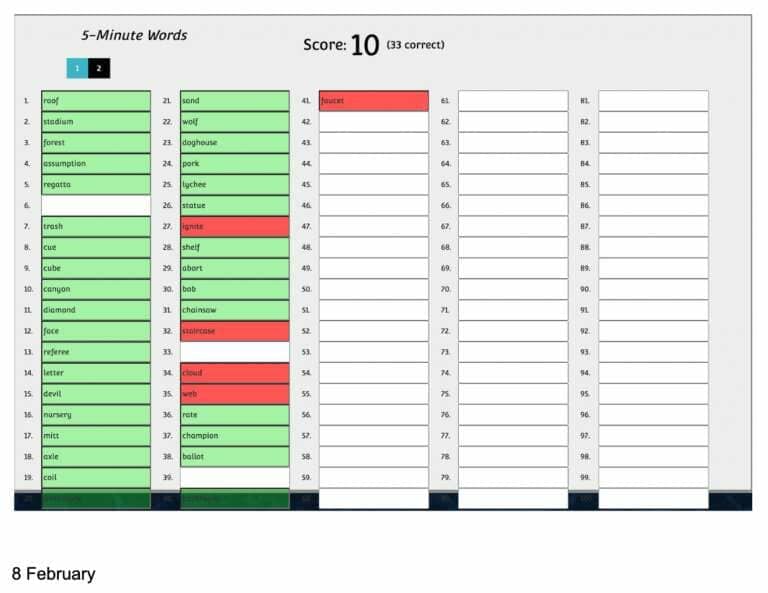 Frankly, I still find it challenging to memorize from screens. 
But the proof is in the pudding. 
If you track your results, a certain kind of magic as profound as the memory techniques themselves takes place. 
And I'm now much better at this particular kind of memorization.
In sum, measuring our own progress is itself a skill. And Nelson's approach to getting yourself serious gains in this area is fantastic.
The Memory Teaching
Nelson is an incredible teacher. He gives you multiple ways to think about the techniques and "for instance" examples of how you might use them.
He's also great at helping you develop the mindset needed to get out there and use them without worrying about making mistakes. He also gives useful tips on getting out of your own way and removing unhelpful self-criticism. 
Speaking of criticism, you might be wondering if I have any…
Not really. 
But let me gesture at something I think about a fair amount when it comes to online education:
My favorite parts of the course are the longer videos. I find the shorter videos anywhere fairly annoying. I'm totally biased in this regard, and it could have more to do with my demographic than with digital amnesia.
See, I'm in my mid-forties and grew up with detailed introductions to just about everything. The university lectures I attended and gave were usually 90 minutes with (maybe) one break. And my favorite online cases tend to be long.
(I mean, really long and I find that quite helpful compared to short lessons.)
But you know what? 
This kind of criticism doesn't matter much because Nelson's course has plenty of variety. 
Although I couldn't attend any of the live sessions due to my time zone, I was able to ask him a few questions in the discussion group. And reading the comments and questions of others raised quite a few interesting points I hadn't thought of before.
And the replays are there if you want them in all their lengthy glory.
The Truth About Succeeding With Any Memory Improvement Course
Frankly, no matter how you cut up a course, the true student goes through it all. The true student develops patience for the many different kinds of content and presentation styles out there.
And when it comes to memory, your results will only partially come from consuming "content." 
The lion's share of developing your memory will come from taking action. When it comes to memory techniques, there are at least three kinds of action:
Developing your systems of association

Applying them while learning in real time

Using some form of recall practice to instill information in long term memory
I'm very impressed by what Nelson has put together, especially the detailed walkthroughs. You join him as he explains exactly how you can achieve his same memory feats in detail.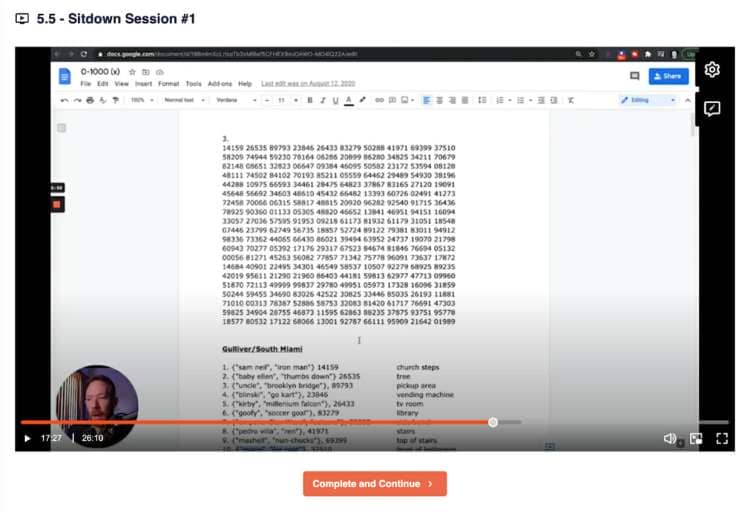 And if you find it hard to settle down and focus on your own, the timed focus sessions will be a boon for you. You'll have a focused set of sessions to sit down with and get the implementation aspects of the course done.
Yes, You Should Take Everest Memory Masterclass
In sum, this is a great course and you should take it.
Frankly, if you go through everything and take action, your memory will improve.
In my experience, the hardest thing for most people is setting goals for what to memorize.
Nelson has pretty much solved that.
No, you might not want to memorize random vocabulary or digits.
But the fact of the matter is that the world is filled with them.
And if you can't remember them as they come in randomly, you're probably not going to be able to memorize them when they're packed into meaningful units.
So in this program, you get the best of all possible worlds.
It's just up to you to take the steps. Or place your hands on the mountain face, as the case may be.
And on that note:
I'll never forget something Nelson told me during one of our many conversations.
He said that when you're climbing a mountain, you don't have to worry about the peak.
It's there. And you can reach it.
Really, all you have to think about is where you're going to place your hands and feet next.
When you're willing to do that, you can summit the biggest mountain of them all:
Your mind.
So what do you say?
Are you ready to experience epic memory skills?
I can't recommend Everest Memory Masterclass highly enough!