Podcast: Download
Subscribe: Apple Podcasts | Google Podcasts | RSS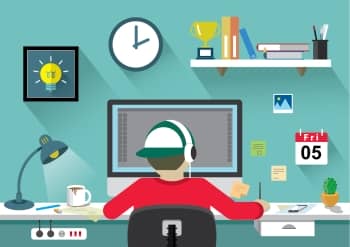 Studying about boring topics you don't give a hoot about sucks, right?
Especially when you're in a rush.
Especially when all you want is the grade, the certification, the knowledge.
Well, I can't make any promises, but there might be a way to help make any topic much more interesting to you. At the very least, we can remove the sting of boredom. At best, we can make any topic we want 100% Magnetic.
1. Warning Signs That Your Mindset Is Off
I know, I know. You're tired of hearing about mindset.
But let's face it. We have minds. Every day we wake up with more or less the same world outside the window. Just like we have to make our beds so that the sheets won't be sprawled all over the place, we have to set up our minds for success.
But that's the problem, isn't it?
Lots of people are happy to leave their beds messy all day long and then crawl into the unkempt mess at night. It's cold because the mattress has been exposed and probably a bunch of insects have settled into the dune-like patterns. Sure, you might fall asleep okay, but there's nothing like slipping into a made bed.
You know it's true.
It's The Same Thing With Your Mind!
Sure thing, you can get through life without setting up your mind for success, but it will be cold and exposed to the elements. The bugs will crawl in and lay their eggs, and you'll never get the warmth you deserve.
But take just a few moments to tidy up and you'll reduce the suffering that comes from studying things you don't like.
Because that's just the thing: A lack of mindset is probably the thing that got you into a position where you're studying things you're not passionate about in the first place. You're probably studying material that produces no great excitement because you're chasing after hopes and beliefs and dreams and wishes – not what you really want.
How To Set A Powerful Mindset For Learning
Whether you're trapped or not, the process works the same. The best way to get your mindset in order is to set it each and every morning. As I talked about in the Mandarin Chinese Mnemonics And Morning Memory Secrets episode of the Magnetic Memory Method Podcast, having morning rituals is a killer way to conquer the day.
When it comes to creating a mindset for making the material you're studying vibrant and exciting, all you have to do is write down in a journal how exciting it is to be studying and how grateful you are to have the opportunity.
And it's true: Not everyone has the learning opportunities you do. A massive percentage of people in the world don't have access to the Internet, schools, books or anything even remotely related to helping them develop their knowledge.
But you …
You've Got Everything You Need
So take a moment every day to recognize what an amazing opportunity you have. If that isn't a recipe for injecting excitement into a boring topic … I don't know what is.
If all else fails, here's what to do if you or someone you love is considering not completing their high school diploma. They may have already left school, but it's not too late to go back. I dropped out of high school myself for awhile, but I'm so glad I returned.
Best decision of my life.
2. Be An Info-Completionist
Okay, so now that you're plump with self-hypnosis induced excitement for the privilege of study, you still have to sit down and learn the stuff.
The question is … How?
A lot of people ask me how I manage to read so much, and the answer is simple:
Get a book. Find a place to sit. Read the book. Repeat until you're done.
I don't say that to be flippant, but it's the truth. If you're trying to read in a place filled with distractions or on a device that encourages you to skip from tab to tab and answer notifications …
Stop Trying To Read Like That!
Seriously. It's not a recipe for success.
Plus, you want to read in a way that helps you isolate the information you want to memorize. I have two posts with podcasts and videos that show you how to realistically memorize a textbook. Just check out the video for now:
If you want more information, listen to How to Memorize A Textbook and study the infographic.
True, my approach to realistically memorizing textbooks involves a bit of setup, but people who give it a try usually find that the process makes reading and remembering the key points of even the most difficult books much easier.
The best part:
By having a dedicated strategy for reading books, you make it a lot more fun. Like having a mindset, having a process you can follow without having to think about it makes everything more fun and interesting. Having operating principles and guidelines reduces cognitive load, and like Tony Buzan said when I studied with him, the rules set you free.
3. Look For The Parts That Do Interest You
One thing that you'll learn from my training on (reasonable) textbook memorization is how to skip the parts that don't interest you.
No, you can't always do this. There are times when you have to slog through boring stuff you don't care about.
But here's the thing: by knowing what you do care about, you get more interested in things that connect with it. It happens automatically.
And when interest doesn't spontaneously erupt, you at least get a clearer picture of why those other elements are necessary. The more you know about a topic changes the nature of what you don't know. It makes it more attractive, more Magnetic.
And that which becomes more Magnetic is easier to attach to memory because you're simply more interested in it.
4. Invite Information Into Your Memory
In other words, use memory techniques.
You knew this was coming, didn't you?
Let's face it: The best way to make dry and boring information more interesting is to make it part of your memory improvement lifestyle. That means organizing the information so that you can rapidly absorb it into a Memory Palace.
To do that, you get to invite the information into a place you've created in your mind. I don't want to sound woo-woo, but there's something ritualistic about this. It's like anointing information, blessing it or touching its shoulder with the edge of your sword as if you were knighting it.
Once anointed, you start looking at the information through mnemonic eyes. You're looking for how you can attach it to associative-imagery and place these images on your Memory Palace stations. You're already getting excited about revisiting your Magnetic Stations and decoding the imagery to ease it into long term memory.
And before you know it … The information isn't boring any more.
Far from it! That information has become …
The Most Interesting Information In The World!
This is without a doubt the finest thing you can do for the life of your memory and overall intelligence. When you privilege information and stop demonizing it by framing it in negative ways, it will want to enter your mind.
Even better: If you've invited the information in just the right way, it will want to stay.
5. Bore Others To Death With Your Boring Topic
Just kidding.
By the time you've made the information interesting to yourself, you'll be excited to talk about it and to do that, you should have something already in place:
Community.
Remember how I told you should be grateful for having the opportunity to learn in the first place? And how you can use your gratitude as a tool for generating excitement in even the most boring topic?
Well, you also have the Internet and thousands of groups people have created for discussing topics that they either find really exciting, challenging or want to kvetch about. You can find these groups meeting on forums, on Facebook, G+ or just shooting the breeze in YouTube comments. Maybe there will be some interesting discussion on this video I put together to accompany this post, for example:
Let's say you're studying cognitive therapy, something I've recently gotten interested in studying.
The first thing is to show some gratitude for having the time and opportunity even to do so. Write that down in your daily gratitude journal.
Then, hop on to Facebook and search for groups that are already discussing this topic. Ask to join. For example, you can ask to join my Learn German Memory Hacks group, or even the Magnetic Memory Method Private Facebook Group. Have fun once you're inside!
But Proceed With Caution!
Don't overwhelm yourself with this. Just pick one or two that looks like it has enough members for finding a decent amount of discussion in process.
Introduce yourself once you've been admitted. Tell them a bit about who you are and why you're interested in the topic. Make friends with the group admins and shoot them a note to thank them for taking time to put the group together. Probably no one else is doing that so you'll be on their radar and recognize your name later.
Why would that matter?
Easy. Because when you get bored or stuck somewhere in your reading, you have a place to go and post where at least a few people are going to know your name.
Knowing that you have a place to go and share ideas in advance is a great way of making sure a topic never becomes boring to you.
Of course, the dark side of this technique is that you'll get swept away doing a thousand other things online, but we all need to learn how to balance these things. I'm writing this post now in a library where getting online is too much of a pain – deliberately so that I have no distractions.
Because here's the core of the matter:
If You Really Want To Get Ahead, You Will Find A Way
And with that monster of a headline, we've circled back to mindset, something you can get started crafting or refining right now.
Exciting, isn't it?
Now get out there and tackle some uninteresting information you using these tools. I dare you to be bored!
Oh, and if you're still skeptical, check out these 3 Reasons Why Skeptics Succeed With Memory Techniques Better Than Anyone Else.