Podcast: Download
Subscribe: Apple Podcasts | Android | Google Podcasts | Stitcher | RSS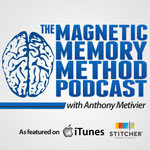 In Episode Six of The Magnetic Memory Method Podcast, you'll learn the number one way to discover the words you'll need in order to engage in specifically targeted conversations in your dream language when using mnemonics to assist your language learning experience.
Use coupon code "podcast" for a special introductory discount on your one time investment in this revolutionary system for memorizing foreign language vocabulary.
+Anthony Metivier is the founder of the Magnetic Memory Method, a systematic, 21st Century approach to memorizing foreign language vocabulary in a way that is easy, elegant, effective and fun.