Podcast: Download
Subscribe: Apple Podcasts | Google Podcasts | RSS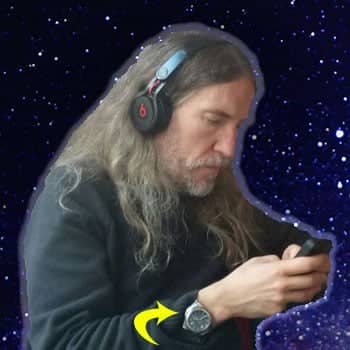 Ever signed up for a memory course or read a memory improvement book and thrown your hands up in the air?
If so, that frustration ends today. You're about to learn some simple guidelines for completing and benefiting from any memory training course you take.
I'll show you how to cross any barriers or obstacles you encounter along the way too.
What kind of barriers?
How about the ugly situation where someone takes many classes and loses their notes on a computer?
I'll share that story with you in a moment.
Better:
I'll show you how to never lose your precious notes from the courses you take again – a hard learned lesson I hope no one ever has to suffer!
But first…
You Deserve A Big Compliment!
Let me pay you a compliment and congratulate your for your interest in completing a memory improvement course.
In fact, I'd like to pay you that compliment in person with this video:
Why the compliment?
Simple:
Not everyone is so considerate to the long-term health of their brain, nor the short-term benefits that come from learning how to train your memory.
These benefits include more than just remembering information and having more "memory power," after all.
You'll also experience:
And that's just for starters.
The Key Reasons People Do Not Complete The Courses They Begin
The question is…
How are you going to get yourself to complete the course? From beginning to end? And why do you need to complete the course in such detail?
These are important questions, and luckily there are answers.
First, let's understand the key reasons people do not complete courses.
It's rarely a lack of discipline or a problem with the courses.
In fact, the first problem usually comes from the fact that people want to instantly have the skills they hope to acquire.
And when they see that there's still some distance to go between wanting the memory skills and having them, the brain can feel overwhelmed.
The Brain Pain Secret Behind Failing To Complete Courses
According to learning and memory expert Barbara Oakley in Mindshift, the insular cortex of the brain fires off a pain signal.
It's possible the brain creates a pain response to the sight of anything that requires effort to cause you to preserve energy.
We don't know exactly why our brains do this, but the Savanna Hypothesis would suggest that we are evolutionarily designed to preserve energy for when we need to quickly move for survival.
This would explain why pain is usually only a motivator when we're suffering so much we have no choice but to take action.
But when the pain subsides by doing nothing, we're instantly satisfied with the return to a state of no pain.
How to Deal With Overwhelm
Now, it might be hard to understand why what I've just said can help you complete a memory training course.
But here's the thing:
Knowledge truly is power.
And the reason I include relaxation training in all of my memory courses is because I once felt that pain too.
Fortunately, I knew about the body's propensity to create pain and the Savanna Hypothesis.
This insight into why the brain makes things that should be so simple seem so difficult has helped me immensely in many areas of life.
So the first thing you should do is learn to first recognize when a learning task has triggered overwhelm.
Then learn to associate that overwhelm with relaxation. I suggest meditation, which also improves focus and concentration.
How the Internet Has Corroded Our Ability To Learn
Second, it's important to understand that the Internet has changed how we look at information.
Whereas we once appreciated the structure of books that a variety of thinkers innovated over hundreds of years, now we scroll and swipe through content.
These behaviors have changed how we perceive content and created something called "dual path readership."
This term means that we're often grazing through content. That's absolutely no way to help us improve our focus and concentration whatsoever!
The Internet has created many genius innovations that help us quickly perceive what an article is about, but at the cost of making it difficult for our eyes to focus on what used to be normal paragraphs. Now we call them "walls of text."
Likewise with videos.
Anything over ten minutes seems like an eternity.
Worse, we've often trained ourselves to watch videos at 2x speed while we have 32 other tabs open and are engaged in other activities, often on other devices.
It's not uncommon for people to also have a smart phone or tablet beside their laptop while both of them chime and draw our attention away from the training that will help us the most.
This learning environment creates Digital Amnesia.
Why The "Hunter-Gatherer" Impulse Is Ruining Our Brains
Finally, it's important to realize that the Internet has switched on our the gatherer part of our "hunter-gatherer" nature. We scour the net and bookmark information or download PDFs we'll read later.
All too often, later never comes because we're already off gathering a bunch of resources for the next subject we want to learn about. The promises of hypertext that are still truly rewarding and powerful have also become the enemy.
So, given this "new normal," what do we as learners of memory courses do?
We're going to protect our schedule, shield ourselves from interruptions of all kinds and use a bit of ancient technology to help guide our path.
And as soon as you know how to do these things, I want you to register for this: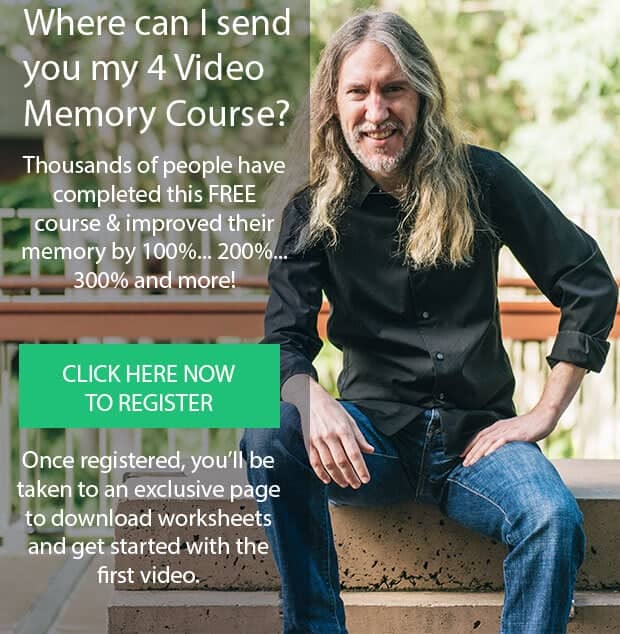 How To Protect Your Schedule When Completing A Memory Course
Let's talk about protecting your schedule first.
This practice is quite easy.
Count the time
If you enter a video course, first count all the videos. You can either estimate or count the minutes required for all the videos and add them up.
You now have a picture of how much time you need to go through the content.
Plan of attack
Next, if you want to memorize information fast, design a plan of attack.
For example, if the video course amounts to an hour, get out your calendar and plan out 4, 15 minute viewing sessions.
If it's 6 hours, figure out how you can get through the content over a week in short blasts of time that are right for you.
Scale back
As a pro tip, whatever you think you can handle, scale back by five minutes or so. If you think you can sit and watch a video without interruption for 20 minutes, scale back to fifteen minutes.
I make this suggestion because many people overestimate their discipline.
They often underestimate it too, and I personally find that this technique makes sure I'm more or less in the middle of what is the true amount of time I can sit through a video course.
Being realistic is one of your best weapons when it comes to organizing your time.
After that, it only makes sense to go through a course from beginning to end without skipping around. We'll talk more about how to do this in just a bit.
How To Shield Yourself From Distractions
Next, you've got to shield yourself from distractions.
First, you have the environmental distractions of where you watch your memory training courses.
If there are people moving around and making noise, you won't be able to concentrate.
Perhaps you can get away with watching video courses in a cafe, but I've always preferred a quiet corner of a library.
The human traffic is minimal and it makes it easy to take quick breaks by looking at interesting books or just gazing out the window for a while.
Why You

Must

Turn Off The Competing Devices
Second, you have the distractions of your devices.
Personally, I like to leave my smart phone at home.
I can't always do it depending on how I might need to connect with my wife, but usually she'll know where to find me and those sessions without being tethered to technology are pure bliss.
Not only will no one be able to interrupt me via the phone. I won't be able to interrupt myself because there is no device to look at.
Browser tabs are a bit trickier when watching an online memory course.
But you can still close all of your tabs and have just the one needed for your course open.
I love a Chrome extension called OneTab for rapidly funneling all of my tabs into a single tab for opening again later when a project requires me to have a bunch of them open.
How to Guide Your Own Path Through An Online Memory Course
Third, you need to guide your path through the course.
I use an ancient device called a "notebook" for note-taking.
And it's very simple to open up to a fresh page and write down the words "video one."
Underneath that heading, jot down the notes pertaining to that video before moving on to "video two."
I know this is painfully obvious and complete common sense. But I'm making the suggestion precisely because common sense just isn't that common.
My Top Secret Video Course Index Card Method
The great thing about this note taking strategy is that it helps you keep track of where you are in the course in a linear format and look back through your notes in the order of the videos you watched.
I don't always use this technique, however. Sometimes I will use index cards.
For the notes pertaining to video one, I will place "V1" in the bottom right corner. Then for all the cards pertaining to video 2, I'll put "V2" and so on.
Like this: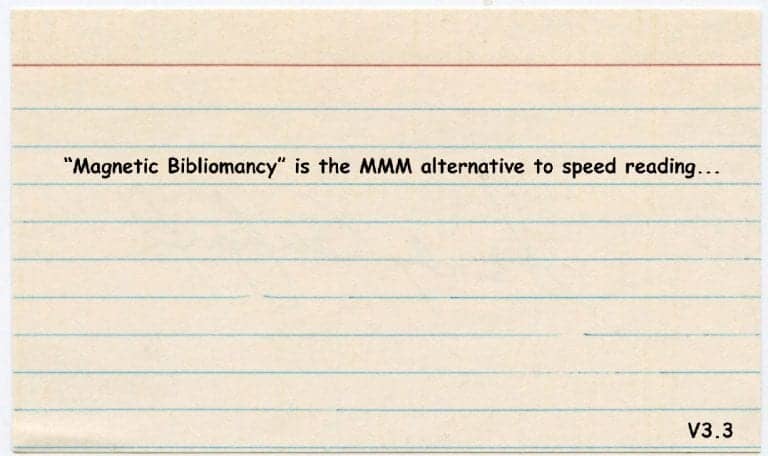 This course-taking technique is useful for two purposes.
First, if I want to memorize anything from the course, it's easy to flip quickly through the cards and pull out just the ones with information I want to memorize.
The index cards can then be placed in a logical order or order of preference for any number of reasons and corresponded with Magnetic Stations in a Memory Palace.
Secondly, if I later want to write an article, I can likewise pull out whichever cards I might like to refer to in the article.
In both cases, it's an easy matter to reassemble the cards according to the video they belong to because they've all been marked.
And if you're worried that you've lost the exact order in which you took the notes, don't be.
You can always add another digit, such as "V1.1" to indicate that a card belongs to video one and is the first note you took from that video.
Likewise, "V2.7" would indicate the seventh note you took from the second video.
The Amazing Re-Assembled Note Taking Trick
In this way, you'll easily be able to reassemble your notes. And in case you're wondering, yes I do this and it is in fact exactly how I researched my dissertation, multiple scholarly articles and many of my books.
And to keep the individual books and video courses I took notes on cards together, I stored them in individual ziplock baggies and then arranged these inside of shoe boxes.
Super low tech and kind of nerdy, I know.
But back when I wrote my dissertation, backing up your computer wasn't so easy and there was no such thing as "cloud computing" (at least not to my knowledge).
The Horrible Grad Student Story You Don't Want To Experience
More than once, I saw my fellow graduate students lose hundreds of hours of work because they had pumped their notes into computers they didn't back up on floppy disks and they had to start again.
One person I recall even dropped out of the doctoral program altogether because the devastation of starting over again was just too much to handle.
That tragic story aside, the point here is to give your mind something to do while focusing on the memory course and have a powerful means of revisiting your notes.
Plus, by handwriting your notes, you'll get several additional learning benefits.
As Gary Dean Underwood, one of our cherished MMM Mastermind members recently noted:
The same principle applies to any memory course you take, and indeed any training you might invest time, money and energy into completing.
Focus Is The Key
So what do you say?
Do you think these simple recommendations might help you dive into a course and complete it over a few days or less?
Myself, I had to learn these tactics and strategies through a ton of trial and error. Like everyone else, I love shortcuts and anything that lets me skip to the head of the line.
But I learned long ago when watching how my fellow university students struggled with their books that the shortcut is often just buckling down and getting the reading done.
It never takes nearly as long as one thinks, and it's really the bouncing around from one thing to the next that takes up most of the time.
Focus, my friends, and understand how and why focus falls apart. Knowledge truly is power, but only when it's applied.
You really cannot afford to not finish the courses you start, so let me know if this helped you and keep the conversation going below.