Podcast: Download
Subscribe: Apple Podcasts | Google Podcasts | Stitcher | RSS
Critical thinking books are a dime a dozen.
However, few of them come packed with examples.
Even fewer come with exercises. 
Examples and exercises are important because critical thinking is not just something you learn. 
It's something you develop through practical application. 
Here's another problem that might be frustrating you if you're looking for the best critical thinking books:
A lot of them are either irrelevant, "dumbed-down" for the mass market, or already abandoned by their authors.
For example, the famous Thinking, Fast and Slow on just about every list has big problems. 
Its author, Daniel Khaneman has agreed that several entire chapters need to be removed in a future edition. 
Why?
The reproducibility problem. Many of the studies he refers to weren't scientifically valid. 
But critical thinking is based on reproducible models.
So on this page, let's dig into a comprehensive list of critical thinking books that won't go out of date.
The 14 Best Critical Thinking Books Packed With Examples For Improving Your Mind
As you go through these examples, consider your specific goals.
As you'll see, each of these examples are related, but each has different strengths. 
You'll want to beef up on each of these areas, but as you gather your collection, I suggest you start with where you currently feel you need the most help. 
One: Scientific Critical Thinking
In Critical Thinking for Better Learning: New Insights from Cognitive Science, Carole Hamilton helps you understand how the brain creates categories in the mind. 
Knowledge of how your mind works helps you tap into how your memory deals with examples and analogies that can improve your thinking skills.
Some of the best parts of this book teach you:
How to study topics thoroughly so that you can think critically about them.

How to develop creative analogies so you can see the "shape" and dynamics of larger topics. 

Threshold concepts, which are "the central, defining truths in a given discipline, the ideas that open a gateway to deeper understanding."

Why some ideas are obvious to certain people but take others a long time to learn.
As an example of how this book helped me, when I was working on my Art of Memory project, it reminded me to read both the historical summary and also the specific books about memory during that period. This is what Hamilton means by knowing the "shape" of a topic.
Other great aspects of this book include its points on:
How beliefs can distort facts

Who really benefits and who suffered from environmental damage in the world

The concept of opportunity cost

How to assess critical thinking
It gives examples of each and concludes strong with its best tip: 
Study real problems and how they were solved, and then recall these frequently to test your memory for accuracy about the details. 
Two: A Jargon Free Toolkit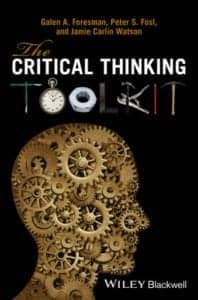 Critical thinking often involves a lot of complex terminology. You have to learn about antecedents in logic and the concept of paraconsistencies.
But if you're just beginning and don't have a Memory Palace, such terms can be hard to learn and remember. 
Enter The Critical Thinking Toolkit.
This book provides a wonderful introduction with examples from:
Rhetoric

Psychology

Sociology

Political science
Three: How To Think About Arguments
We all get into arguments.
That's not a problem, but the ways we use language while arguing often causes more problems than necessary. 
Enter The Uses of Argument by Stephen E. Toulmin.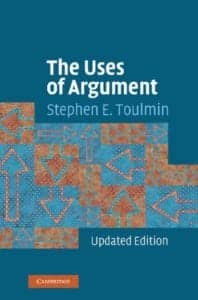 There are many reasons many of us fail to be persuasive. Worse, we are unaware of the reasons we are so easily persuaded.
But in this excellent book, Toulmin shows you:
What it means to make a valid argument

How to lay out valid arguments

The difference between working logic and idealised logic

How that validity must be intra-field, not inter-field (so that you approach critical thinking comparatively)
It boils down to this:
Arguments have patterns and we can learn to perceive those patterns. 
One pro tip in this book is to find ways to see logic and critical thinking as historical. 
When you know how logic has changed over time, you're able to note the patterns that shape how we communicate and use them better. 
That's just one benefit. Here are 11 more benefits of critical thinking you can expect after reading the books on this page.
Four: Validity In Your Thinking
I'll never forget hearing The Amazing Kreskin discuss hypnosis. He said:
"Hypnosis is nothing more than the acceptance of a suggestion."
In other words, it's just persuasion. And since we're persuaded all the time, there's a strong suggestion that our behavior is being shaped outside of our awareness more often than we think.
If you don't have much time to learn how this is happening to you, I suggest Critical Thinking : A Concise Guide by Tracy Bowell and Gary Kemp.
This book's strength is how it helps you determine whether an argument is valid. 
To do so, the authors teach you the connection between critical thinking and symbolic logic, informal logic and formal logic.
You also learn how to determine which parts of an argument are relevant. You get real world examples with detailed commentary on each.
A v Hoare is one of my favorite examples. In it, you learn about how the amount of detail shapes our perceptions. You also learn how to determine what information is valuable to properly assess the context and shape of an argument.
Five: How To Stop Thinking Against Yourself
I used to think very darkly. 
Little did I know that I was using my thoughts against myself, practically making it impossible to see opportunities.
Then I discovered The Luck Factor by Richard Wiseman.
This book not only goes through numerous examples of how people use cynical thinking against themselves. It also gives powerful exercises that help your critical thinking skills see opportunities your own thinking patterns might be hiding from you.
Six: Understanding Your Personality
Few books in this field approach the topic with personality types in mind. 
That's why I recommend Stuart Hanscomb's Critical Thinking: The Basics.
Looking at your personal dispositions can help you avoid many of the problems created by emotions and cognitive biases. 
You may even want to go further by looking into the OCEAN model to help better understand how your personality might help or hinder your thinking abilities.
Either way, Hanscomb's book is great. Pay extra attention to the final chapter. It's pack with additional examples of fallacies you'll want to avoid. 
Seven: Simple, But Not "Dumbed Down"
Critical Thinking Skills For Dummies, like many books in the "dummies" series is actually quite valuable.
Its biggest strengths are: 
Strong examples of false dichotomies

How to avoid logical pitfalls

Examples of key arguments
Pay special attention to the final chapter and its list of "arguments that changed the world." These are interesting and useful case studies. 
Eight: Thinking On Autopilot
One of the most challenging critical thinking examples to work through involves the topic of free will.
My favorite book on the topic is also one of the most hotly contested. 
But it's the examples in Free Will by Sam Harris that really bring it all together.
And although Daniel Dennet strongly disagrees with its thesis, going through the for and against will give your thinking abilities a stretch.
Without a doubt, contending with the issue of free will is one of the best ways you can practice critical thinking. It will also give you a better understanding of human consciousness too. 
Nine: The Humpty Dumpty Of Thought
Thinking from A to Z by Nigel Warburton is a fantastic encyclopedia of terms and concepts you'll want to be familiar with.
As the cohost of Philosophy Bites, a fantastic philosophy podcast, Warburton has packed this book with excellent critical thinking tools to up your game.
Some of my favorites include:
Weasel Words
"Advertisers who declare the food they are selling to be a 'healthier alternative' need to specify precisely what the food is healthier than and why. If they cannot do this, then the weasel words 'healthier alternative' are meaningless – mere rhetoric"
Humptydumptying
Giving private meanings to words in common use
'When I use a word,' Humpty Dumpty answers, in rather a scornful tone, 'it means just what I choose it to mean — neither more nor less.'
Ten: The Power of Analysis
Check out Critical Thinking Skills: Effective Analysis, Argument and Reflection by Stella Cottrell.
This book proves a number of self assessment activities, including several sub-skills, such as identifying similarities and differences.
It also includes material on:
Note taking in a critical manner

Critical writing

Reflective thinking tips as a mental discipline

Multiple models of

reflective thinking

Bonus practice activities
If you do any kind of reading and writing, this book is a must. 
Eleven: Improve Your Research Skills
If you do anything involved in research, you know just how difficult interpreting data accurately can be.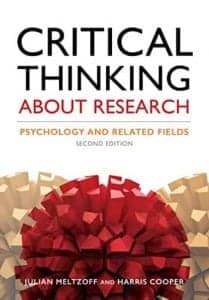 This is where Critical Thinking About Research: Psychology and Related Fields by Julian Meltzoff and Harris Cooper will help you up your game.
In this book, you'll learn all about:
How to seek trustworthy knowledge

How to understand the role of hypothetical questions

How samples are chosen and validated

Aspects that threaten the validity of a research project

The role of ethics in research

Examples of multiple studies in different fields of interest
There are a large number of practice articles too. These will help you better engage with scientific reporting you encounter in the media. 
Twelve: Avoiding Errors
If you're like me, you probably prefer to avoid mistakes whenever possible. 
Let me suggest Critical Thinking: Learning from Mistakes and How to Prevent Them by Gerald J. Watson and Jesse J. Derouin.
This book exposes the many poor thinking habits we have. Here are just a few the book covers and then repairs:
Being in a hurry

Missing a deadline

Faulty cost analyses

Failing to ask for help
I've personally found this book helpful, especially when dealing with customers and personal coaching clients. It's great to be able to ascertain what errors people are making and help guide them to more logical conclusions.
Anyone can do this for themselves too. Read this book. 
Thirteen: Know Your Science
The lack of scientific literacy in society is a huge problem. 
That's why I recommend Science, Pseudo-science, Non-sense, and Critical Thinking: Why the Differences Matter.
In this book by Marianna Barr and Gershon Ben-Shakhar, you get detailed chapters that use critical thinking to debunk:
Cold reading

Astrology

Graphology

Mysticism
Another thing that makes this critical thinking book unique is that it includes:
Correspondence with Houdini

Good movie and literature examples

Excellent lists of books to follow-up on with for further information about each pseudoscientific topic
I also like how the book discusses the reasons why people need to believe – or at least think they do.
Fourteen: An Ancient Critical Thinking Book
Of all the schools of philosophy, I personally find Advaita Vedanta the most interesting. 
Basically, this term translates to a statement like: "the culmination of the Vedas is 'not two'".
In other words, the philosophy works to demonstrate a "oneness" in human consciousness. 
One of the most interesting books uses critical thinking to demonstrate this principle. It is called Panchadasi.
My favorite commentary on this text, which includes a translation, is Inquiry Into Existence, by James Swartz.
This philosophy will probably stretch your mind.
The trick is not to mistake its conclusions for solipsism, which is arguably nonsense. It's really just a way of thinking through the situation we all find ourselves in as the bearers of consciousness. 
Crafting A Library Of Critical Thinking Books
I hope you enjoyed checking out this list of books on critical thinking. Please let me know which ones you check out and how you helpful you found them. 
There are many more out there, and keep in mind that you can find texts that will help you improve many types of thinking. 
The important thing is to have a library that you continually build and read thoroughly. 
And to get it all in, I recommend that you check out how to read faster next.
Need help with remembering what you read from these books? Check out my free memory improvement course: