A Special Thank You From Bestselling Memory Improvement Author Anthony Metivier

Congrats! You've Unlocked An Advanced Memory Palace Training! Get Ready To Take Your Memory Skills To The Next Level!
Dear Friend,
I really don't know how we found each other, but I'm sure glad we did because it means ...
You said a resounding YES to improving your memory!
The video below is therefore specially reserved for you as a very special member of the Magnetic Memory Method Family.
I've also included a few links to some of my most powerful additional resources - just in case you don't already know about them.
Before I turn things over to videos and images, I just want to let you know this:
The Magnetic Memory Method has helped people around the world. If you ever feel want to hear from them or watch their videos for encouragement and support, you can pop in to see their Magnetic Memory Method Testimonials. (I recommend bookmarking the link.)
To help you further, I'd be delighted if you'd take this quick survey (go ahead and click the link - it will open in a new window and you get another free video ... though it's from back when I was fat, so forgive me for that. 😉 )
That's all for now. Here's your exclusive bonus video hosted by Jonathan Levi of SuperLearner fame.
Before You Go ... I Thought You Might Get A Kick Out Of A Few Career Highlights From The Life Of A Professional Memorizer
Teaching Memory Techniques In China
This is Tom.
He came to one of my live lectures in Guilin, China. He was super-skeptical, but he came back the next day with 20 Chinese idioms perfectly memorized!
In this photo, he's showing the Memory Journal he created during the seminar.
Yes, results really can be had with the Magnetic Memory Method overnight (even if you're skeptical). I can't wait to hear about yours!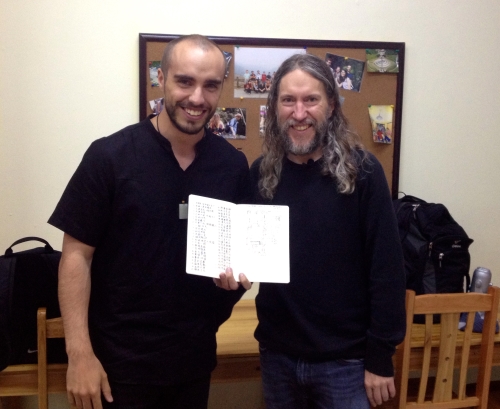 The World Memory Championships
Tony Buzan founded the World Memory Championships 25 years ago. In case you don't know him, he's a Bestselling author on Mind Maps and memory many times over.
He was also Michael Jackson's creativity coach. There's on that in the mega-NYT Bestseller Moonwalking with Einstein. (If you check out that book, pay attention to the part about the pin. Tony gave me that pin!)
The other fellow is Phil Chambers. He's the Chief Arbiter of the World Memory Championships and reigning Mind Mapping World Champion.
They invited me to be an arbiter in 2016, but due to all kinds crazy developments, I wound up needing to be in Berlin. I hope to be there in the future though! Looks like great fun! 🙂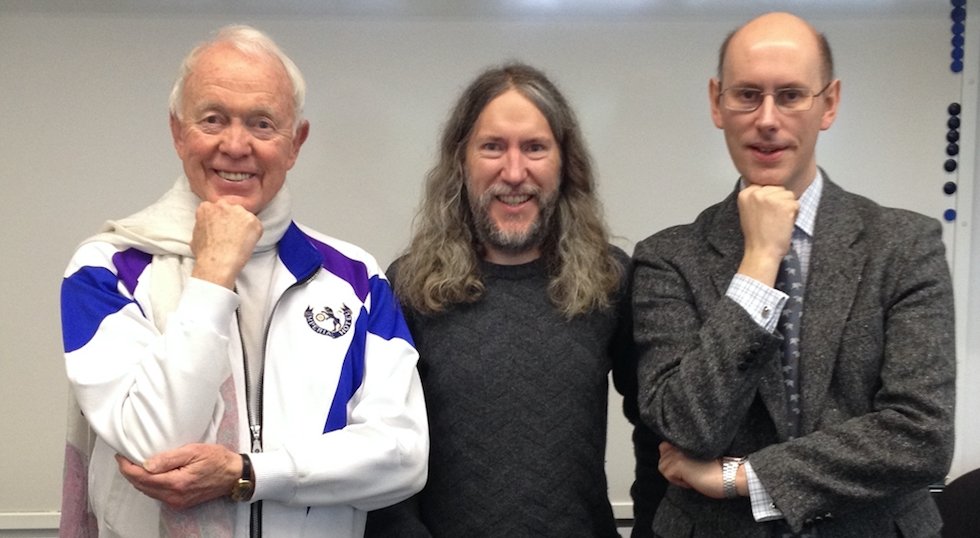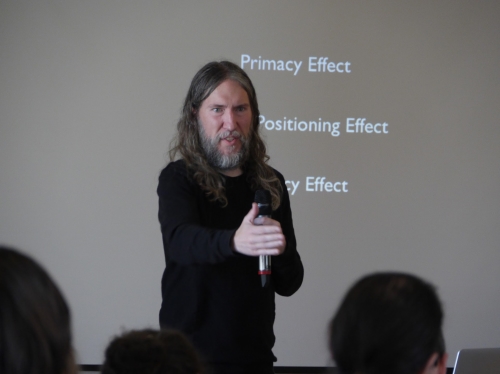 Speaking at the 2016 Polyglot Gathering In Berlin
I'm a regular contributor at these events and teach people how to learn, remember and never forget foreign language vocabulary.
I've presented with the mega-successful polyglots Benny Lewis and Olly Richards a few times and recommend that you attend a polyglot event if you can. They're fun!
Well, there's lots more to tell, but that's all for now.
I know I've given you a lot of links and resources and I hope you'll let me help you continue your memory improvement journey through them.
And if ever you'd like to supplement your book with the world's leading premium video course and university of memory training ...
Check out the Magnetic Memory Method Masterclass.
And if you're not listening to the Magnetic Memory Method Podcast, here are 15 reasons why the memory podcast will help you improve your memory fast.
Thanks again for getting in touch. Can't wait to hear from you! 🙂
Sincerely,