Podcast: Download
Subscribe: Apple Podcasts | Android | Google Podcasts | Stitcher | RSS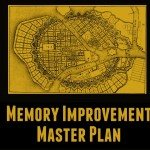 In this episode of the Magnetic Memory Method Podcast, you'll learn 8 simple and effective strategies that you can apply to your dedicated memorization efforts when you using mnemonics to study, memorize poetry, foreign language vocabulary or even a deck of cards. Listen now to learn:
* The important connection between space in your Memory Palaces and where you use your Memory Palaces.
* The amazing value of having a solid routine so that you can see the compound effect of the work you're putting into your memory (developing your memory is more like play than "work", so don't let that nasty word put you off!)
* Why you need to start simple each and every time you memorize something so that you can sail into the more complicated matters with ease (this one tip alone is worth at least a million Magnetic dollars).
* How to leverage the power of mistakes and turn them into the most powerful memorizing experiences you could ever wish for.
* When to ditch parts of your Memory Palace so that you can memorize even more material and not get stuck in a ditch.
* The most important rule in the world for getting past the whining and crying of frustration so that you are always calm and relaxed when working on memorizing material.
* The productivity secrets of specialization and why you need one.
* How to train your brain using rewards (I used to think this was corny too until I finally gave it a try … it works!)
* … and a whole lot more!
Listen to this episode of the Magnetic Memory Method Podcast and be amazed by what you can achieve using the natural abilities of your mind.
+Anthony Metivier is the founder of the Magnetic Memory Method, a systematic, 21st Century approach to memorizing foreign language vocabulary, dreams, names, music, poetry and much more in ways that are easy, elegant, effective and fun.