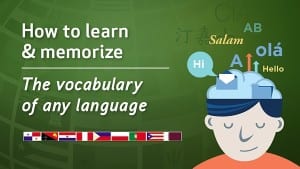 From the desk of Anthony Metivier
Dear Language learner,
Have you ever tried learning a foreign language but found that these new, strange and difficult words just wouldn't stick in your mind? Have you felt the pain and frustration that comes with being pushed to the verge of giving up just because your memory doesn't seem good enough to become fluent in your dream language so you can travel with greater ease and truly enjoy the experience of another culture?
There's a solution for that!
Over the years, I've developed a complete, practical and language-learning oriented memorization program containing great ideas you can use immediately to improve your vocabulary memorization skills and experience a massive boost in fluency as a result.
"I am using this course to memorize Spanish vocabulary and am very glad to have this terrific tool.

Anthony explains the system carefully but lets students come up with places that are meaningful to them, rather than giving places to learn by rote.There is no "rote learning" in this course.

He heads up a supportive community and answers emails in a very timely manner.

I am so glad I found this class!"
In Anthony Metivier's full home study program,  "How to Learn and Memorize the Vocabulary of Any Language " you get more than 4 solid hours of video training and over 700 pages of instruction, checklists and worksheets to increase your vocabulary in any language easily, effectively and elegantly.
In this course you learn the best ways to build Memory Palaces for learning and memorizing foreign language vocabulary using …
… a simple, three-step formula
You'll learn an amazing method for memorizing the genders and cases of different words so you can speak with confidence. (Lacking the guts to express oneself is a huge barrier that people simply don't need to suffer!)
You'll learn the most important words to focus on so that your boosts in vocabulary are meaningful and instantly useful in conversations. (This simple approach saves you a lot of sweat, time and effort because you get to zero in on the most important words first, not the ones usually taught in the language courses that have left your mind blank and frustrated).
You'll learn to systematically divide words into component parts so that you'll not only know what each words mean after you've learned them, but ultimately be able to guess what new words probably mean (even if you haven't heard them before!)
You'll learn how to put together a knockout vocabulary memorization schedule that will give you dozens of new words every time you practice. (Because knowing when and for how long to practice is just as important as knowing the techniques).
Above all, you'll learn how to make memorizing foreign language vocabulary automatic, thrilling, fun …
"I have completed several memory courses and have had varying degrees of success. However, Anthony gives some detailed advice and training tips, that have made memorization, languages in particular, a lot clearer to me. For myself, he has filled in the blanks so to speak and he has provided some solid information and tools, that have allowed me to take my language studies to a much higher level. Not to mention the fact, that I am now able to expedite the whole process."
Please visit my video course using the link below today. Watch the promo video and the free lesson it contains, join the course and start benefiting right away.
I personally guarantee that you will be delighted with this program, and that it will help you memorize dozens of words every time you study. try it for an entire 30 days.
If you're not satisfied for any reasons, I insist that you send it back to me for a full refund.
The Magnetic Memory Method has been used by thousands of language learners, many of whom previously considered themselves the owners of a bad memory. They've made real strides in acquiring new languages based on the advanced memorization skills they learned from my method.
Remember, anything someone else has done can be done by you as well, as long as you learn how.
This video course: "How to Learn and Memorize the Vocabulary of Any Language" will give you a series of step by step formulas to build a successful network of Memory Palaces that will allow you to memorize and recall foreign language vocabulary at will.
You can easily join the course today and get started immediately.
Sincerely,
Anthony Metivier