Podcast: Download
Subscribe: Apple Podcasts | Android | Google Podcasts | Stitcher | RSS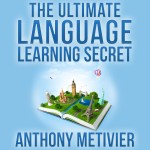 In today's episode of the Magnetic Memory Method Podcast, you'll learn how you can get The Ultimate Language Learning Secret for free.
If you've ever wanted to experience a massive boost in your language learning efforts and see an improvement of 100% … 200%  … 300% (or more), then this book may be the kick in the pants that you need to see that happen.
In this book, you'll learn:
* How to escape from the prison of your mother tongue so that you can enjoy the benefits of fluency, including better understanding, communication and travel.
* How to identify language learning heroes transform your current lack of fluency into an abundance of fluency.
* The magic formula for developing discipline, ability and self-control all at the same time so that you can sit and accomplish your language learning goals quickly, easily and in ways that are effective, easy and fun. (This formula alone is worth double the price of this book.)
* Exactly how to earn and spend the "currency" of fluency so that you can exchange new ideas with the speakers of your target language, earn their admiration and enjoy their respect.
* How to completely re-wire your mind so that the "work" of language learning becomes playtime – everytime.
* A precise method for using travel magazines to boost your fluency (and whet your appetite for travel so that you get your butt in the plane and enjoy the amazing benefits of traveling in and through the language you're learning to speak.)
* How to research the absolutely best training materials so that you can always instantly choose the best and invest your time and money wisely.
* How to eliminate negative labels about language learning that most people hold so that you're no longer held back by the nasty "earworms" responsible for "language learning depression."
* Why you need a monolingual dictionary in order to truly succeed at language learning.
* The ultimate no-nonsense time management strategies for language learning that no one has ever taught you before.
* How to train your family, friends and loved ones to give you the necessary space for language learning without having to worry about feeling selfish, needy of coming off as a language learning diva.
* … and much, much more.
Listen to the podcast now and follow the instructions for your free copy of The Ultimate Language Learning Secret.