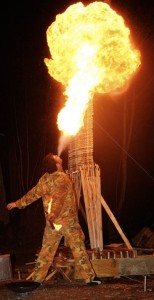 Dear Memorizers,
For those of you who Mac & Apple your way through life, here's something interesting:
https://itunes.apple.com/app/german-vocabulary-word-attack/id651083881?mt=8
This one is for German, but they've got some programs for Spanish too.
You might want to play around with such software, even if these are not your target languages, just to see how the programs work.
I've never been much of a video game player, but I would never deny the fact that not only do games help people learn, but games can also help us learn how to help people.
Now, once you've had your fill of riding the rote-learning dragon, realize that what's lacking in almost all such programs (and all that I've encountered) is instruction on how to take rote-learning and spaced-repetition and use the power of dedicated memorization strategies to ensure that, once learned, those words stay put.
I know that a lot of people think that memorization techniques are too much work.
They really aren't.
The biggest hurdle is not learning how to use memorization techniques.
The biggest hurdle is overcoming negative beliefs about using "tricks" to improve your memory in a world bent on the repetitive hammering of information and trying to make it fun by sugar-coating the process with dragons, which essentially like giving index cards wings and a flamethrower.
And it can be fun.
But for someone serious about fluency? For someone who takes no pleasure in playing games?
Instead of letting someone else create images, pop open your Magnetic Memory book, use your worksheets and memorize some words from your target language vocabulary using nothing more than a dictionary and the "technology" of your mind evolution has made possible for you.
Use it or lose it? I think not.
I've never quite been sold on the old "use it or lose it" mentality, but by the same token, not using the natural capacities of your brain is always a loss. Not only to yourself, but to everyone around.
So until then, tell someone what you've learned about memorization. Teaching a skill is one of the best ways to learn it and helping people improve their memory is one of the best ways we can make the world a better place. The more we remember, the more we can remember. And the more we learn, the more we can learn.