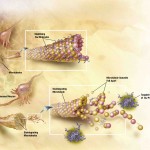 Dear Memorizers,
Good news!
Incredible news, in fact.
Remember how a week or so ago I was asking you what one single word you would memorize if you could only memorize one word? Some of you sent in some amazing examples from a number of different languages.
Well, today I was watching this amazing TED Talk video about using Memory Palaces to help Alzheimer patients recall the names of their loved ones.
Here's how he opened his speech:
"Imagine if you had to select ten or twenty ideas to remember … what would they be?"
Well … just go ahead and watch the video right now:
Now after you watch him smash what could have been a perfectly good Memory Palace with a baseball bat, listen to what he has to say.
You can actually use Memory Palaces to slow the development of Alzheimer's.
Now, I have to admit, I've read some controversial research on the matter and a lot of scientists disagree that mnemonics can do much to help with this condition (though it may be more useful for slowing dementia).
But here's the thing with science: without research, it's all just speculation. So if you read of anyone discounting the power of Memory Palaces to slow Alzheimer's, by all means give them their moment on the stage, but please do realize that the young scientist featured in this video is one of the very few people doing research in this field.
My fingers are crossed that there will be more to come. Many more.
It's a slow build, but Memory Palaces are making a huge comeback.
And since they've been featured now more than 3 times as part of the TED Talks program, you just know there has to be something to it.
I've written 3.5 volumes now of this newsletter to help promote the cause.
And I want to thank each and every one of you who has taken the time to help me on this mission.
And you can do even more by just leaving a simple comment on this video to help generate "buzz." It takes but a second to show other people that you're interested, that you care and that you believe in the worth and power of science to help those who suffer with Alzheimer's. Why not head over to the video right now to see what I myself wrote.
Kaspar Bormans is clearly a hero and deserves our support. Like he says: "It's time that individuals like us stand up and tell a positive story in a negative world."
I personally don't believe the world is so negative, but I certainly do recognize that we need more positive voices, especially when it comes to helping people remember, so …
… until next time, I've got some chicken soup to prepare, so please go out and teach someone else what you've learned about memorization or at least show them that you're listening. Teaching a skill is one of the best ways to learn it and helping people improve their memory is one of the best ways we can make the world a better place. The more we remember, the more we can remember. And the more we learn, the more we can learn.