Podcast: Download
Subscribe: Apple Podcasts | Android | Google Podcasts | Stitcher | RSS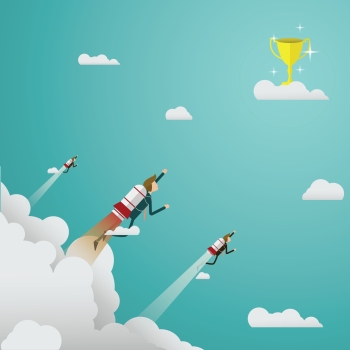 Ever feel frustrated by people with strong memory abilities?
You know the kind. They rattle off names. They know all their credit card numbers. They say, "April 10th, 1972," not "back then" or "in the past."
They're specific.
And make no mistake:
Specificity Makes Your Life Better
They feel good when they call restaurant staff by name. They seem to know everyone in a deeper way. Their capacity for human interaction shines.
And when they have to do something with numbers, they do it with confidence. They're in control. They've got it together.
Even better:
When it comes to conversation, they know how to hold their own. They don't mess around with loose generalities. They don't waver on the facts.
They're detailed. Specific. Precise.
And let's face it:
It Annoys You To Your Core That You're Not Like This!
It's a real problem too.
All that time you're losing at work. Looking up the same procedural information again and again.
Nothing you do solves the problem. You're trapped in a prison of repetition, and nothing ever seems to sink in.
In conversations, you continue to flounder. You can't remember the names of actors, authors, even the titles of books you know you read.
And the brain fog crushing your memory every time you sit down to do some math …
It's downright, depressing, isn't it?
Of course it is.
The Simple Memory Improvement Solution Even
A 10-Year Old Can Master
Good news: You don't need memory championship training to remove these pains from your life.
You just need these 5 brain exercises and a little bit of meta-level understanding of just what makes memory techniques so powerful.
Here are a few reasons.
1) Memory techniques are diplomatic.
Seriously. If you look up the meaning of diplomacy, you get a definition like this:
Diplomacy is the conduct by government officials of negotiations and other relations between nations.
That's all memory techniques are:
An understanding of the official parts of your memory and getting them to negotiate with one another.
For example, when you use the Magnetic Memory Method, you're learning a completely new way to think about spatial memory.
And then you harness the power of spatial memory and get it to talk diplomatically with your episodic memory.
There are other "nations" of memory in your brain that the Magnetic Memory Method taps into, but it's all about getting them to negotiate.
2) There's no discrimination.
It doesn't matter if you're 8 years old or 88. The memory techniques simply don't care.
If you learn how to use them so the different parts of your memory can discuss diplomatically, you'll amaze yourself.
And if you need any convincing, check out Tap The Mind Of A 10-Year Old Memory Master.
3. They're Honest.
There's no better art in the world than the art of memory.
Why?
Because there's no wiggle room.
You either remembered the information, or you didn't.
And the Magnetic Memory Method helps you embrace the power of that radical honesty.
And to do so in comfort while you learn faster and remember more.
Because there are only three things that stand in the way of you and getting amazing results from your memory.
Efficiency Is Doing Things Right.
Effectiveness Is Doing The Right Things.
That's a quote from Peter Drucker.
And it applies directly to the biggest mistake that even the best memory champions make.
They don't practice as well as they could.
Now, you don't have to aspire to memory competition to enjoy benefits from these techniques.
In fact, as much as I love all the memory competitions out there …
I sometimes worry that they discourage people who stand to gain the most from memory techniques.
After all, if you're struggling with passing math exams in school …
What's More Likely To Help Both Memory Champions And… Anyone?
Images of a kid just like you rapidly memorizing complicated formulas …
… or someone wrangling long lists of numbers from the depths of a Memory Palace.
Same skills – same diplomacy – but it can be hard for some people to see the connection.
But there is a connection.
And if you buckle down and practice with real information you might actually use in the world, your memory will transform into the most powerful asset in the world.
Take language learning. It's not only a great way to use memory techniques. Bilingualism also makes for a healthier brain.
And You Will Be The One Who Owns The Asset!
Of course, having great power leads to great responsibility.
And there's no question that this can make you nervous.
After all …
Once you've spent a bit of time learning and practicing memory techniques …
You Actually Have To Use Them!
Seriously.
There are lots of parallels between memory improvement and martial arts.
But unlike a lot of martial arts where you learn "fight to the death" techniques you never want to ever use in real life …
When it comes to memory improvement …
Not a day will pass without an opportunity to win!
And that can lead to the third big mistake:
Lack of Faith In Your Memory As The Most Perfect And Beautiful Possession You

Must

Honor With All Your Love And Attention
Some will say I'm being dramatic.
But those who have lived a life of memory, even if only for a short while, know exactly what I mean.
Yes, we can talk about levels of accuracy and the black and white certainties of getting it right or wrong.
And yes, we know from the descriptions of even the best memory champions that they experience doubt even when they're at the top of their game.
And as former World Memory Champion Ben Pridmore has said, his number one tip for anyone using memory techniques is to simply get out of your own way and trust your memory.
Let memory techniques Do The Heavy Lifting For You
And never forget the wisdom of Bruce Lee:
No ego. No enemy.
Because memory techniques aren't working, it's not about the techniques.
It's about you.
Remember, this is a black and white art.
There's no one who can't use them and there are no excuses.
And if you get past your limiting beliefs, there's so much more that living a life in tune with memory can bring.
Because when you learn to use memory techniques and carry them with you throughout life, you begin to experience a depth of conversation with yourself and the world that eliminates all fear.
Every problem, every pain, ever doubt you've ever had melts away.
And all because you experience a complete and utter shift in thinking about the nature of your mind. You experience that thing called "you" in a new way.
A diplomatic way.
A way that governs the discussions between spatial, episodic, semantic and other "countries' of your memory.
You rise above it all.
You are the Magnetic King or the Queen of all things that pass in the realm of your memory and your mind.
And all you have to do is surrender yourself to a simple process.
Are you in?