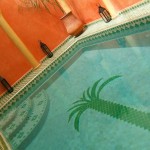 Let's talk about "Memorization Rich Environments."
You see, using a Memory Palace method isn't always about technique.
Sometimes it's about mindset.
And one of the best ways to go about developing the right mindset is to steep yourself in the culture of what you're trying to learn.
No, that doesn't necessarily mean plane tickets, hotels and being wary of pickpockets.
It can be as simple as a trip to the foreign language section of your library. Or it could be the medical or legal library, or whatever specialty you are working on.
Seek an internship with a company that speaks your target language or lingo.
If you're in a bigger city, you can visit the embassy of a country that speaks your target language.
Use meetup.com or Craigslist or the free tandem partner service I mentioned in Volume 2 of the Magnetic Memory Newsletter.
Volunteer for an organization that will bring you into contact with the material you want to memorize.
There are all kinds of things you can do to amplify the techniques you've been using to reach your memorization goals. For example, you can:
And more.
There's really no end to the powerful memory challenges you can complete.
If there are any that I've missed out, leave a comment below.
And if you'd like more help using Memory Palaces to memorize foreign language vocabulary, the Magnetic Memory Method Masterclass is the right course bundle for your memory development goals.
Until next time, find yourself a Memorization Rich Environment and then teach someone else what you've learned about memorization.